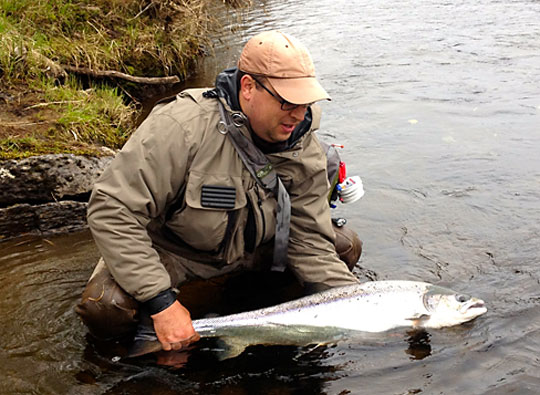 For Connecticut anglers, broodstock Atlantic salmon fishing is one most reliable ways to catch a large fish in fresh water. For anglers who fish for sea-run Atlantic salmon in Canada or Europe, the broodstock fishery is a good way to practice presentation close to home. For anglers new to Atlantic salmon fishing, this fishery is a great way to learn the techniques used to catch Atlantic salmon around the world.
Ben Bilello discuss "Traditional Methods for Catching Broodstock Atlantic Salmon" with Nutmeg TU Chapter 217 Tuesday, Nov. 20,
Topics covered include:
• Locations of the fishery (Shetucket and Naugatuck Rivers)
• Regulations
• Equipment: fishing with one and two handed/switch rods
• Identifying salmon lies and typical holding water
• Salmon behavior
ˆ• Fishing strategies: wet and dry fly
• Fishing in a rotation
• Fly selection
• Fighting, landing and the safe release of salmon
An 11-page handout is provide for each club member. The handout outlines the covered topics, includes fly recipes, and has resources for learning about Atlantic salmon fishing and fly tying.
When he's not behind a set of drums in a concert hall, jazz club, or recording studio, Ben Bilello can be found either on the water or behind the vise. While he's an avid trout fisherman and fly tyer, Ben's true fly fishing and tying passion is the Atlantic salmon. Ben has spent several seasons chasing sea-run Atlantic salmon in New Brunswick, Nova Scotia, and Russia; landlocked Lake Ontario Atlantic salmon in New York and broodstock Atlantic salmon at home in Connecticut.
A collection of Ben's classic and artistic salmon flies are featured in Michael Radencich's new book "Classic Salmon Fly Patterns: Over 1700 Patterns From the Golden Age of Tying." Ben's work can be seen at his website benbilello.com/salmonfliesand on his salmon fly blog theleaper.blogspot.com.