Nutmeg TU Chapter 217 is working with the communities it serves in Fairfield County to make streams and watersheds better for everyone.
Nutmeg Chapter members reside in the towns of Bridgeport, Easton, Fairfield, Milford, Monroe, Redding, Shelton, Stratford, Trumbull, Weston and Westport. All of our work from stream preservation and restoration to Trout in the Classroom educational program for future conservationists is done with the collaboration and partnership of these communities and with other local organizations with which we share goals of environmental protection and preservation.
The Aspetuck Land Trust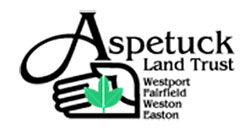 Nutmeg TU is working together with our partners the Aspetuck Land Trust to help them acquire a thirty-acre parcel of very ecologically sensitive land through which the Mill River wild trout stream flows.
Aspetuck Land Trust is a non-profit membership organization whose mission is the preservation and conservation of open space, including farm and forest land, and the natural resources located thereon, primarily in the towns of Easton, Weston, Fairfield and Westport, for the benefit and education of the public.
Since 1966, through generous gifts of land, continued efforts of volunteers, and cooperation from town agencies, Aspetuck Land Trust has preserved over 1,700 acres of land, which will be maintained in a natural state in perpetuity. Your membership donations help us maintain and preserve more land before it is too late.
Mill River Improvement Project
Also, our current Mill River Improvement Project (MRIP) to restore and protect this stream is being accomplished by working with the cooperation and approval we've obtained from streamside landowners and the Fairfield Conservation Department, and with approval and support from the Connecticut Department of Energy and Environmental Protection and Department of Transportation. Nutmeg chapter volunteers are working on the MRIP along with volunteers from the Land Trust as well as with the towns of Easton and Fairfield, as the Mill defines part of the border of these two towns.
The Saugatuck River Watershed Partnership
The Saugatuck River Watershed Partnership is a collaboration among the 11 towns of Bethel, Danbury, Easton, Fairfield, Newtown, Norwalk, Redding, Ridgefield, Weston, Westport and Wilton, and The Nature Conservancy, as well as various stakeholder groups such as The Aquarion Water Company of Connecticut Inc., The Connecticut Department of Environmental Protection, Trout Unlimited and members of the local community.
The goal of the Partnership is to protect and enhance the health of the watershed by working collaboratively to link, maintain and restore habitats which support healthy populations representing the natural biological diversity of the watershed system.
Shelton Land Trust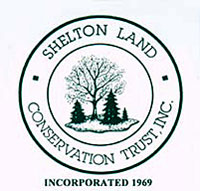 Founded in 1969, the Shelton Land Conservation Trust is a nonprofit organization dedicated to the preservation and protection open spaces in Shelton, Connecticut. It currently holds in trust 30 parcles of land totaling more than 365 acres.
Its purpose is the preservation and protection of natural resources in Shelton, Conn., and the acceptance or purchase of land and its maintenance for the public benefit.
Every piece of land set aside becomes a spot of unspoiled beauty – helping to preserve the appeal of our town. This adds value to your property by making Shelton a more attractive place in which to live. By acquiring and preserving land, the Trust also helps promote the orderly growth of the town.
Working with the community
Nutmeg TU not only initiates, but also actively supports collaborative projects with landowners, civic groups and organizations such as Boy Scouts and Girl Scouts to clean up and restore local waters as well as educate young people to be our next generation of stewards of these special places. When Newtown's Eric Rasmussen attended a 2011 Nutmeg Board of Directors meeting to discuss his Eagle Scout project, we began a collaboration that helped him attain that goal and clean up the Halfway River, another of our best trout streams.
 Working with business
Forging connections with like-minded businesses is another dimension of our community involvement. Patagonia's Westport Store's staff have been great partners with us, for example inviting us to share information tables in the store and at local community events such as farmers' markets. We see our organizations sharing crucial goals of grassroots environmental protection and the active enjoyment and valuing of the outdoors, nature and the wild places we still have.
Educating the public
Additionally, we educate the public about the importance of conservation and about trout fishing, through fly casting demonstrations, our monthly public meetings, and our work with streamside landowners to restore eroded streambanks and educate them about what they can do to restore and preserve their part of the stream.
Getting the community involved
Perhaps most representative of our community involvement though, are our efforts to generate hands-on participation and action through local stream clean-up days, which we organize and host for volunteers from all our towns and from civic and social organizations looking for a concrete way to make a difference in preserving our local natural environment.