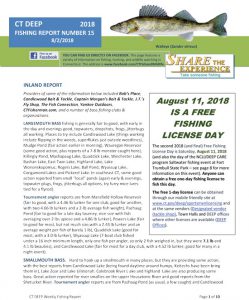 FishRpt15 08-02-2018 Recent rains have refreshed Connecticut rivers to levels not usually seen in August, according to the Aug. 2 issue of the weekly fishing report from the Connecticut Department of Energy and Environmental Protection.
The weekly bulletins also offer river-specific ideas on flies to match the hatch on destinations such as the Housatonic and the Farmington.
Information on fishing for other species, fresh and salt water, is also included.
Aug. 11 is a free fishing license day. Information on that is contained.
There are also tips for curbing the spread of "rock snot" in the Farmington.
Click here to read the full report.
Tags:
Connecticut Department of Energy and Environmental Protection
,
weekly fishing report