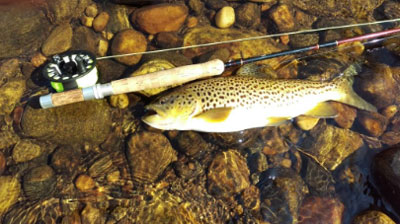 UPDATE: The event scheduled for Sunday, Dec. 2, has been postponed to Sunday, Dec. 9.
UPDATED STORY: Join Nutmeg TU for a morning of exciting fishing on one of the best rivers in Connecticut, the Farmington River, on Sunday, Dec 9, starting at 10 a.m.   If we are going to get heavy rain trip will be cancelled. Water levels are high to begin with. Keep an eye on the website and your email for updates.
We will be meeting up in New Hartford at Ovation Pool parking lot (37 Greenwoods Rd, New Hartford).  Look for the Nutmeg TU banner and a silver Subaru Forester.  
Open to everyone, beginners and experienced anglers alike, this trip is a great way to learn the river. Spinning or fly fishing, all are welcome.   You will need:
Waders,

wading stick

rain gear
Following fishing, everyone is welcome to join us at the Parrott Delaney Tavern located right at Ovation Pool,  Please RSVP to David Edgeworth so we know who to expect.  Text 203-627-5817 or email Eggsofan@hotmail.com.
Tags:
Farmington
,
Farmington River
,
Ovation Pool
,
Parrot Delaney Tavern