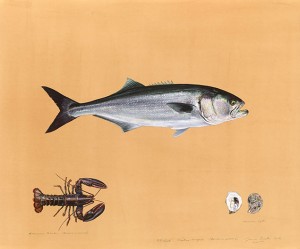 James Prosek will be the guest speaker at the Connecticut Fund for the Environment/Save the Sound Annual Meeting to be held at Pequot Library in Southport, Connecticut on Sunday Sept 29, from 1-3 pm.
The mission of the Connecticut Fund for the Environment and its program Save the Sound is to protect and improve the land, air and water of Connecticut and Long Island Sound. It uses legal and scientific expertise and brings people together to achieve results that benefit our environment for current and future generations.
Mr. Prosek will be signing copies of Ocean Fishes afterward:
"I am not painting fish to represent a species in a field guide; I am painting an individual fish that I had a personal experience with—The paintings are not as much about the fish as our relationships as humans to the fish—you could even call each one a self-portrait. As anyone who has spent time on the water knows, a fish is a dynamic, colorful, always-changing organism, lit by some internal light that rapidly flickers out as a fish dies. No two fish look the same, and no individual fish stays the same for any particular length of time. Therefore, a painting of a fish cannot be an official representation, but an interpretation only."
– James Prosek
In the tradition of his acclaimed Trout: An Illustrated History, renowned naturalist, artist, and fisherman James
Prosek captures 35 of the most pursued saltwater fish—from striped bass to tarpon, swordfish to bonefish—as well
as many creatures that share these marine ecosystems through highly detailed watercolors painted specifically for
this volume. OCEAN FISHES is his personal tribute to marine beauty unlike any published before—based on travel,
intense observation, work with scientists, and stories of those who know the fish most intimately, fishermen both
recreational and commercial. It is also the author's quiet conservation statement; in showing the beauty and
monumentality of these fish, Prosek is urging us to appreciate and preserve what we have before it is lost forever.
Each painting reflects Prosek's individual experience with a single fish. These paintings give the reader a privileged
view of a fish fresh from the ocean when its changing colors first glint in the sun—a view ordinarily glimpsed only
by the fishermen on the boat. The artist traveled the Atlantic, from Nova Scotia to the Cape Verde Islands, to
experience first-hand each species just out of the water before the fish lose their true colors.
ABOUT THE ARTIST AND CONTRIBUTORS: James Prosek made his authorial debut at 19 years of age with Trout:
An Illustrated History, earning him the moniker "the Audubon of the fishing world" by The New York Times. Prosek
is a regular contributor to The New York Times and won a Peabody Award in 2003. He lives in Easton, Connecticut.
Peter Matthiessen is a two-time National Book Award–winning author—for The Snow Leopard, 1980, and
Shadow Country, 2008. His work, Blue Meridian, is thought to have inspired Peter Benchley to write Jaws in 1974.
His 1988 book Men's Lives is an eloquent portrayal of the disappearing way of life of the Long Island fisherman. He
lives in Sagaponack, New York. Robert M. Peck is Curator of Art and Artifacts and Senior Fellow of the Academy
of Natural Sciences of Philadelphia, and is also a writer, naturalist, and historian who has traveled extensively
worldwide. Christopher Riopelle is the Curator of Post-1800 Paintings at The National Gallery, London. He has
held curatorial positions at the Philadelphia Museum of Art and the J. Paul Getty Museum, CA , and has curated
exhibitions on Renoir (1990 and 2007); Rodin and Michelangelo (1996–1997); Portraits by Ingres (1999–2000), and
a forthcoming exhibition on Richard Hamilton (2012) among others.