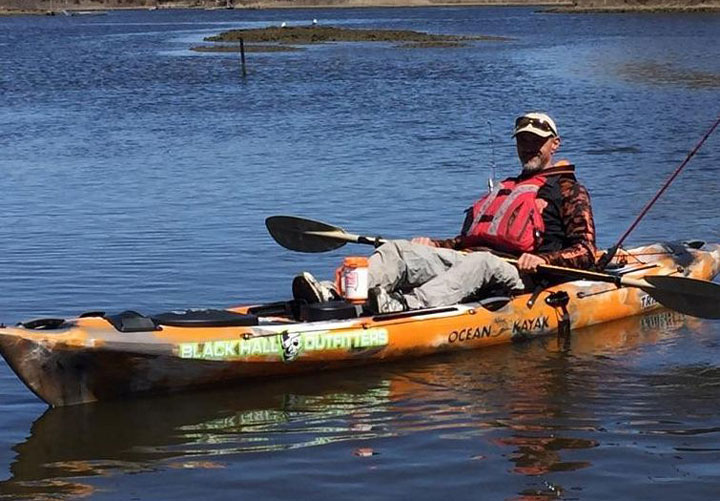 Every angler has seen that trout that's on the far side of water that's just too deep to wade, and just out of reach of the longest cast.
Kayaks have brought those trout, usually big ones, into reach for anglers who choose to use them, and members of the Nutmeg Chapter of Trout Unlimited will learn how at their next meeting Tuesday, April 18, at Port 5, 69 Brewster St., Bridgeport.
Guest speaker Jesse Roche will teach us how to get started in kayaking and how to use that to reach places we need to get to catch elusive trout.
Roche brings with him eight years of kayaking, as well as a lifetime on the water and outdoors. He comes from a nature -oriented family. From his grandfather, a forrester, and grandmother an Audubon Society member, to his parents, both always outdoors, and father, who worked for years in marine sciences. Instead of Disneyworld, Jesse's family spent summers in the wilderness of the Minnesota, on boundary waters in an Old Town canoe, and the White Mountains of New Hampshire. He wouldn't trade it for anything.
After 10 years as a radio personality on 97.7 WCTY FM, he now produces and hosts Fishing Today a weekly radio program on 1310 WICH AM in Norwich as well as a podcast on wich.com.
"It's basically NPR for fishing," Roche said. "I try to be information and news-oriented. It's a lot of fun because both myself and the listener can learn new things about fishing every week."
Jesse is also involved with the New England Fishery Management Council, serving his first term as a recreational fishing panelist. There he and other representatives from our New England states set up the framework for new fishery regulations.
"I am very conservation oriented. Preserving our fishery means a lot to me," Roche said. "I look forward to spreading that philosophy as a member of the Black Hall Outfitters Fishing team"
The meeting will also feature a look at opening day weekend and Nutmeg's Trumbull stream cleanup, and plans for an April 29 planting along the Mill River at the Fairfield-Easton border on Congress Street.
Tags:
angling
,
Congress Street
,
Fishing
,
Fishing Today
,
general meeting
,
Jessee Roche
,
kayak
,
Mill River
,
planting
,
trout