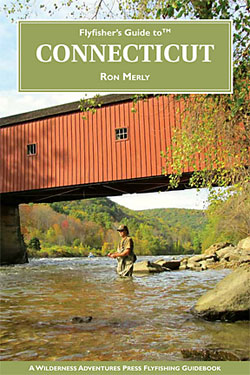 Nutmeg TU's Ron Merly will discuss his book, The Flyfisher's Guide to Connecticut, at the next regular chapter meeting Tuesday, Feb. 19, at 7 p.m.
The meeting will be held at Nutmeg's new home, Port 5 Naval Veterans, 69 Brewster St., Bridgeport. The hall is next to Fayerweather Yacht Club, The former site of regular Nutmeg TU meetings.
In addition to discussing his book, Merly said he will talk about "different streams people probably haven't fished or don't fish."
Merly has been fishing fresh and salt water around Connecticut for some 45 years.
The  Flyfisher's Guide to Connecticut includes more than 30 detailed maps showing every access point, state park, state forest, boat ramp, campsite, access road and bridge. Also included are hatch charts, detailed driving directions, as well as fly and tackle shops, accommodations, restaurants, and air service, plus where to find Atlantic salmon and sea-run trout, as well as head-to-toe coverage of the Housatonic and Farmington Rivers.
The book can be purchased at amazon.com.
Tags:
meeting
,
Merly
,
The Flyfisher's Guide to Connecticut