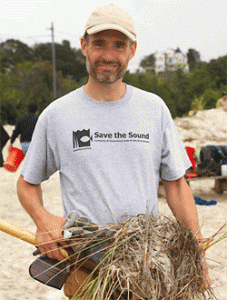 Nutmeg TU 217 will resume regular meetings Tuesday, Oct. 15, at 7 p.m. at Port 5 in Bridgeport.
Chris Cryder, Special Projects Coordinator  for Save the Sound, will discuss "The Forage Fish that Feed the Sound's Ecosystem."
Connecticut, Cryder said, is a leader in opening riverine habitat for migrating forage fish such as river herring and shad. To date, 43 fish ladders have been built (such as Save the Sound's latest on the Pequonnock) and 12 dams have been removed.
However, when the juvenile river herring that are born in Connecticut rivers and streams return to the ocean to mature, they are being incidentally caught and killed in great numbers in the commercial trawling industry for Atlantic herring. There are methods that can be employed to minimize the bycatch of river herring, but currently forage fish do not have adequate protections under the Magnuson-Stevens Act (MSA), the law that governs fisheries in U.S. Waters.
"We believe this needs to change," Cryder said.
Nutmeg TU members will learn about the status of forage fish in Connecticut, hear updates on restoration work on the Pequonnock River (and others), and hear how they can assist with strengthening the Magnuson-Stevens Act.
Chris Cryder has worked for Save the Sound, a program of the Connecticut Fund for the Environment, for the past seven years. He has managed habitat restoration and green infrastructure projects, and has coordinated land preservation and watershed planning initiatives. He coordinated the Pequonnock River Initiative in 2010-11, which resulted in the creation of an EPA watershed-based plan for the river.
Cryder has a biology degree from The Pennsylvania State University, and a master of health services administration from The George Washington University.
He resides in Old Saybrook.
A blog by Cryder can be found at http://greencitiesbluewaters.wordpress.com/2013/09/04/the-forage-fish-that-feed-the-sounds-ecosystem.
Tags:
Cryder
,
herring
,
meeting
,
Port 5
,
Save the Sound