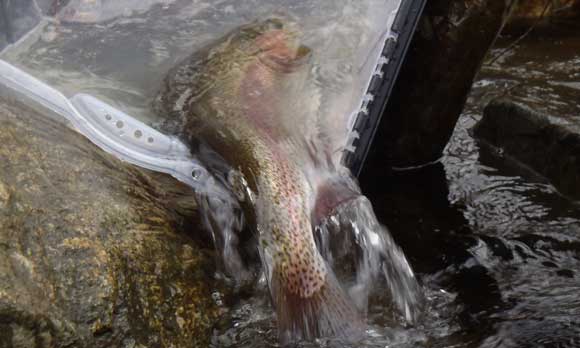 The Nutmeg Chapter of Trout Unlimited begins its monthly schedule of programs in September, with speakers and hands-on events continuing through May.
Regular chapter meetings are held at 7 p.m. the third Tuesday of each month at Port 5, 69 Brewster St., in the Black Rock section of Bridgeport. There is no cost to attend; pizza and beverages are available for a fee. After a brief talk by a member, speakers commence at 7:45 p.m.
Information and links to RSVP for programs and fishing trips can be found at nutmegtrout.org.
A saltwater fishing trip to Penfield Reef in Fairfield, led by chapter member Ed Grzeda, will be held Saturday, Sept. 16, at 8 a.m. Park along Reef Road.
On Sept. 19, during the height of striper season, Capt. Roger Gendron of Connecticut Island Outfitters in Westport will share his tips for finding big bass on the Long Island Sound. Dave Edgeworth of Nutmeg TU will also describe the chapter's Trout in the Classroom program, which introduces students to conservation as they raise trout from eggs, eventually releasing them into area streams.
Charles Petruccelli will lead a fishing trip to the mouth of the Housatonic River, between Stratford and Milford, on Saturday, Oct. 7. Times will be announced, based on tides and the best times to fish.
With two salmon fishing trips slated for the fall, guide, fly tyer and salmon fishing expert Ben Bilello will speak to Nutmeg TU on Tuesday, Oct. 17, at Port 5. The meeting will also feature an update on conservation projects under way in the Nutmeg TU area.
Bilello will lead two four-person trips; an Oct. 28 outing is sold out, while there is one opening on a Nov. 5 trip. Check nutmegtrout.org for details.
Greg Myerson, who holds the world record striped bass, caught in the Long Island Sound off Connecticut, and founder of World Record Striper Company, will be the featured speaker on Tuesday, Nov. 21.
A striper trip is being planned for Thanksgiving weekend.
The annual holiday party and potluck dinner will be held Tuesday, Dec. 19, at 7 p.m. at Port 5.
After the holidays, Nutmeg TU will collect discarded real Christmas trees for use in restoration work on the Mill River.
Nutmeg Chapter of Trout Unlimited (# 217) is based in Fairfield and comprised of the towns of Fairfield, Westport, Weston, Easton,  Redding, Trumbull, Monroe, Bridgeport, Stratford, Milford and Shelton.