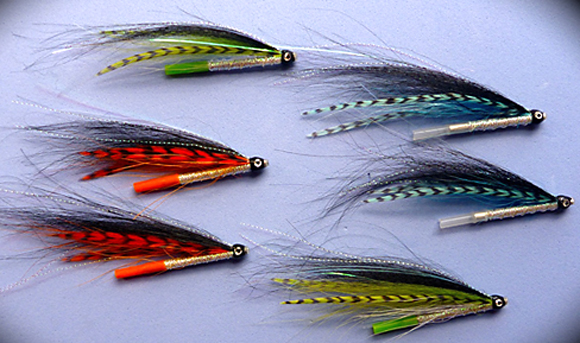 Salmon fishing expert Ben Bilello will open our eyes to tube flies at the next Nutmeg TU meeting Tuesday, Feb. 17, from 7 to 9 p.m. at Port 5, 69 Brewster St, Bridgeport.
European anglers have used tube flies for decades. Despite their advantages, tubes are much less frequently used in North America. As time goes on, tube flies are becoming more popular in our fresh and saltwater fisheries. This presentation will outline when, where and how to use tube flies.
Topics include:
Tube fly advantages
Comparisons of tube/hook sizes and weights
Tube fly styles
Fishing surface and subsurface tubes
Hook selection
Rigging
Tube fly and hook storage
Tube fly tying tools and materials
Tying tips and techniques
When he's not behind a set of drums in a concert hall, jazz club, or recording studio, Ben Bilello can be found either on the water or behind the vise. While he's an avid trout fisherman and fly tyer, Ben's true fly fishing and tying passion is the Atlantic salmon. Ben has pursued wild Atlantic salmon in New Brunswick, Quebec, Nova Scotia, and Russia; landlocked salmon in New York and Vermont, and broodstock Atlantic salmon in Connecticut.
A collection of Ben's classic and artistic salmon flies are featured in Michael Radencich's book "Classic Salmon Fly Patterns: Over 1700 Patterns From the Golden Age of Tying," the largest illustrated compendium of Atlantic salmon flies published to date.
Ben's work can be seen at his website www.benbilello.com/salmonflies and on his salmon fly blog www.theleaper.blogspot.com.
Tags:
Ben Bilello
,
fly tying
,
Nutmeg TU
,
Port 5
,
salmon
,
salmon flies
,
tube flies