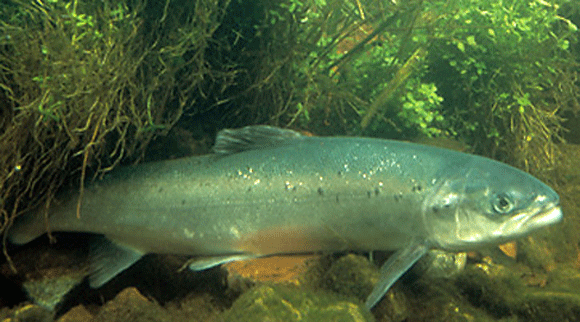 Connecticut's Department of Energy & Environmental Protection has begun the 2013 autumn stockings of broodstock Atlantic salmon.  DEEP's Inland Fisheries Division recently released 300 salmon into the Naugatuck River and Mount Tom Pond.  Later this week, DEEP will release 300 salmon into the Shetucket River and Crystal Lake.
"Atlantic salmon are renowned for their size, beauty and fighting ability," said Peter Aarrestad, Director of DEEP's Inland Fisheries Division.  "The Atlantic salmon recreational fishery has become quite popular, and catching one of these large leapers provides a thrilling experience for anglers."
The Atlantic salmon being stocked in Connecticut were raised in the Kensington State Fish Hatchery and are the progeny of sea-run fish that returned to the Connecticut River.  Salmon at this hatchery were raised to provide eggs for the Connecticut River Atlantic Salmon Restoration Program that began in 1967.  Since 1992, surplus and spawned fish from this program were made available to provide a recreational fishery for Connecticut anglers.
Click here to read more in The Valley Gazette.
Tags:
Atlantic Salmon
,
DEEP
,
Naugatuck River