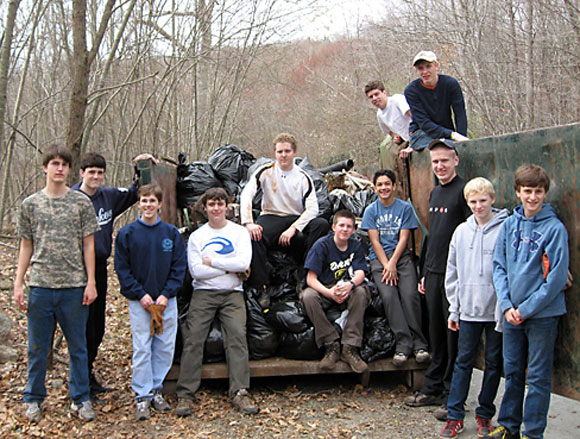 Eric Rasmussen, who led a cleanup of the Halfway River on the Monroe/Newtown border last spring, will receive his Eagle Scout award Saturday, Jan. 26, at 2 p.m. at Fairfield Ludlowe High School.
Six members of Boy Scout Troop 199 in Fairfield will be elevated to the rank of Eagle Scout that day. Michael Connelly, William Fulda, Conor McGuinness, Michael McQuade and William Poling will also be awarded their certificates at the Eagle Court of Honor ceremony on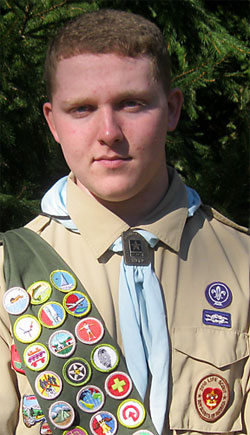 Eric, son of Jarry and Terri Rasmussen, is a junior at Fairfield Ludlowe High School. He worked with Trout Unlimited to clean up a section of Halfway River polluted with junked cars, appliances, water heaters and household trash. Volunteers for this project included family, friends, scouts and members of Trout Unlimited, who hauled the garbage up a steep hill to a container provided by City Carting.
City Carting also donated all the proceeds from the scrap metal back to Troop 199.
Eric has held numerous positions in Troop 199, including assistant senior patrol leader, patrol leader and scribe. He attended the National Boy Scout Jamboree in 2010. Eric was elected to The Order of the Arrow and participated in the Thunderbird Youth Leadership Training.
Eric is a long-distance swimmer on the Fairfield High School co-op swim team. He is also a member of the Key Club. He has been a member of the Fairfield YMCA FlyFins Swim Team for 10 years. For the past two summers, Eric worked as a lifeguard for the Lake Hills Beach Association.
Eric traveled to China last spring with his foreign language class.