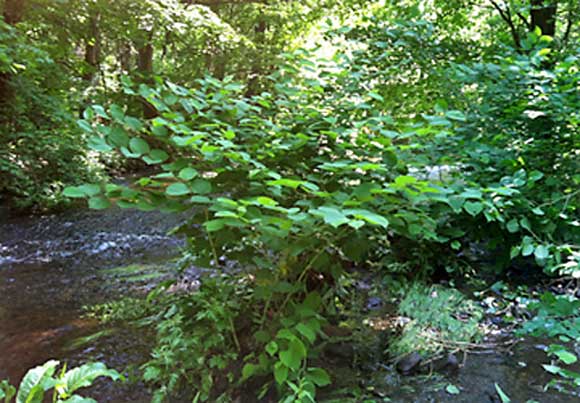 Volunteers from Nutmeg TU, and their supporters, will return to the banks of the Mill River along Congress Street in Fairfield Saturday and Sunday, June 15 and 16, to continue to hack away at Japanese knotweed that is overwhelming that natural habitat for native plants and beginning to threaten the river itself (see above).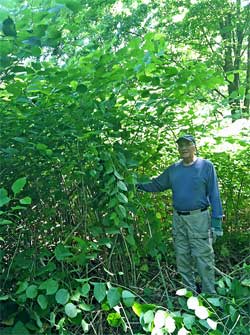 Working in pairs, a handful of members and a conservationist have cut down the weed, which can approach 10 feet in height, the first two weekends in June. Other than a large bank on a steep slope that will require more help, the tandems have cut down much of the knotweed from the bridge where the Mill River winds under Congress Street to the eastern edge of the Mobil station on the southbound Merritt Parkway.
Thanks to Mike Abramowitz, Phil Jacques and Gian-Andrea Morresi of Nutmeg TU, and Mike Rowinsky, who organized the recent Rooster River cleanup, for pitching in.
Volunteers are needed for morning and afternoon sessions this weekend.
To sign up, go to "Events" under "Get Involved" at nutmegtrout.org. In the June calendar there are 2 sessions listed for each weekend day in June.
Click on any session you wish to sign up for. The event window will open, and below the listing you will see "Leave a reply." Enter your name and email address in the fields marked with an asterisk, then type "John Doe can attend for the entire session" or "John Doe is available from 9 to 11 a.m." in the window marked comment. Include a cell phone number where you can be reached if there is a schedule change.
Click "Post Comment" to complete the process. THAT'S IT!!
Please sign up for any and all sessions when you may be able to help by clicking on that particular morning or afternoon session. The process must be repeated for each session you can attend.
Also indicate the maximum number of sessions you can attend so we do not overbook you.
Thanks for your help with the crucial conservation project
Tags:
knotweed
,
Mill River