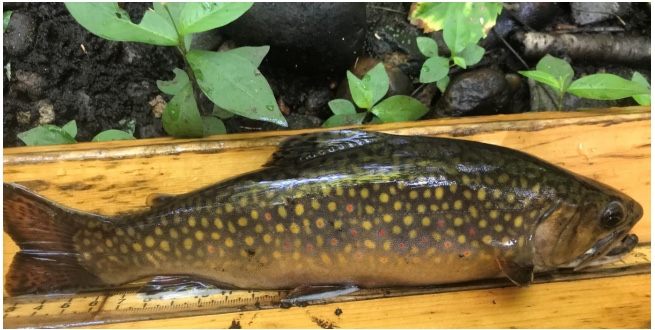 A survey by the Connecticut Department of Environmental Protection sees a significant drop in the population of wild trout in the state.
Click here to download a PDF of the report.
The May 2020 study reports: "Statewide, we found a decrease in the number of locations (about 33% ) as well as an overall decrease in the number of fish."
"Connecticut's landscape and climate has changed over the past three decades. These changes are predicted to continue and most likely have a negative impact on cold water obligate fish species such as
Brook Trout," according to the report by Brian Eltz and Mike Beauchene of the DEEP.
Pointing out that the Brook Trout is Connecticut's only native, non-migratory salmonid, they write, "As a species with specific cold water requirements, the future of wild Brook Trout in Connecticut in the context of climate change and increased development is uncertain and potentially in jeopardy."
The authors recommend drawing a new list of randomly selected sites every 5 years to compile a series of statewide estimates of wild Brook Trout distribution and population density values.
Starting now, additional work using the universe of locations where wild Brook Trout were not observed is warranted. This work should seek to identify key variables responsible or related to the absence of wild Brook Trout and determine their magnitude of change. Some categories of variables, which may have changed from the initial sampling over 30 years ago include land cover, out of stream diversion of water and stocking of adult domestic trout (brooks, browns, rainbows, and tigers) in the same reach containing wild populations, stocking of Atlantic Salmon and Brown Trout fry, harvest limits, size limits, etc..