Upcoming meetings of the Nutmeg Chapter of Trout Unlimited will focus heavily on fishing rivers in Connecticut, particularly the southwestern part of the state.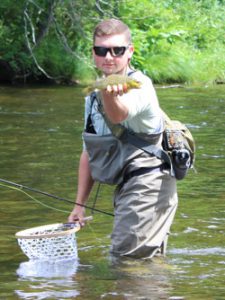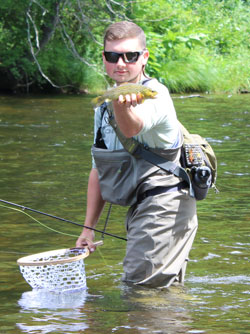 The Tuesday, Jan. 15, meeting will be a roundtable discussion of favorite places, favorite flies, favorite tactics and any other angling questions that may arise. Anyone interested in angling may attend, and feel free to share thoughts, or just listen.
On Tuesday, Feb. 19, Nutmeg TU member Tristan Wilgan will share his expertise. A tyer of exquisite and effective flies, he runs Tristan's Fishing Guide Service, and puts clients on fish on rivers around Fairfield County, as well as the Farmington and the Housatonic.
Nutmeg Chapter 217 of Trout Unlimited meets the third Tuesday of each month from September to May at Port 5, 69 Brewster St., Bridgeport, Conn. Meetings are open to all. Pizza is available and drinks may be purchased from Port 5. There is no charge for admission.
UPDATE: Tonight's meeting will be held as scheduled at 7 p.m. at Port 5, 69 Brewster St. Bridgeport.
Ever wonder about how to get started fishing? Or if fly fishing is as complicated as it might seem? Or where to fish in Eastern Fairfield County?
Get the answers to these and other fishing questions when Nutmeg TU holds a fishing roundtable Tuesday, Jan. 16, at 7 p.m. at Port 5, 69 Brewster St., in the Black Rock section of Bridgeport.
The meeting will be informal, with members sharing thoughts, advice and insights. Pizza and beverages can be purchased.
This is a great chance to make angling friends, learn about the many fishing trips Nutmeg TU holds throughout the year, and discover ways to help on conservation projects.
Nutmeg Chapter of Trout Unlimited (# 217) is based in Fairfield and comprised of the towns of Fairfield, Westport, Weston, Easton,  Redding, Trumbull, Monroe, Bridgeport, Stratford, Milford and Shelton.
Its mission is to conserve, protect and restore coldwater fisheries and their watersheds, particularly in local rivers such as the Saugatuck, Mill, Aspetuck, Pequonnock and Farmill.
TU members and volunteers abide by the motto: "If you take care of the fish, the fishing will take care of itself."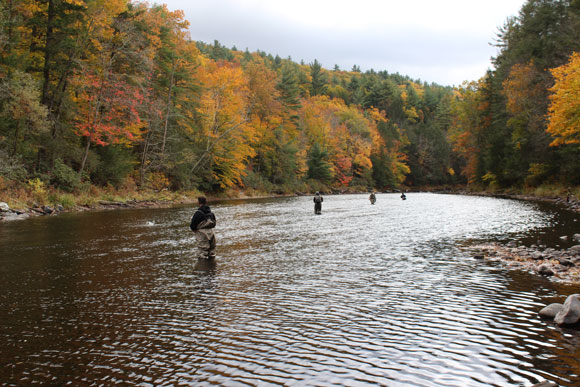 Saturday, May 13, is Free Fishing Day in Connecticut.
Anyone can fish, inland or marine waters, without having to have a fishing license. According to the state Department of Energy and Environmental Protection, this is a great chance to share your passion for fishing with your whole family, your significant other, or your BFFs.
All size limits, harvest limits, and other regulations still apply.
Good luck!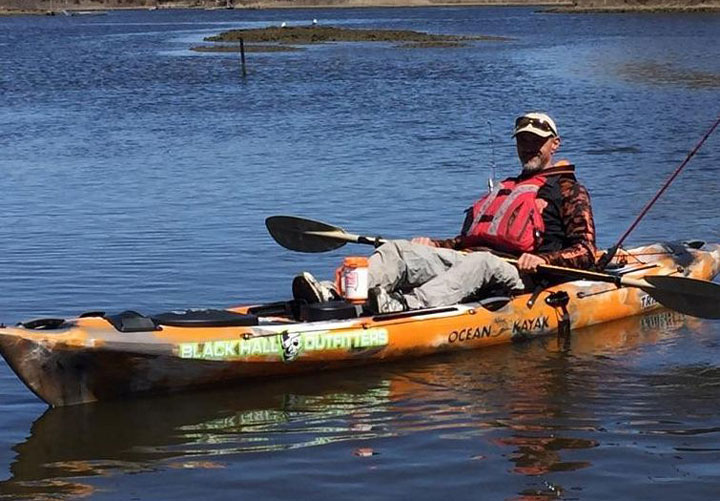 Every angler has seen that trout that's on the far side of water that's just too deep to wade, and just out of reach of the longest cast.
Kayaks have brought those trout, usually big ones, into reach for anglers who choose to use them, and members of the Nutmeg Chapter of Trout Unlimited will learn how at their next meeting Tuesday, April 18, at Port 5, 69 Brewster St., Bridgeport.
Guest speaker Jesse Roche will teach us how to get started in kayaking and how to use that to reach places we need to get to catch elusive trout.
Roche brings with him eight years of kayaking, as well as a lifetime on the water and outdoors. He comes from a nature -oriented family. From his grandfather, a forrester, and grandmother an Audubon Society member, to his parents, both always outdoors, and father, who worked for years in marine sciences. Instead of Disneyworld, Jesse's family spent summers in the wilderness of the Minnesota, on boundary waters in an Old Town canoe, and the White Mountains of New Hampshire. He wouldn't trade it for anything.
After 10 years as a radio personality on 97.7 WCTY FM, he now produces and hosts Fishing Today a weekly radio program on 1310 WICH AM in Norwich as well as a podcast on wich.com.
"It's basically NPR for fishing," Roche said. "I try to be information and news-oriented. It's a lot of fun because both myself and the listener can learn new things about fishing every week."
Jesse is also involved with the New England Fishery Management Council, serving his first term as a recreational fishing panelist. There he and other representatives from our New England states set up the framework for new fishery regulations.
"I am very conservation oriented. Preserving our fishery means a lot to me," Roche said. "I look forward to spreading that philosophy as a member of the Black Hall Outfitters Fishing team"
The meeting will also feature a look at opening day weekend and Nutmeg's Trumbull stream cleanup, and plans for an April 29 planting along the Mill River at the Fairfield-Easton border on Congress Street.