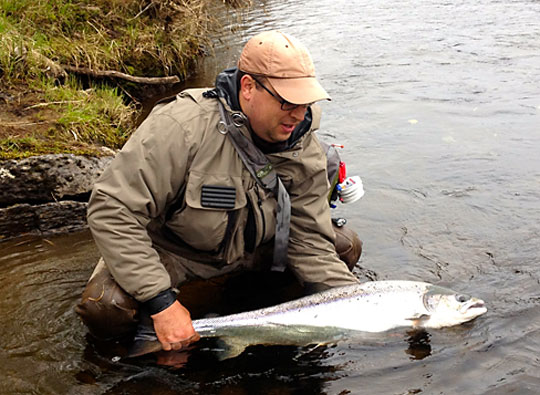 Ben Bilello, who speaks around the Northeast on salmon fishing, will talk about opportunities to catch big salmon close to home at the next meeting of the Nutmeg Chapter of Trout Unlimited.
The meeting will take place at Port 5, 69 Brewster St. in the Black Rock section of Bridgeport, at 7 p.m. Tuesday, Oct. 17.
Pizza is available at the meeting, and beverages can be purchased from Port 5. You may RSVP here.
There will also be a presentation on the dangers presented when overheated runoff enters trout waters.
For Connecticut anglers, broodstock Atlantic salmon fishing is one most reliable ways to catch a large fish in fresh water. For anglers who fish for sea-run Atlantic salmon in Canada or Europe, the broodstock fishery is a good way to practice presentation close to home. For anglers new to Atlantic salmon fishing, this fishery is a great way to learn the techniques used to catch Atlantic salmon around the world.
Bilello is guiding Nutmeg members on two trips this fall, and information on scheduling a trip with him will be available at the meeting.
When he's not behind a set of drums in a concert hall, jazz club, or recording studio, Ben Bilello can be found either on the water or behind the vise. While he's an avid trout fisherman and fly tyer, Ben's true fly fishing and tying passion is the Atlantic salmon. Ben has spent several seasons chasing sea-run Atlantic salmon in New Brunswick, Nova Scotia, and Russia; landlocked Lake Ontario Atlantic salmon in New York and broodstock Atlantic salmon at home in Connecticut.
A collection of Ben's classic and artistic salmon flies are featured in Michael Radencich's book "Classic Salmon Fly Patterns: Over 1700 Patterns From the Golden Age of Tying." Ben's work can be seen at his website benbilello.com/salmonflies.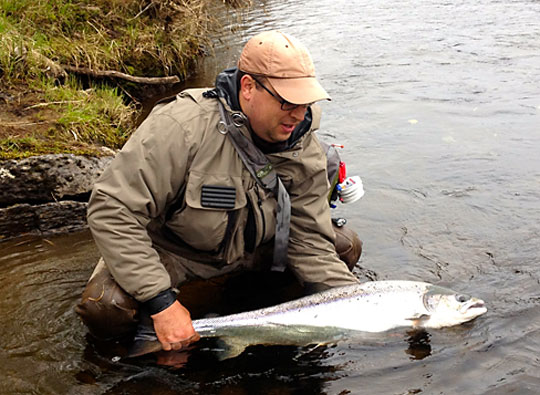 The Nutmeg Chapter of Trout Unlimited is organizing a fall fishing outing for salmon on the Naugatuck River with Ben Bilello, a local fishing guide.
The trip is limited to four people. The cost is $100 per person, including tip. This is a fun, convenient trip located just 40 minutes from our territory.
Click here to RSVP. Once we have four reservations we'll ask you to mail in your fee. All proceeds will be going to the guide.
The fall broodstock Atlantic salmon fishing season is a freshwater fly angler's chance at catching his or her largest freshwater fish of the season. While most salmon caught are in the 3- to 6-pound range, fish exceeding 20 pounds are always a possibility.
On the surface, salmon and trout fishing have a lot in common. Knowing the subtle differences between the two will help an angler achieve consistent results while salmon fishing. This group trip will focus on identifying likely holding lies at various water levels, salmon behavior, fly selection, various methods of presentation, and effective fish fighting techniques.  
What to bring: Rods and reel (6-8 wt), floating line, waders, boots, warm clothes, rain gear, wading staff, streamer and/or Atlantic salmon flies (sizes 2-12), drinks, and lunch. Please make sure you have a valid Connecticut fishing license.
For any questions, contact Ben at ben@benbilello.com. You can also purchase salmon flies from Ben, just email him what you are looking for. You can also visit his website, http://www.benbilello.com/salmonflies/Home.html.