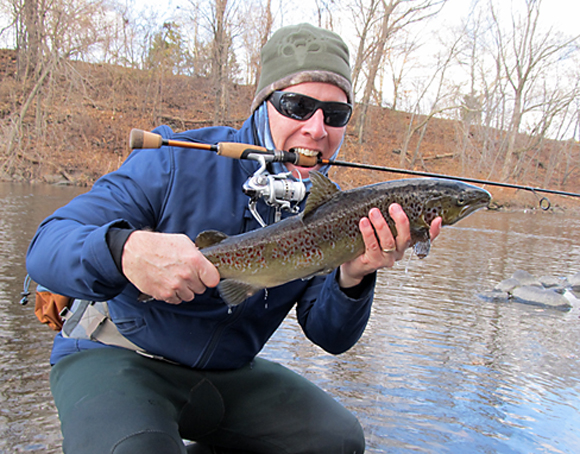 There are still a good amount of peanut bunker out in the harbors and anglers are catching the occasional striper and yet, the better action has been in the lower estuary of the Housatonic. Atlantic herring have arrived in good numbers and those can be caught using a sabiki rig on an ultra-light spin fishing set-up. Herring are an excellent food source as well as being great striper bait.
The upper Housatonic has been blown out due to all of the rain in recent weeks and is now coming back down to a fishable level. The Farmington continues to give up a steady number of larger rainbows and browns which have been bulking up for the winter months. The Atlantic salmon fishing in the Naugy continues to thrill anglers and I recently fished there with fellow Nutmeggers John Kovach and Jim Lynch, who caught his first Atlantic Salmon.
John Kovach and I also joined Mianus T.U. at their annual New Year's outing on the Norwalk River for some fly fishing. Despite the cold temps, more than 30 anglers showed up and many browns and bows were caught in a few different sections of the Norwalk. A few holdovers and some beautiful wild browns. I started the New Year off with a 6 inch wild Norwalk River brown and that was a great start to the year!!
Tight lines!
Ron Merly