Revised fishing regulations, including a trout and salmon stamp, were approved Tuesday by the the state's Regulations Review Committee.
The regulations will become effective after they are posted on the secretary of the state's website.
The initial proposal called for separate trout and salmon stamps that could be purchased individually or in combination. That proposal was replaced by one mandating a single stamp for either trout or salmon, at a cost of $5; that was sent back for revision, resulting in the now-approved trout and salmon stamp which is $5, $3 for anglers 16 and 17 years old. Any anger who must obtain a license, regardless of if the license is free, must purchase the stamp.
A trout and salmon stamp is required for any angler 16 years of age and older fishing in a Trout Management Area (TMA), Wild Trout Management Area (WTMA), Trout Park, or Atlantic Salmon Broodstock Area; or keeping trout, Kokanee salmon or broodstock Atlantic salmon anywhere statewide.
The Mill River WTMA in Easton and Fairfield is extended downstream to the Merritt Parkway and the Mill River TMA is now catch-and-release year-round.
A small portion of the West Branch Farmington River in the Riverton area from the intersection of Hogback Road and Route 20 in Hartland downstream to the gas pipeline crossing approximately four-tenths of a mile downstream of the confluence with the Still River in Barkhamsted will now be closed to all fishing from April 1 to 6 a.m. on the second Saturday in April. This is intended to restore excitement to Opening Day.
Alexander Lake in Killingly is open to fishing year-round. Baldwins Pond in Meriden and Green Falls Reservoir in Voluntown are open to fishing from 6 a.m. Opening Day through the last day of February.
There is now a creel limit of six channel catfish and white catfish in aggregate per day, except in Beaver Park Lagoon, Birge Pond, Bunnells Pond, Center Springs Park Pond, Freshwater Pond, Keeney Park Pond, Lake Wintergreen, Lakewood Lake, Mirror Lake, Picketts Pond, Rowans Pond, Mohegan Park Pond, and Stanley Quarter Pond, where the creel limit is three catfish per day.
There is now a creel limit of five common carp per day, with no more than one fish greater than 30 inches in length, except in Trophy Carp Waters. Batterson Park Pond, Connecticut River (including the portions of tributaries open year-round), Squantz Pond, and West Thompson Reservoir are designated as Trophy Carp Waters with a one-carp-per-day creel limit and a 26-inch maximum length for common carp.
Tenkara fishing, a traditional Japanese method of fly-fishing without a reel, is now allowed in fly fishing areas.
The period when broodstock salmon gear restriction applies to all species in broodstock areas is now from Sept. 1 to March 31 (inclusive).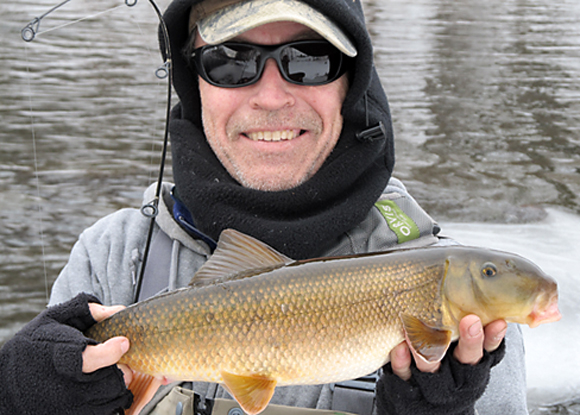 Not much to report this time around. Ice is the game as there is not a whole lot of open water in the state right now. Shelf ice is prevalent along the banks of many streams if they are not frozen over. The Housy is running around 700 but the water is very cold and the fish are in their dormant cycle. The Farmington is slushy unless you are up in Riverton. Much of the Naugatuck River is frozen over or slushy making Altlantic salmon fishing very difficult. If you are fishing along the ice shelves, be careful! It is difficult to land fish unless you are right near the edge and this is where the ice is thinnest.
Connecticut is blessed with many fishing opportunities as well as excellent fisheries management. Pending as of this writing are a new state record for walleye, which was hauled through the ice with the fish weighing more than 15 pounds, as well a pending world ice fishing record for carp, which was pulled through a hole on the lower Housatonic River.
The state record for brown trout may have been broken this year as well. If it was, it was broken by a hatchery raised breeder. The state released a lot of large breeder seeforellen brown trout up to 25 pounds into some of our lakes this past fall which has caused much controversy. The issue being that the current state record, although a seeforellen, was stocked into the Saugatuck Reservoir at 8-12 inches long and learned to survive and grew to the more than 18 pounds that it was when Tony Urbanawiecz pulled it out of the res. The current fish was a hatchery raised fish which was used to being fed in a tank; Big difference. Anyway, Tight light lines for those who get out there. Looking forward to some warmer days myself.
– Ron Merly