The Nutmeg and Mianus chapters of Trout Unlimited will gather to celebrate Arbor Day by planting trees along the Mill River in Fairfield Saturday, April 29, from 9 a.m. to noon.
The project is the latest step in Trout Unlimited's ongoing rehabilitation of the Mill River, a stream that is home to native brook trout and wild brown trout. Invasive flora has been removed, and native species are being planted along the banks.
Donuts and coffee will be provided.  Please bring a shovel.

Friends, kids and anyone who wants to help may attend.
Register below in "Leave A Reply" by sending us your Name & Email Address and stating April 29 Planting Volunteer in the Comments Box.  You can also register at mianustu.org. 
All Volunteers are asked to register to help with food counts and planning.  After registering watch your emails for any additional information and where to meet.

Feel free to take a fly rod to fish the Mill with us after planting is done. 
We look forward to seeing you there and come back to this site often for more of our fun events.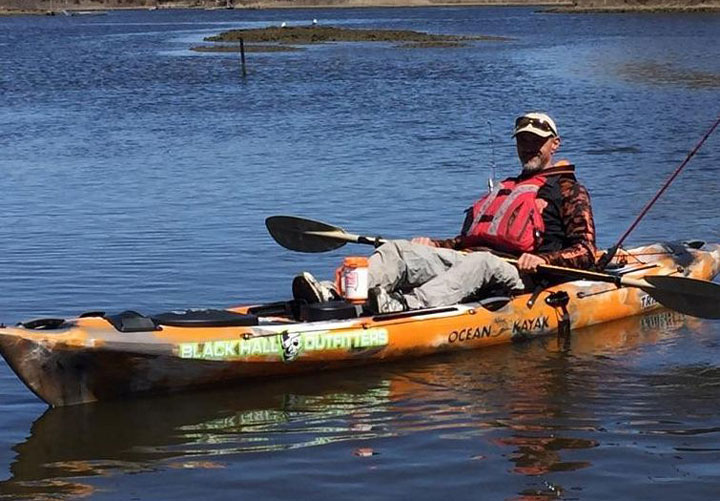 Every angler has seen that trout that's on the far side of water that's just too deep to wade, and just out of reach of the longest cast.
Kayaks have brought those trout, usually big ones, into reach for anglers who choose to use them, and members of the Nutmeg Chapter of Trout Unlimited will learn how at their next meeting Tuesday, April 18, at Port 5, 69 Brewster St., Bridgeport.
Guest speaker Jesse Roche will teach us how to get started in kayaking and how to use that to reach places we need to get to catch elusive trout.
Roche brings with him eight years of kayaking, as well as a lifetime on the water and outdoors. He comes from a nature -oriented family. From his grandfather, a forrester, and grandmother an Audubon Society member, to his parents, both always outdoors, and father, who worked for years in marine sciences. Instead of Disneyworld, Jesse's family spent summers in the wilderness of the Minnesota, on boundary waters in an Old Town canoe, and the White Mountains of New Hampshire. He wouldn't trade it for anything.
After 10 years as a radio personality on 97.7 WCTY FM, he now produces and hosts Fishing Today a weekly radio program on 1310 WICH AM in Norwich as well as a podcast on wich.com.
"It's basically NPR for fishing," Roche said. "I try to be information and news-oriented. It's a lot of fun because both myself and the listener can learn new things about fishing every week."
Jesse is also involved with the New England Fishery Management Council, serving his first term as a recreational fishing panelist. There he and other representatives from our New England states set up the framework for new fishery regulations.
"I am very conservation oriented. Preserving our fishery means a lot to me," Roche said. "I look forward to spreading that philosophy as a member of the Black Hall Outfitters Fishing team"
The meeting will also feature a look at opening day weekend and Nutmeg's Trumbull stream cleanup, and plans for an April 29 planting along the Mill River at the Fairfield-Easton border on Congress Street.
Volunteers are again needed to help remove invasive species from the banks of the Mill River along Congress Street at the Easton-Fairfield line, near the Merritt Parkway.
Last year Nutmeg TU started a three-year invasive species removal project along the Congress St. section of the Mill River. This is the section that flows down stream from Sport Hill Rd. to where it flows under Congress St. If you drive by you'll notice a lot of the knotweed is lower from the initial effort. It is time for the second year cutting, when volunteers cut the dead plants from the previous year's fall spraying. The cutting is done early in the growth season so as not to cut down live plants from this year's growth.
Volunteers are needed Saturdays, April 5 and 12, from 9 a.m. to 2 p.m. If you can volunteer, please post a comment indicating the day and hours you can help out.
Nutmeg TU will provide the weed cutters, face masks, water and snacks.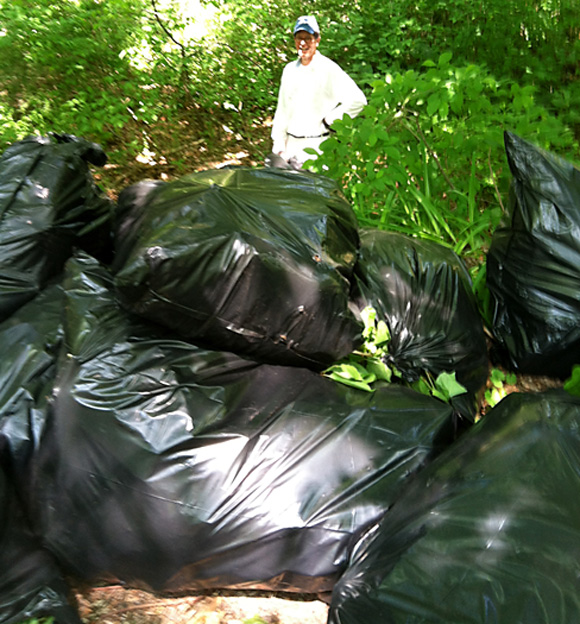 One of our high-priority goals this year is to take steps to remove invasive Japanese Knotweed where it's growing along the Mill River so indigenous plants will again line the banks and restore the natural balance of flora and fauna for a healthy stream. We've begun with the section flowing along Congress Street in Fairfield because of its concentration of this invasive. Here's what we've done so far:
•    Cut down Knotweed in the biggest growths along the Fairfield side (between the river and Congress St.) from Route 59 downstream (west) to the Congress St. bridge over the river. We have significantly weakened all these growths so their rhizomes and shoots will be more susceptible to controlled herbicide spraying this Fall.
•    Intentionally left selected growths standing as control plots for the upcoming herbicide spraying. This will help us determine the extent cutting is needed going forward vs. spraying only, in our multi-year plan for eradication.
•    Won approval from all(!) eight Easton homeowners on the north bank to help them eradicate knotweed on their properties and cut down the major knotweed growths there. This paves the way for our future collaboration on additional key restoration steps such as improving in-stream structure and sinuosity.
•    Cut down knotweed on the Covenant Church Easton property, having won their support for our efforts.
•   Built/strengthened partnerships with the Fairfield Conservation Department and  Easton Conservation Commission to pursue Knotweed eradication (and other restoration steps) along the Mill.
•    Worked with these departments, the Aspetuck Land Trust and DEEP to determine the best multi-step approach to Knotweed eradication, involving biologically safe herbicide treatment this coming Fall.
•    Begun a plan for free other sections of the Mill from Knotweed incursion, and from other invasive species, building on the work Ross Ogden led for us with the ALT.
So we've done a lot with solid results so far, and with more to come! We hope you'll drive along Congress Street to see how the Knotweed there is weakened and picture how this section of the Mill will look when native plants once again are the only species growing there!