Thanks to the support of our members and community, the Nutmeg Chapter of Trout Unlimited raised more than $1,000 in additional funding for work to restore the Mill River at the Fairfield-Easton border along Congress Street through the Embrace a Stream Challenge, presented by Trout Unlimited and Orvis.
This combined with the $670 previously awarded will allow us to complete the project in the spring of 2018.
Working closely with the Town of Fairfield Conservation Department, we have reduced the knotweed problem and planted hundreds of native trees and bushes.
A regulation change is pending at the state level which would make the area where work is being done a Wild Trout Management Area. By increasing the depth of the river along Congress Street the river will better host the wild trout population.
In the spring we will use these funds to anchor discarded Christmas trees to the banks, where the branches will trap sediment and help form new, natural banks. The riverbanks that accumulate there will reroute the Mill River to its original track, and create better habitat for the native trout.
We invite the community to join us in the spring to help with the tree anchoring. Members and nonmembers are invited to join us at our monthly meetings, fishing outings and conservation events. You can follow us on Facebook or find about upcoming events at our website http://www.nutmegtrout.org and on MeetUp.
President
Nutmeg Trout Unlimited Chapter 217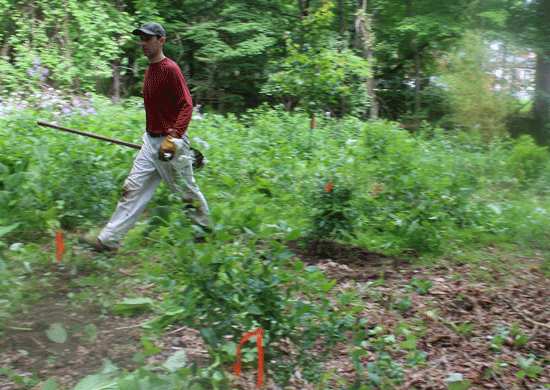 The Nutmeg Chapter of Trout Unlimited has received a grant for restoration of the Mill River and been entered in the Embrace A Stream Challenge, a new online contest sponsored by Orvis and Trout Unlimited. From Nov. 6-12, the chapter has a chance to win its share of $50,000 in cash prizes to help fund the Mill River Conifer Revetment Project, an initiative to restore the Mill River in Fairfield County.
In early October, the Nutmeg Chapter received an $670 grant from the Embrace A Stream program to support removal of invasive species and shoring up of the banks of the Mill River near the Easton-Fairfield border, along Congress Street in Fairfield.
From Nov. 6-12, anyone who visits embraceastream.org and makes a donation of as little as $10 to support Nutmeg TU's work will help it unlock prizes ranging from $250 to $5,000. Nutmeg TU is competing in this contest with more than 40 other Trout Unlimited chapters from across the country.
"We're excited to have the chance to raise even more money to restore and improve the Mill River in the Embrace A Stream Challenge," said Rich Rosen, Nutmeg TU president. "But we need the help of all of our community members to win. If you care about clean water, and share our love for the Mill River, please help our more than 300 local members and volunteers by donating to this important project."
The Mill River Conifer Revetment Project will focus on a section of stream that runs along Congress Street in Fairfield, where the river is more than 40 feet wide in some places, when it should average 15 feet. TU volunteers and their partners will narrow the stream channel and stabilize the banks using conifer revetments to prevent future erosion and ensure that the stream at the site and downstream can support excellent trout habitat.
The Mill River is currently home to some of the highest densities of wild and native trout in the state, but TU and other experts believe that the fishery can support even more trout with habitat improvement. Pending before state officials is a regulation change that would make the stretch a catch-and-release only area dedicated to wild trout.
The site is near the Merritt Parkway and a heavily used service area, and frequently needs litter removal in addition to replacing invasive species with native fauna, which Nutmeg TU has been doing, in cooperation with the Town of Fairfield, for four years.
Embrace A Stream is a matching grant program administered by Trout Unlimited that provides funds to local chapters and councils for coldwater fisheries conservation. Since its inception in 1975, the grant program has funded more than 1,000 individual projects for a total of $4.4 million in direct cash grants. Local chapters and councils contributed an additional $13 million in cash and in-kind services to EAS funded projects, for a total investment of more than $17 million. The Embrace A Stream Challenge is a new national online contest sponsored by Orvis and Trout Unlimited to connect people who care with a chance to support improvements to the rivers and streams in their communities.
"This year, more than 40 local Trout Unlimited chapters from across the country have brought forward plans to take care of the rivers that they love to fish," said Russ Meyer, chairman of the Embrace A Stream grants committee, a group of Trout Unlimited volunteers who review and approve all grant applications. "The Embrace A Stream Challenge gives everyone in your community the chance to join us in supporting this important local project."
The Nutmeg Chapter of Trout Unlimited serves more than 300 members in Southwestern Connecticut. Nutmeg TU works with partners to restore local rivers, engage area youth in outdoor education and protect trout streams that are a mere stone's throw from Manhattan, specifically the towns of Fairfield, Westport, Weston, Easton,  Redding, Trumbull, Monroe, Bridgeport, Stratford, Milford and Shelton.
Nutmeg TU meetings are held the third Tuesday of every month, September through May, at Port 5, 69 Brewster St., in the Black Rock section of Bridgeport. They are open to the public free of charge. The Nov. 21 meeting features Greg Myerson, who holds the world record for the largest striped bass.
Trout Unlimited is the nation's largest coldwater conservation organization, with more than 300,000 members and supporters dedicated to conserving, protecting, and restoring North America's trout and salmon fisheries and their watersheds. Visit TU online at tu.org.
You can look sharp on the stream and support the conservation efforts of Connecticut Trout Unlimited by purchasing merchandise from RepYourWater.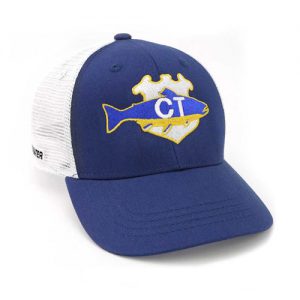 RepYourWater provides creative and unique designs on high-quality apparel and merchandise while making a difference for wildlife habitat around the country. By teaming up with Colorado Trout Unlimited early in its existence, RepYourWater has been able to contribute to the conservation of Colorado fisheries and set in motion what the company is today.
Rep. Your Water has now joined with conservation organizations across the United States, including the Connecticut Council of TU, as 1% partners. Rep Your Water distributes 10% of sales among those 1% partners, based on sales of designs to the Trout Unlimited chapters of Connecticut, Canada, Wyoming, Pennsylvania, the Southeastern Conservation Project and New Mexico; Backcountry Hunters and Anglers Chapters in Utah, Alaska and Montana; the Wild Steelhead Coalition and The Bonefish and Tarpon Trust to provide financial support for the protection of the natural world.
RepYourWater also donates 50% of the proceeds from the Bristol Bay, Native Fish Society and the WILD steelhead hats to the Renewable Resources Fund, Native Fish Society and Wild Steelhead Coalition respectively.  
The message to Connecticut anglers is, the more Connecticut merchandise you buy from Rep Your Water, the more money comes back for local conservation efforts.
For more information on Rep Your Water's relationship with each non-profit, choose from the drop-down menu on its home page, repyourwater.com.
The Nutmeg and Mianus chapters of Trout Unlimited will gather to celebrate Arbor Day by planting trees along the Mill River in Fairfield Saturday, April 29, from 9 a.m. to noon.
The project is the latest step in Trout Unlimited's ongoing rehabilitation of the Mill River, a stream that is home to native brook trout and wild brown trout. Invasive flora has been removed, and native species are being planted along the banks.
Donuts and coffee will be provided.  Please bring a shovel.

Friends, kids and anyone who wants to help may attend.
Register below in "Leave A Reply" by sending us your Name & Email Address and stating April 29 Planting Volunteer in the Comments Box.  You can also register at mianustu.org. 
All Volunteers are asked to register to help with food counts and planning.  After registering watch your emails for any additional information and where to meet.

Feel free to take a fly rod to fish the Mill with us after planting is done. 
We look forward to seeing you there and come back to this site often for more of our fun events.