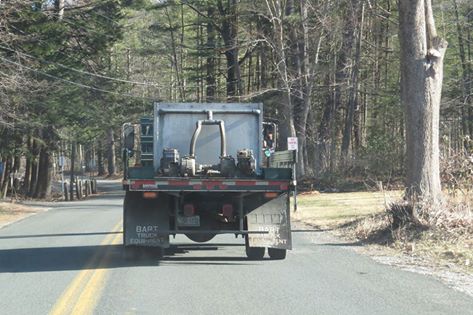 New trout have been placed in local as the Connecticut Department of Energy and Environmental Protection has begun stockingTrout Management Areas.
The Mill and Mianus rivers were stocked March 7. On March 3the fly fishing only area on the Saugatuck River in Westport
"While this weekend is looking pretty cold, plan to have "trout fever" at least one day next week when temperatures rebound a bit," the DEEP posted on the Connecticut Fish and Wildlife feed on Facebook, where stocking updates are posted daily.
Waters other than Trout Management Areas are closed to fishing until opening day on Saturday, April 8.
Anglers will require a 2017 fishing license. Click here for information.
Meeting at Port 5, 69 Brewster St, Bridgeport CT, 7 PM, and the pizza will be hot.
Our speaker for January will be Tom Bourret, a Sr Fisheries Biologist at CT DEEP.  Tom is going to share lots of information on Ice Fishing, a program that he has helped to coordinate for the last 25 years in the C.A.R.E. Family Workshops (CT Aquatic Resources Education). He will cover ice fishing safety techniques, proper clothing and the gear that you will need.  And his tips will get you ready to set up on the ice.  There are 2 ice fishing events approaching: CARE Family Ice Fishing Derby, January 30th, on Coventry Lake; and No Child Left Inside Winter Festival, February 6, on Black Rock Pond.
Tom is a native of CT and has worked for DEEP since 1984.  He has been involved in many of the projects such as Bantam Lake pike capture and spawning, Kokanee Salmon capture and spawning, electrofishing on the rivers, streams and in lakes, creel surveys on the Farmington, Housatonic, and 4 Northwestern lakes to name a few of his many projects.
Bring your questions on gear and techniques! Bring the kids too, if you want them to learn the right way to think about Ice Fishing!
From Ron Merly's desk, May 24th
As I write this report, the state as well as all of New England, could use a few good rain storms. The rain deficit is currently more than 2″ and all of the smaller streams are very low. The Housatonic has just been re-stocked for the Memorial Day weekend but there is a heavy algae bloom occurring due to the water levels dropping so quickly at this time of the year. The upper Naugatuck was recently re-stocked as well but is running extremely low. The Farmington has been consistently stocked and is loaded with trout but the water is very clear and flows are down, making it difficult to catch fish during the day. Mornings and evenings are your best bet but if you are there during the day, fish nymphs unless you see fish rising.
I spent some time up in Vermont this past week and had all intentions of fishing the lower Black River in Cavendish. It was literally puddles so I did not fish. There were some very nice fish in some of the holes, and yet, if I hooked them, the fish would not have any water for them to run, which is why I decided not fish.
I also fished the Pomperaug River recently which is prone to low flows but the river is extremely low at present (I urge all of you to go and see it). The Connecticut Siting Council recently approved the construction of the Towantic Power Plant in Oxford. I can't begin to imagine how they will be drawing more than 1 million gallons of water out of that river system annually and what condition it will be in during a drought such as this. But it now makes perfect sense to me as to why Governor Malloy merged the Department of Energy with the Department of Environmental Protection a few years back. DEEP's hands were completely tied on this issue. I suggest writing the legislature on the subject of conflict of interest within these departments being merged as one, using the construction of a Power plant that we do not need as a perfect example. Remember, this affects the Pomperaug River, Sprain Brook, the Weekeepeemee River, the Nonewaug River, the Little River, and the Naugatuck River, the entire Housatonic River estuary as well as Long Island Sound. Power plants are notorious for attracting invasive species due to the warm water outflow.
Newtown recently appealed to Aquarion to pipe water from the Easton Reservoir over to Newtown obviously because they are aware that the power plant will make water scarce in that area. Luckily, it was denied by DEEP but watch out for more of these requests. Meanwhile, the future of the Mill in Easton (Running Brook Farm) hangs in the balance.
Poaching also remains rampant this year. If you witness poachers, call the state hotline, 800-842-4357.  I know we've all done it with little results but if they receive hundreds of calls, maybe something might change.
Wishing I had better news for the report,
Ron Merly
Trout in the Classroom Programs Liberate Their Fish
Statewide schools participating in Trout Unlimited's Trout in the Classroom program are releasing the trout they have raised in their classroom since the eggs hatched.  The Brown Trout (eggs provided by the Kensington State Fish Hatchery) are being released to local rivers and streams. Students have spent many hours caring for and learning about the needs of Brown Trout.  Good luck to all of the fry raised and released by these students.  Contact CT Trout Unlimited for more information about the Trout in the Classroom program. Ed Albrecht is our state wide coordinator.  And Dave Edgeworth is our Nutmeg TIC coordinator.