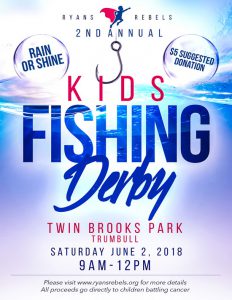 Ryan's Rebels needs volunteers to help at its second annual fishing derby Saturday, June 2, at Twin Brooks Park in Trumbull.
The tournament is catch and release, with entries measured for length, then let go. Volunteers are needed to help bait hooks, untangle line, measure and release fish, and offer families any other assistance needed. Those who wish to volunteer should click here to contact Ryan's Rebels.
Ryan Joyce was a great natured, fun-loving and feisty three and a half year old.  He loved playing with his parents and sister, zooming cars and trucks around, and kicking a ball in the backyard with his buddies. And he LOVED superheroes!
In the summer of 2014 he was diagnosed with Neuroblastoma, a pediatric cancer.  Sadly, after a courageous 18-month battle he passed away on December 3, 2015, one month shy of his fourth birthday.
Ryan's Rebels is committed to providing comfort and support to children and their families that are battling neuroblastoma and other pediatric cancers by:
​•   Financially assisting families seeking a natural approach by helping offset costs associated with non-conventional treatment options in conjunction with current medical treatments or if conventional treatments fail.
•   Providing healthy and nutritious meals to families whose children are in treatment
•   Hosting events and fundraisers that focus on the importance of nutrition and the outdoors.
•   ​Funding neuroblastoma research and support charities that align with our mission.
More information can be found at ryansrebels.org.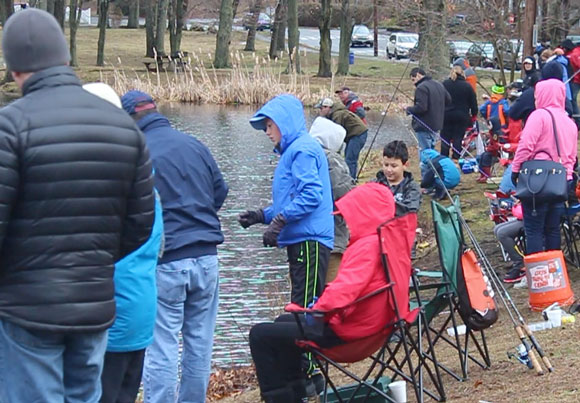 Spring fishing derbies are a great way to introduce kids to angling, and there are several in the Nutmeg TU area.
The Fairfield PAL will hold its annual derby Saturday, April 7, from 9 to 11 a.m. at Gould Manor Park, 749 Holland Hill Road, Fairfield. Registration starts at 7:30 a.m. The Fairfield PAL Trout Derby is open to ages 3 to 15; prizes are awarded for the largest and smallest fish.
The 50th Milford Children's Trout Derby, sponsored by the Milford Striped Bass Club, will be held Saturday, May 5. Trout Derby co-chairmen Shawn and Jenn Lalond have been organizing and running the event for more than 10 years. They can be reached at poolshark442@aol.com.
The Stratford Recreation Dept. is having its annual Catch-and-Release Fishing Derby for children of all ages on Saturday, May 5, from 6:30 to 8:30 a.m., at Brewster Pond in Stratford. The fee is $5; register April 2-May 4 online at www.townofstratford.com/recreation or in the Recreation Dept. office at 468 Birdseye Street, Stratford.
The 15th annual Monroe Police Fishing Derby will be held Saturday, May 19, from 6 to 9 a.m. at Wolf Park's Great Hollow Lake in Monroe. The event is open, free of charge, to children 3 to 15. Prizes are awarded for the heaviest fish in the age groups 5 and under, 6-7, 8-9, 10-11, 12-15.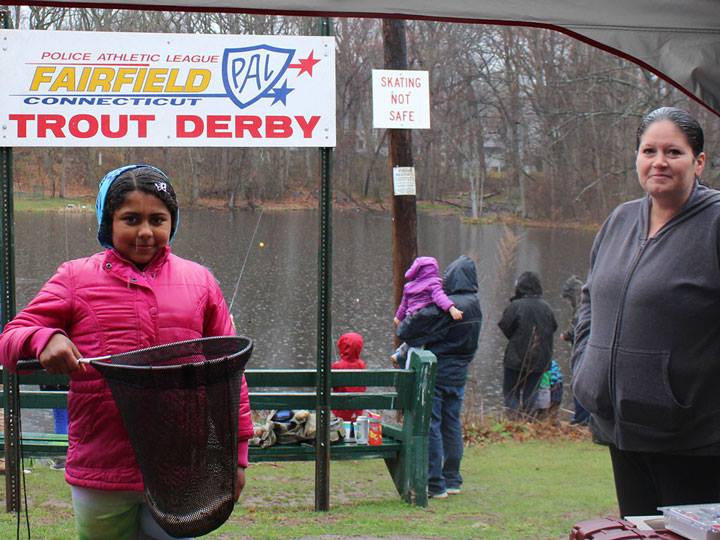 The Fairfield Police Athletic League will hold its annual fishing trout derby Saturday, April 1, from 9 to 11 a.m., at Gould Manor Park 740 Holland Hill Road.
Registration begins at 7:30 a.m.
The event is free for children ages 3 to 15.
Prizes will be awarded for the largest and smallest fish.
A registration form may be found at fairfieldpal.org/activities/fishing-pal-trout-derby.html
Anglers should take their own tackle; a limited amount of bait will be made available from Jimmy O's, 3295 Fairfield Ave., Bridgeport.