Looking for a new (but old), simpler way to fly fish? Learn about Tenkara from Chuck MacMath when Nutmeg TU meets Tuesday, Oct. 16, at 7 p.m.
Tenkara is a method of fishing said to have originated in Japan about 400 years ago that only uses a rod, line and fly. The line is fixed and there is no reel. Rods are quite long to keep as much of the line off of the water as possible thus eliminating drag and creating a better presentation of the fly.
Chuck said he started about three years ago.
"It seemed intriguing, it was something different and no one I knew of was doing it," MacMath said. "That's the kind of stuff I like.
"I also like the simplicity of it," Chuck added. "There is more of an emphasis on technique than gear. There is s saying in tenkara that the more you know the less you need."
Chuck participates in every type of fishing available.
"I own a fleet of boats which includes a float tube, kayak and rowboat, all rigged for fishing, and a 17 1/2-foot Tracker bass boat," Chuck said.
"Let's not forget ice fishing also," he added. "I'm a member of many local rod and gun clubs. I'm a certified CARE instructor for the Connecticut DEEP, and I tie my own flies and build my own rods."
Nutmeg TU meets at Port 5, 69 Brewster St. in the Black Rock section of Bridgeport, Pizza and beverage are available for purchase.
Future meetings feature John Jinishian of Alaska's Wild River Guides on Tuesday, Nov. 20, and the annual holiday potluck party on Tuesday, Dec. 18.
WE HAD A LIMITED NUMBER OF OPENINGS & THEY HAVE BEEN FILLED.  SORRY.
Please join us on one of our many other Nutmeg Trout trips.
Nutmeg TU has reserved the Limestone Trout Club in Canaan for Wednesday, May 23, 2018.
The fee is $50. Those who wish to attend should RSVP to Rich Rosen at rhrosen@aol.com.
Those wanting to car pool will meet at the Park and Ride near Rt. 8 and Hawley Lane;  be there before 7 a.m. to carpool. Bring your gear, lunch,  and beverages.
This event is rain or shine.
Ponds to Challenge All Levels
Limestone Trout Club offers six ponds from which anglers may choose. Two man-made ponds, Home Pools, are located near the clubhouse providing easy access well suited for the novice fly fisher. Another man-made pond, Spruce Pond, also located near the clubhouse, provides exciting dry-fly fishing when the trout are rising.
Three other large ponds were once limestone quarries. They are spring fed and quite deep, providing trout with yearlong refuge and fly fishers with sport throughout the season, both on top and sub-surface. Two of the ponds, Birch and Pine, may be fished from rowboats provided by the club. Cedar pond, the most challenging, has a number of ideal casting sites that add an exciting dimension to the Limestone experience.
The ponds are regularly stocked with rainbow, brown, and brook trout. An occasional stocking of tiger trout may surprise the angler with an unexpected fierce strike. Golden trout also may contribute to an environment unique to Limestone.
Guest anglers (and other visitors) can arrive at the club from 8 a.m. The gate will be unlocked so they should drive up to the Clubhouse. A club member will greet Nutmeg anglers.
• The insurance carrier requires all guests to sign a waiver which will be available at sign-in.
• There will be a still water orientation about 8:30 or 9:00.
• Fly Fishing only.
• Most of the fishing is from the shore. There are two lakes each with two row boats. No other watercraft are allowed. You cannot use your personal watercraft. You do not need waders but I suggest sturdy, preferably water proof shoes because of some marshy areas and the early morning dew.
• They have 3 deep (70+ feet) quarry ponds and 3 shallow ponds providing a variety of venues and conditions.
• While most members practice catch and release, catch and kill is allowed. We can cover the details at the briefing.
• They have a stove, refrigerator, and microwave in the Clubhouse. Also, grills with both propane and charcoal for your use (we have the fuel).
If others attend but do not fish, there are plenty of trails to walk, a comfortable club house to sit and read, and some antique stores within driving distance.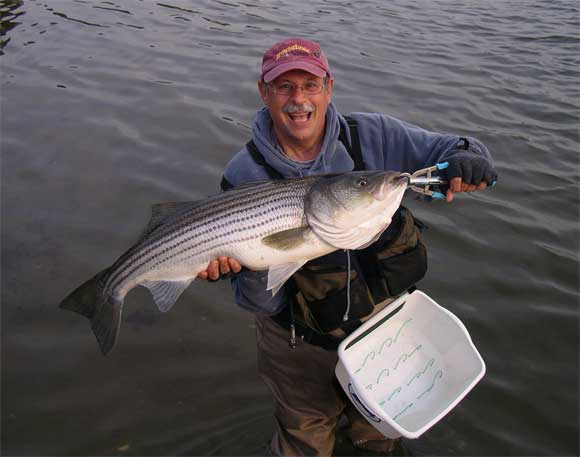 Paul Dinice will give a presentation, Fly Fishing for Stripers on the Housatonic, at the Milford Point Coastal Center on Earth Day, Sunday, April 22, from 1 to 2 p.m.
The cost is $8 for CAS members, $10 for non-members. Payment may be made the day of the presentation by cash or check.
The classroom is limited to 50 seats. Space may be reserved by calling the Milford Point Coastal Center at  203-878-7440.
"The Housatonic is a very unique and beautiful river," Dinice said. "Where else can you catch trophy trout at the foot of the Berkshires and then travel an hour south to the river mouth at Stratford/Milford and catch striped bass all in the same day.
Dinice is a 64-year-old resident of Derby who began spin fishing and fly fishing at a very early age. He lives close to the Housatonic and Naugatuck rivers and has been exclusively fly fishing since 1980. He is a member of several environmental organizations, including Trout Unlimited and the Connecticut Audubon Society. He is also a member of the Derby Inland Wetlands Commission and has been employed by the Town of Orange as zoning administrator for the past 38 years.
His "home" club/organization is the Housatonic Fly Fisherman's Association. For the past 35 years he has written "Fly of the Month" section of the HFFA newsletter and website.
He has contributed to a book entitled "Over-Winter Striper Secrets" by Captain Al Anderson. His contributions included photographs and writings which were incorporated in the section on fishing the Housatonic.
His "closer crab" pattern appeared in the 2012 Winter edition Fly Tyer Magazine. Dinice has organized numerous small fly fishing expos in Connecticut.  
This presentation will cover:
Fishing locations on the "lower" Housatonic, from the Derby dam to Long Island Sound

River access points

Fishing gear

Flies, bait, and fish imitations

Fishing techniques

Photos of successful fishermen  
He will also hand out a limited number of "A Guide to Stripers n the Housatonic".
The Coastal Center will be open from noon to 4:30 p.m. April 22.
UPDATE: Tonight's meeting will be held as scheduled at 7 p.m. at Port 5, 69 Brewster St. Bridgeport.
Ever wonder about how to get started fishing? Or if fly fishing is as complicated as it might seem? Or where to fish in Eastern Fairfield County?
Get the answers to these and other fishing questions when Nutmeg TU holds a fishing roundtable Tuesday, Jan. 16, at 7 p.m. at Port 5, 69 Brewster St., in the Black Rock section of Bridgeport.
The meeting will be informal, with members sharing thoughts, advice and insights. Pizza and beverages can be purchased.
This is a great chance to make angling friends, learn about the many fishing trips Nutmeg TU holds throughout the year, and discover ways to help on conservation projects.
Nutmeg Chapter of Trout Unlimited (# 217) is based in Fairfield and comprised of the towns of Fairfield, Westport, Weston, Easton,  Redding, Trumbull, Monroe, Bridgeport, Stratford, Milford and Shelton.
Its mission is to conserve, protect and restore coldwater fisheries and their watersheds, particularly in local rivers such as the Saugatuck, Mill, Aspetuck, Pequonnock and Farmill.
TU members and volunteers abide by the motto: "If you take care of the fish, the fishing will take care of itself."