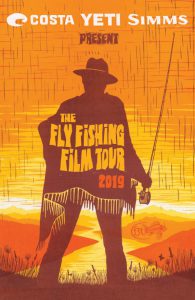 Don't miss out on our annual screening of the incredible Fly Fishing Film Tour — a perfect way to spend a cold winter night dreaming about the fishing season ahead!
Check out the trailers to this year's lineup of films that will get your heart pumping!
Each year we offer two showings so that there's a location or date that will work best for more people, and we're thrilled to be joined by over 400 avid anglers and conservationists who enjoy a fun night and help support our important work.
Join fellow anglers at the Stamford Majestic Theater on Friday, Feb. 8, or at Edmond Town Hall in Newtown on Friday, March 8 — or join us at both shows and bring friends, family and fishing buddies! Tickets are $25 in advance online or $30 the night of the shows.
Click here to buy tickets to the Stamford show on Feb. 8!
Click here to buy tickets to the Newtown show on March 8!
Doors open at 6:30 p.m., and the event features a cash bar serving cold beer, and wine donated by Brescome Barton Distributors. The raffle includes more than $2,000 worth of great prizes!
If you've never been to an "F3T" showing, you're in for a treat. You will watch dozens of incredibly shot, exciting fishing and conservation films while enjoying a few cold drinks and fun raffles and door prizes.
The best part is that this great night supports the conservation and education programs of the Mianus, Candlewood and Nutmeg Chapters of Trout Unlimited here in Fairfield County!
While tickets may be available at the door the night of the screening, we can't guarantee a space as we've sold out in past years!
Trout will soon have a better home in the Mill River thanks to a conifer revetment project.
Volunteers from Nutmeg and Mianus TU joined others in the water to anchor last year's Christmas trees, donated by the Town of Stratford, along the banks to reshape the river.
Funds came through the Embrace A Stream program, a collaboration of Orvis and national TU, and local showings of the Fly Fishing Film Tour.
Work will continue, with continued removal of knotweed, planting of more native species, and another revetment with 2018 Christmas trees.
An effort to restore one of the most valuable and storied wild trout streams in New England is under way, and volunteers are needed for the next step.
On Aug. 19, the Nutmeg Chapter of Trout Unlimited, working with the Town of Fairfield, will reshape the Mill River along Congress Street. Once a meandering stream, the waterway was straightened due to development. Using a technique known as conifer revetment, turns and pools will be restored to a river known as one of the best wild brook trout habitats in Connecticut.
Once a meandering stream, the waterway was straightened due to development, which reduces the health of the stream and the habitat for trout and other aquatic life. Using a technique known as a conifer revetment, turns and pools will be restored to a river known as one of the best wild brook trout streams in Connecticut.
Conifer revetments use discarded natural Christmas trees to shore up the banks, collect sediment and reroute the river. Volunteers anchor now-dead evergreens in the water along the banks. There they will trap sediment and build up the bank, extending land into the water and creating a curve in the river.
"This is a great opportunity for volunteers to get their hands dirty and see the direct impact of their efforts as we work to improve the quality of the Mill River as a wild trout stream," Nutmeg TU President Rich Rosen said. "Already we have mitigated the Knotweed problem and planted native trees and shrubs to help bring the river back to its natural state. We look forward to seeing more, larger fish making their home along Congress Street." 
In the fall of 2017, the Nutmeg Chapter received a $670 grant from the Embrace A Stream program to support removal of invasive species and shoring up of the banks of the Mill River near the Easton-Fairfield border, along Congress Street in Fairfield.
A short time later, donors contributed another $1,860.69 toward the Mill River restoration in TU's Embrace a Stream Challenge, which rewarded chapters with bonuses for reaching certain milestones and soliciting donations..
Money was also raised when Nutmeg TU collaborated with the Candlewood Valley and Mianus chapters on showings of the Fly Fishing Film Tour in 2017 and 2018.
Details on where to meet and how to volunteer will soon be posted, but save the date of Sunday, Aug. 19.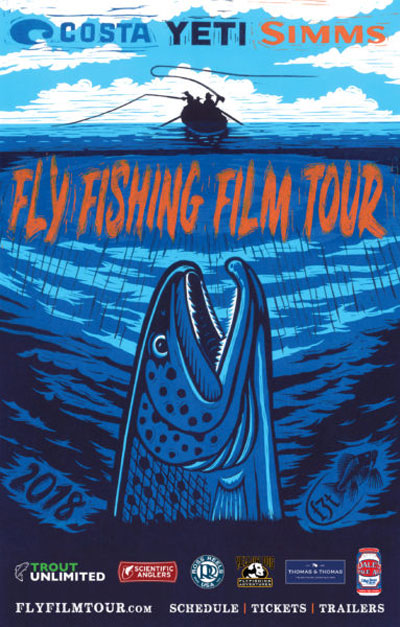 The Fly Fishing Film Tour will wade into Stamford Friday night, Feb. 23, to benefit education and conservation efforts by the Candlewood, Mianus and Nutmeg chapters of Trout Unlimited.
Doors to the Stamford Majestic Theater open at 7 p.m. Tickets are $25 each online or $30 at the door.
Click here to buy tickets to Stamford on Feb. 23
Nearly 200 people attended the first showing Feb. 2 in Trumbull, and last year's event in Trumbull sold out, forcing organizers to turn people away.
In addition to fly angling movies on the big screen, the evening will include drinks, raffles and door prizes.
Some films include graphic language and situations which may be inappropriate for younger viewers.
Trailers can be viewed at flyflimtour.com.