The second annual Chopped-style fly tying contest will be held during Nutmeg TU's holiday party on Tuesday, Dec. 19, at 7 p.m. at Port 5, 69 Brewster St., in the Black Rock section of Bridgeport.
Contestants use their own tools and thread.
Each of the materials provided for each must be used in that fly.
Contestants will have 10 minutes to complete each fly
There will be three rounds: Nymph, Streamer and Dry.
The winners of each round proceed to the next round.
Award criteria are totally subjective, based on:
• Fishiness
• Creativity
• Cleanliness of Construction
Click here to read more about the holiday pot-luck, and RSVP by leaving a comment on that story.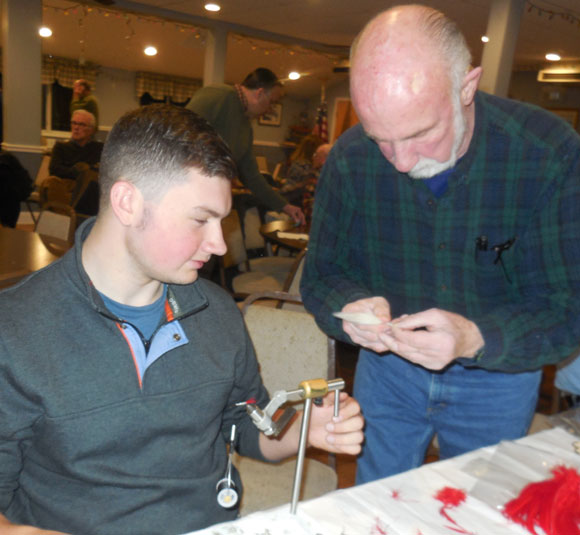 Celebrate the season, share food with us and if you want to answer the challenge compete in a fly tying contest when Nutmeg TU holds its annual holiday party Tuesday, Dec. 19, at 7 p.m. at Port 5, 69 Brewster St., in the Black Rock section of Bridgeport.
Dinner is pot luck. Your dish to share needs to feed 6 to 8 and last names beginning with A-H are asked to bring an Appetizer, I-P are asked to bring a main dish, Q-Z are asked to bring a dessert. Comment on this article to let us know how many people will attend and what you are bringing.
The Port 5 cash bar is available for beverages.
Jerry Goldstein will provide an update on Nutmeg TU activities and plans for 2018. The event will also raise funds for Nutmeg TU's operating expenses.
A fly tying contest based on the Food Network show Chopped is open to all. Contestants will be given identical materials and a fixed amount of time to tie a fly. There will be eliminations after each of three rounds, and a prize for the winner.
Flies to be tied are a nymph in the first round, a streamer in the second and a dry fly in the third and final round. Contestants will need to bring their tools and thread. All the materials for each fly will be provided. When you RSVP, let us know if you want to enter the fly tie contest.
A silent auction will be held to raise funds to support conservation and education initiatives by Nutmeg TU. Fishing adventures, led by a Nutmeg TU member, up for bid include boat fishing on the Long Island Sound; fly fishing the Mill, Saugatuck and Farmington rivers; a trip to Michigan that can include room and breakfast; a trip to southwest Maine; a kayak fishing outing; smallmouth fishing on the Housatonic River; and a having a fishing outing video recorded and photographed.
Other items in the silent auction include a print by artist James Prosek; a tenkara rod, and a 9-foot Winston 5 weight rod.
Scroll to the bottom of this page to where it says leave a comment, then post a comment to RSVP and let us know what dish you will be bringing. Comments will not immediately appear but will as soon as they are approved.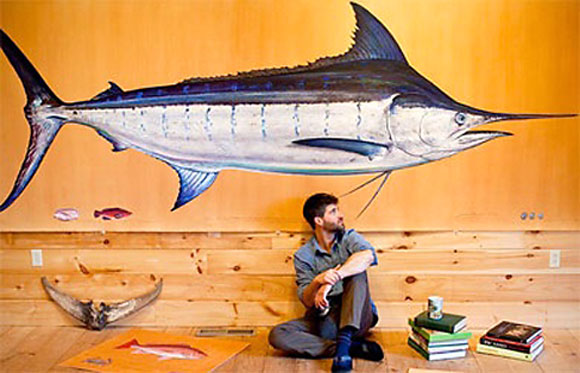 James Prosek will discuss his latest book, "Ocean Fishes" when Nutmeg TU Chapter 217 holds it annual holiday party Tuesday, Dec. 18, at 7 p.m.
The party will be held at a new location, Vazzy's 19th Hole at the Fairchild Wheeler Golf Course, 2390 Easton Tpke., Fairfield. Directions can be found at nutmegtu.org. Pizza and sandwich-type fare will be served. There will be a cash bar.
Prosek's appearance with his local TU chapter comes on the heels of his speaking at the Explorers Club in New York City Nov. 19. On Dec. 5, James Prosek was awarded the Gold Medal for Distinction in Natural History Art from the Academy of Natural Sciences in Philadelphia. Among previous recipients are Roger Tory Peterson, Ansel Adams, Peter Matthiessen and John McPhee.
The exhibit Ocean Fishes is on display at the Academy of Natural Sciences in Philadelphia through Jan. 21.
Ocean Fishes is James Prosek's personal tribute to marine beauty unlike any published before, based on travel, intense observation, work with scientists, and stories of those who know the fish most intimately: fishermen (both recreational and commercial).
It is also the author's quiet conservation statement, according to his website, troutsite.com. In showing the beauty and monumentality of these fish, Prosek is urging us to preserve what we have before it is lost.
"These paintings give the reader a privileged view of a fish fresh from the ocean when its changing colors first glint in the sun — a view ordinarily glimpsed only by the fishermen on the boat," according to the website.
This book is not intended as a scientific catalogue of ocean fishes. each painting reflects Prosek's individual experience with a single fish. The artist traveled the Atlantic from Nova Scotia to the Cape Verde Islands to see each species firsthand as it came out of the water before it lost its living colors. The original paintings are all life-size portraits (from a 14-inch porgy to a 12-foot, 8-inch blue marlin) and will be exhibited at several venues from Monaco to Philadelphia. Details from these original works are reproduced at full-size in the book to give a sense of scale.
Artist, writer, activist, and Yale graduate James Prosek made his authorial debut at 19 years of age with Trout: an Illustrated History (Alfred A. Knopf, 1996), which featured 70 of his watercolor paintings of the trout of North America. Prosek has shown his paintings with the Gerald Peters Gallery, New York and Santa Fe; Meredith Long Gallery, Houston; as well as with Wajahat/Ingrao, New York, the d.u.m.b.o. arts center, Brooklyn, Reynolds Gallery, Richmond, VA and the Aldrich Contemporary Art Museum in Ridgefield.
Prosek has written for The New York Times and National Geographic Magazine and won a Peabody Award in 2003 for his documentary about traveling through England in the footsteps of Izaak Walton, the 17th-century author of The Compleat Angler. He co-founded a conservation initiative called World Trout in 2004 with Yvon Chouinard, the owner of Patagonia clothing company, which raises money for coldwater habitat conservation through the sale of T-shirts featuring trout paintings. His book Eels: An Exploration, from New Zealand to the Sargasso, of the World's Most Amazing and Mysterious Fish, will be published by HarperCollins in September 2010. He is working on a book of paintings of Atlantic fishes for Rizzoli and a project about naming nature.
Prosek is a curatorial affiliate of the Peabody Museum of Natural History at Yale, and a member of the board of the Yale Institute for Biospheric Studies.