Fish the Housatonic River for stripers and burn off the holiday desserts on the day after Thanksgiving, Friday, Nov. 24, at 10 a.m.
Dave Edgeworth of Nutmeg TU will lead the trip to the Sunnyside Boat Launch in Shelton. The public access site is located behind Sunnyside School, 418 River Road, and a roadway is next to the school.
The outing is open to all. You need not be a TU member. Both spin and fly fishermen are welcome.
Bring your Striper tackle, there is lots of shoreline to fish from and wading as well.
Bass Fishing on the Housatonic River.  Forget your  trout fishing techniques.  They are not going to help you here.  Fast stripping for fly casters & speed spinning the right bait are needed to catch bass's attention.  Then watch out because Large &, especially, Smallmouth Bass fight like mad and need a totally different mind set than trout fishing teaches you. But first you need to find them.  That's where joining us for this Nutmeg TU Event comes in.
The Upper Housatonic River off Rte 7 is iconic for Bass Fishing.  Nutmeg Trout Host Dave Wilgan will lead this group of fly & spin casters to some of his favorite Housie spots for great bass fishing.  Join us and learn from Dave of the best places and techniques for bassing the Upper Housatonic.
Join us for a fun day of fishing for large and small mouth bass.
We meet at 10 a.m. (arrive early) at the parking lot just past the Rte 7/4 Cornwall Bridge (not the Cornwall Covered Bridge).  The parking lot is on the river side of  Rte 7 directly across the street from the Breadloaf Mountain Lodge (Lodge located at: 13 US-7, Sharon, CT 06069) (Google names the lodge Broadloaf)  GPS Coordinates for parking lot: 41°49'29.1″N 73°22'40.4″W.  The lodge is about a 1/2 mile west of the Cornwall Bridge river crossing.
Following a talk on the best flies and spin cast plastics for bassing we'll be fishing through the Birches/ Monument, Covered Bridge, & Push'em Up spots.  As time allows we'll do the Power Plant spot later in the day.  (Those who sign up will be provided with contact information for finding us.)
You can either wet wade or wear your waders.  Suntan lotion, hats, and sunglasses (polarized of course) are recommended.  Wading boots and a wading staff are also recommended.  Bring your own lunch and plenty of water along with a hat and polarized sunglasses.  We also recommend you bring your favorite bass fishing gear.  If you need additional gear Housatonic River Outfitters is just on the other side of the river from where we meet.
We recommend attendees contact the Meetup Host at admin@nutmegtrout.org with your name, telephone number, & email address so we can contact you to both confirm & remind you or notify you in case on inclement weather.  All information is kept confidential and only used for stated purposes here.
Want to say you "CROSSED THE APPALACHIAN TRAIL" with minimal effort?  travel about 3/4 of a mile up Rte 4 from the Cornwall Bridge and you will cross over the Appalachian Trail.  Much easier than doing it South to North. 🙂
Mike Humphreys, the DEEP Inland Fisheries Biologist for the western district, will be the speaker at the March meeting of Nutmeg TU, set for Tuesday, March 24, at 7 p.m. at Port 5, 69 Brewster St., Bridgeport.
Mike is a longtime fish biologist, holding an master's degree from the University of Tennessee with more than 30 years in his profession.
In past 25 years with the Connecticut Department of Energy and Environmental Protection, his work has focused on Statewide Stream Electrofishing Surveys, a Statewide Wild Trout Research and Management Project, and Housatonic River Research and Management.
Mike will be talking to us about his findings on trout survival with run of river in the Housatonic TMAs, various fish stocking programs, and regulation changes for some sections of the Mill River.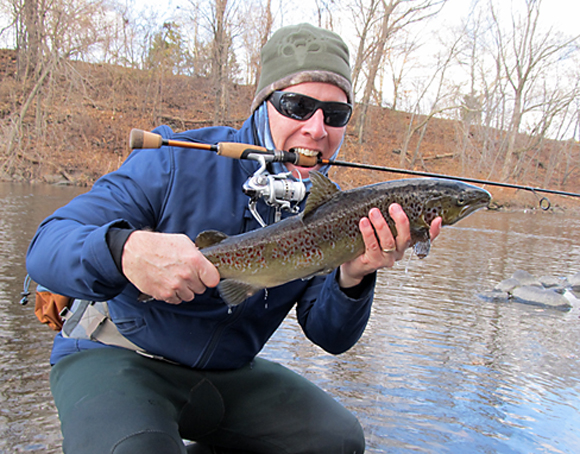 There are still a good amount of peanut bunker out in the harbors and anglers are catching the occasional striper and yet, the better action has been in the lower estuary of the Housatonic. Atlantic herring have arrived in good numbers and those can be caught using a sabiki rig on an ultra-light spin fishing set-up. Herring are an excellent food source as well as being great striper bait.
The upper Housatonic has been blown out due to all of the rain in recent weeks and is now coming back down to a fishable level. The Farmington continues to give up a steady number of larger rainbows and browns which have been bulking up for the winter months. The Atlantic salmon fishing in the Naugy continues to thrill anglers and I recently fished there with fellow Nutmeggers John Kovach and Jim Lynch, who caught his first Atlantic Salmon.
John Kovach and I also joined Mianus T.U. at their annual New Year's outing on the Norwalk River for some fly fishing. Despite the cold temps, more than 30 anglers showed up and many browns and bows were caught in a few different sections of the Norwalk. A few holdovers and some beautiful wild browns. I started the New Year off with a 6 inch wild Norwalk River brown and that was a great start to the year!!
Tight lines!
Ron Merly