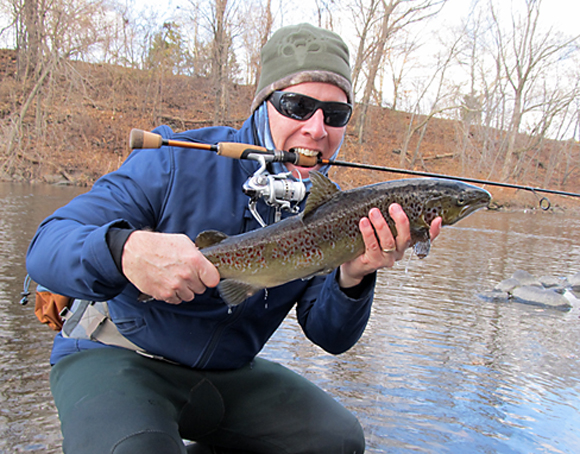 There are still a good amount of peanut bunker out in the harbors and anglers are catching the occasional striper and yet, the better action has been in the lower estuary of the Housatonic. Atlantic herring have arrived in good numbers and those can be caught using a sabiki rig on an ultra-light spin fishing set-up. Herring are an excellent food source as well as being great striper bait.
The upper Housatonic has been blown out due to all of the rain in recent weeks and is now coming back down to a fishable level. The Farmington continues to give up a steady number of larger rainbows and browns which have been bulking up for the winter months. The Atlantic salmon fishing in the Naugy continues to thrill anglers and I recently fished there with fellow Nutmeggers John Kovach and Jim Lynch, who caught his first Atlantic Salmon.
John Kovach and I also joined Mianus T.U. at their annual New Year's outing on the Norwalk River for some fly fishing. Despite the cold temps, more than 30 anglers showed up and many browns and bows were caught in a few different sections of the Norwalk. A few holdovers and some beautiful wild browns. I started the New Year off with a 6 inch wild Norwalk River brown and that was a great start to the year!!
Tight lines!
Ron Merly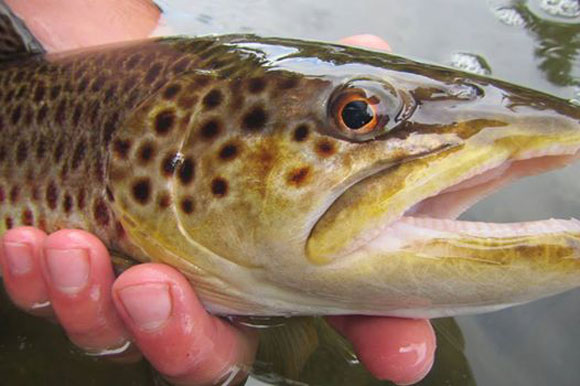 The DEEP Inland Fisheries Division recently completed annual electrofishing surveys on the Housatonic and Farmington Rivers.
The trout and smallmouth are doing well, with some very impressive fish sampled, according to the DEEP.
Electrofishing is a non-lethal method to efficiently collect fish from a waterbody. In large rivers like the Farmington and the Housatonic, the sampling crew walk slowly upstream with 2 probes powered by a generator towed behind in a canoe. The stunned fish are netted and quickly transferred into "live cars", large wood and wire containment boxes, which are kept downstream of the electrical field so the fish can recover.
Click here to see some photos on the DEEP Facebook page.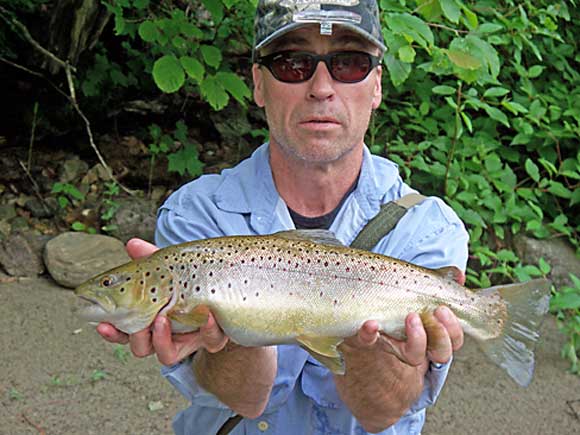 The Nutmeg Chapter will host our 7th annual Housatonic River Fly fishing and Camping weekend on May 31-June 2 at Housatonic Meadows State Park in Sharon.  Members are invited to come for the weekend, a day, or just to fish the evening hatch and enjoy the beauty of the river and its surroundings.   Typically there are all sorts of bugs hatching at this time and several members have caught large trout at past events.
If you wish to camp, please go to either the Houastonic Meadows website or to ReserveAmerica to reserve a campsite.  Camping fees are $17 per night and a $9 reservation charge.  We have already reserved Site #43 for the weekend so if you want to be near other Nutmeg TUers, please reserve a nearby site.