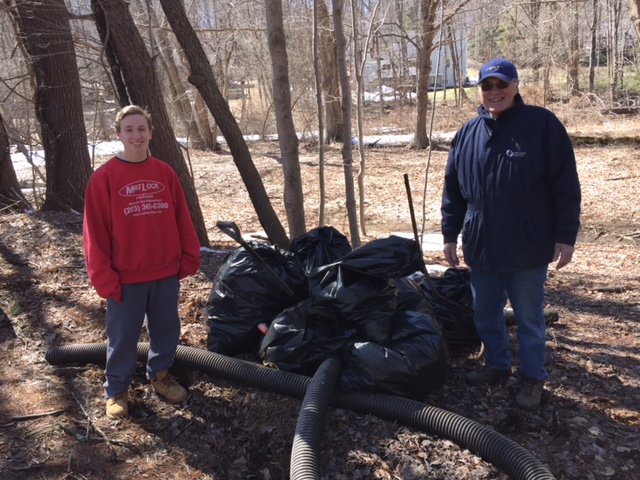 Mill River Habitat Improvement Project
As a reminder this Saturday, June 20th, from 9:00 am until noon we will be working on controlling the Japanese knotweed on the Congress Street section of the Mill River in Fairfield, CT. Saturday weather prediction is perfect for this activity, sunny high of 75 F.  All ages of volunteers are invited to come out and support your chapter in this effort. If you are not a chapter member, you too are invited also.  For your own comfort wear long pants, long sleeve shirt, and sturdy shoes/boots; bring your work gloves. There is a lot of poison ivy indigenous on the site.
We will meet at the footbridge on Congress Street, in Fairfield, CT.  This is the border between Fairfield and Easton. Congress runs parallel to the Merritt Parkway.
Our chapter is in the 3rd year of controlling the knotweed, 2nd worst invasive in the U.S., at this location. We have treated the invasive with chemical for two years. This has resulted in reducing the amount of knotweed to a point that can managed through cutting.  Cutting should occur twice a year. Once in June to stress the knotweed's rhizome and once in September before it flowers to stop seeding and to stress the rhizome.
This Saturday we will cut the knotweed with sickles for the June event.  This is actually quite a satisfying exercise.  This pernicious weed can sprout from the cuttings and there is no place that will take it. What we will do is wrap the cuttings in black plastic to contain the weed and  leave on site to die. Once dead it can be safely mulched.
Come out, volunteer, and enjoy the camaraderie of this volunteer effort. Bring a family member or friend. As I said above cutting down this stuff is fun.
See you on Saturday!
Charles Petruccelli | President | Nutmeg Chapter Trout Unlimited
Contact Chuck Petrucelli at chuckp@optonline.net for details and RSVP.
Knotweed cutting along Congress Street in Fairfield is ahead of schedule after a major turnout Saturday, April 5.
That effort will allow the pickup of trash along the Mill River Saturday, April 12, from 10 a.m. to 2 p.m. Those who can volunteer should leave a comment indicating what time on this story.
"Saturday's cutting of the standing dead Japanese Knotweed stalks was a smashing success," Nutmeg TU President Chuck Petrucceli said. "With the help of 9 members of the chapter and 4 members of the Beardley Zoo Conservation Corps, all the knotweed stalks were cut down.  There was also some river clean up and several bags of garbage collected. We over achieved."
Nutmeg members Dave Edgeworth, Bill Field, Phil Jacques, Gary Anderson, Chris Smith and his son Nick, Ed Grzedna, and Chuck MacMath and his son Jeromy, were joined by Thomas J. Altieri, Chavious Hall, Savannah Lewis, and Jamie Castro of the Beardley Zoo Conservation Corps.
"To the youths who joined us Saturday, Jeromy, Chavious, Savannah, and Jamie, it was a pleasure to meet you," Petruccelli said. "It is good to see you feel strongly enough about conservation to get involved. Now and in the future we need conservationist minded people like you to continue the stewardship of what we preserve, protect and restore today."
Nutmeg TU President Charles Petruccelli is scheduled to appear on Yankee Fisherman Friday, April 4, to discuss the Mill River Improvement Project and the chapter's efforts to remove invasive knotweed from the banks along Congress Street.
The show, hosted by Nutmeg TU member John Kovach, airs live from 2 to 3 p.m. on hanradio.com, and is replayed throughout the weekend.
The second year of cutting is scheduled to be performed April 5 and 12. Click here for details, including how to volunteer.
Volunteers are again needed to help remove invasive species from the banks of the Mill River along Congress Street at the Easton-Fairfield line, near the Merritt Parkway.
Last year Nutmeg TU started a three-year invasive species removal project along the Congress St. section of the Mill River. This is the section that flows down stream from Sport Hill Rd. to where it flows under Congress St. If you drive by you'll notice a lot of the knotweed is lower from the initial effort. It is time for the second year cutting, when volunteers cut the dead plants from the previous year's fall spraying. The cutting is done early in the growth season so as not to cut down live plants from this year's growth.
Volunteers are needed Saturdays, April 5 and 12, from 9 a.m. to 2 p.m. If you can volunteer, please post a comment indicating the day and hours you can help out.
Nutmeg TU will provide the weed cutters, face masks, water and snacks.