The Mill River planting project scheduled for May 22 has been postponed to Saturday, June 4, at 8 a.m.
Thanks to retail grants from Orvis and Patagonia, Nutmeg TU has the funds to proceed with the planting of indigenous plant species along the Congress Street section of the Mill River in Fairfield.
If enough volunteers step up, Nutmeg TU will be able to clean the area as well. Those who can help are asked to email Ed Grzeda at eegrzeda@gmail.com.
Those who attend should dress appropriately — long sleeves, long pants, boots, work gloves, hats, etc. There is poison ivy on the site and biting insects and ticks are possible.
Please be careful while parking and walking on Congress Street. It is an autobahn, lots of German cars traveling at unlimited speeds.
Refreshments will be served.
What makes the Mill River so special and a history of Nutmeg TU's work and its current status.
Trout fisherman in Eastern Fairfield County are very fortunate to have the Mill River in Easton, and Fairfield, Connecticut. The river is a tail water of the Easton Reservoir. For approximately one and a half miles it runs cool and free to Lake Mohegan in Fairfield. More than half of it is bordered by town property or parks, state forest, or open space. Only a quarter mile is bordered by private property on both sides.  The cold water releases from the dam keep this section below sixty degrees Fahrenheit throughout the year.  Thus the stream supports wild populations of brown and brook trout. It is one of eight Class 1 wild trout streams in Connecticut and one of its most urban.
It is unique amongst the Class 1 streams for it flows into an approximately thirty-acre pond 'Lake' Mohegan, an old gravel pit which has a maximum depth of thirty-five feet. Brown trout in the stream over the years have dropped down into the lake and put on weight and size. Lake Mohegan is located completely within a wooded open space owned by the Town of Fairfield, which does not allow boats on the Lake, making for some quite remarkable fishing in the fall, when these large browns make their spawning run.
The Nutmeg Chapter (217) of Trout unlimited members understand how fortunate we are. We have wild trout fishing all year long minutes from our homes, thirty minutes at most for our chapter members. The Mill is the crown jewel of our local streams, however, we know we need to protect, restore, and improve it for it to support the ever increasing fishing pressure. Furthermore, we continual advocate for the river whenever it is threatened. We understand this is our responsibility as a conservation organization.
To help meet this responsibility Spring 2013, our chapter developed, and started acting on a prioritized Mill River Improvement Opportunity list. First on the list was improvement of the 'Congress Street' section of the river. Paralleling, then running under, the Merritt Parkway you can see GE World Headquarters from this section. (I did mention it was an urban stream.) The Fairfield Town property was unmanaged open space, frequently used as an illegal dump site. It represented approximately three acres of riverside which has about three eighths of a mile of underutilized fishing access. Two acres of which is a sandbar. The plan is to clean up the site, remove the invasive species, Japanese Knotweed, Flying Euonymus, Japanese Bar Berry (one of the deer tick's favorite habitat), primrose, and honeysuckle. Then replant the site with native species of bulrush, mountain laurel, rhododendron, dog wood, grasses, and under story trees to hold the sand bar and banks. Thus providing a more diverse environment and more welcoming environment for native fauna.
This project grew from a request in 2013 for permission and support from the Town of Fairfield for a massive cleanup of this section. Besides the illegally dumped rubbish and the usual fisherman trash, there was the litter from the nearby gas station and rest area on the Merritt Parkway. The Conservation Departments Manager of Open Space gladly agreed to haul away the collected rubbish. He also asked if we would be interested in undertaking the removal of invasive plants and replanting the site with native species.  Given the site provided some of the most level access to the river, the less agile or young children could easily access the river here, right from one of the areas main side roads.  We realized it was a great place to start our first major project of the last few years. So in the Spring 2013 we started our improvement project with the major cleanup.
Following the cleanup we formed a Mill River task force which put together a plan to get the invasive species under control.  After researching removal of Japanese Knotweed and reviewing the site the task force realized to be effective we would have to clear all the Knotweed from both sides of the river. The work area grew from three acres to five and a half acres, with the additional acreage on private residential land. This increased the amount of administrative preparatory work to get all the permissions lined up. But we did it.  We started June 2013 with Japanese Knotweed cutting and bagging work sessions every weekend of the month. We successfully cut out all the knotweed.
From our research we also realized we would have to spray the knotweed to get it under control. In discussions with the State DEEP Invasive species experts and the Nature Conservancy in Weston, CT.   we found a licensed environmental engineering firm to do the spraying. We contracted for three sprayings performed Fall 2013, Spring 2014 and Fall 2014. In the Fall of 2014 the Open Space Manager sent me an email telling me the site was ready for planting. Since then we have continued to cut the remnants to keep the knotweed under control. And of course we have continued our annual spring cleanups of the area.
Now that we have the site preparation complete, we have scheduled a planting for Sunday, May 22, 2016.  For those of us involved from the start this planting has been a long time coming.  If you have time available that Sunday, please come, help with this conservation project.  If you are unable to help with the planting but want to support our improvement efforts on the Mill River you may donate to the Nutmeg Chapter (217) of Trout Unlimited by check or through our website. For those interested in donating go to http://www.nutmegtrout.org/get-involved/donate/ and click the Donate Button on the Right side of the page.
Volunteers are again needed to help remove invasive species from the banks of the Mill River along Congress Street at the Easton-Fairfield line, near the Merritt Parkway.
Last year Nutmeg TU started a three-year invasive species removal project along the Congress St. section of the Mill River. This is the section that flows down stream from Sport Hill Rd. to where it flows under Congress St. If you drive by you'll notice a lot of the knotweed is lower from the initial effort. It is time for the second year cutting, when volunteers cut the dead plants from the previous year's fall spraying. The cutting is done early in the growth season so as not to cut down live plants from this year's growth.
Volunteers are needed Saturdays, April 5 and 12, from 9 a.m. to 2 p.m. If you can volunteer, please post a comment indicating the day and hours you can help out.
Nutmeg TU will provide the weed cutters, face masks, water and snacks.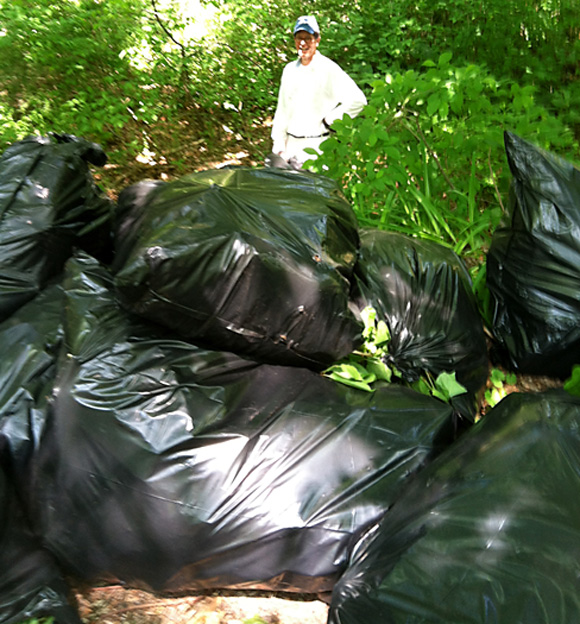 One of our high-priority goals this year is to take steps to remove invasive Japanese Knotweed where it's growing along the Mill River so indigenous plants will again line the banks and restore the natural balance of flora and fauna for a healthy stream. We've begun with the section flowing along Congress Street in Fairfield because of its concentration of this invasive. Here's what we've done so far:
•    Cut down Knotweed in the biggest growths along the Fairfield side (between the river and Congress St.) from Route 59 downstream (west) to the Congress St. bridge over the river. We have significantly weakened all these growths so their rhizomes and shoots will be more susceptible to controlled herbicide spraying this Fall.
•    Intentionally left selected growths standing as control plots for the upcoming herbicide spraying. This will help us determine the extent cutting is needed going forward vs. spraying only, in our multi-year plan for eradication.
•    Won approval from all(!) eight Easton homeowners on the north bank to help them eradicate knotweed on their properties and cut down the major knotweed growths there. This paves the way for our future collaboration on additional key restoration steps such as improving in-stream structure and sinuosity.
•    Cut down knotweed on the Covenant Church Easton property, having won their support for our efforts.
•   Built/strengthened partnerships with the Fairfield Conservation Department and  Easton Conservation Commission to pursue Knotweed eradication (and other restoration steps) along the Mill.
•    Worked with these departments, the Aspetuck Land Trust and DEEP to determine the best multi-step approach to Knotweed eradication, involving biologically safe herbicide treatment this coming Fall.
•    Begun a plan for free other sections of the Mill from Knotweed incursion, and from other invasive species, building on the work Ross Ogden led for us with the ALT.
So we've done a lot with solid results so far, and with more to come! We hope you'll drive along Congress Street to see how the Knotweed there is weakened and picture how this section of the Mill will look when native plants once again are the only species growing there!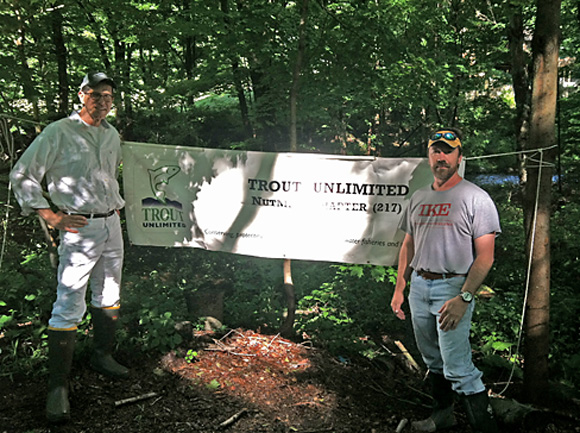 To help gather manpower for another major push against the knotweed choking the side of the Mill River, Nutmeg TU will hold a cutting day on Saturday, June 29, from 10 a.m. to 2 p.m. along Congress Street.
If you can attend and pitch in for any part of that span, stop by and relieve stress by chopping down an invasive that threatens native species and the flow of the river itself.
We'll have some food and beverages so members can catch up with each other, telling fish tales and exchanging ideas about this and other projects or group outings Nutmeg can take part in.
If you have not done so yet, drive down Congress Street and see how much progress on removing knotweed small groups have made. Then come out and join the party on June 29.
If you can spare just an hour, it will make a difference. Please RSVP by posting a comment on the events calendar on the website so we know how many hot dogs to buy.