Thanks to Limestone Trout Club for hosting Nutmeg Trout Unlimted's annual day of fishing the Limestone ponds. A great time was had by everyone.
Special thanks to our Limestone host Dean Keister, who also put on a fish feeding demonstration to show us how they keep the trout at Limestone healthy and fed in still water ponds.
Also thanks to our lunchtime chef, Ken Sabol, both of Limestone and a member of Nutmeg Trout Unlimited, for a great meal.
The annual Limestone Trout Club trip is always well attended and highly anticipated and enjoyed. Limestone Trout Club is a great bargain to join for those looking to fish big trout. For more information and to check out their new and massively informative website go to www.LimestoneTroutClub.com.
If you missed Nutmeg member Ed Grzeda's expert angling techniques at Limestone yesterday you can get another chance to learn from him this Saturday. Ed will be leading our fishing for stripers on the Housatonic this Saturday at 11 a.m. off the Audubon Center at Milford Point. For more information on joining this trip, and to sign up, go to http://www.nutmegtrout.org/fish-lower-housy-saturday/.
WE HAD A LIMITED NUMBER OF OPENINGS & THEY HAVE BEEN FILLED.  SORRY.
Please join us on one of our many other Nutmeg Trout trips.
Nutmeg TU has reserved the Limestone Trout Club in Canaan for Wednesday, May 23, 2018.
The fee is $50. Those who wish to attend should RSVP to Rich Rosen at rhrosen@aol.com.
Those wanting to car pool will meet at the Park and Ride near Rt. 8 and Hawley Lane;  be there before 7 a.m. to carpool. Bring your gear, lunch,  and beverages.
This event is rain or shine.
Ponds to Challenge All Levels
Limestone Trout Club offers six ponds from which anglers may choose. Two man-made ponds, Home Pools, are located near the clubhouse providing easy access well suited for the novice fly fisher. Another man-made pond, Spruce Pond, also located near the clubhouse, provides exciting dry-fly fishing when the trout are rising.
Three other large ponds were once limestone quarries. They are spring fed and quite deep, providing trout with yearlong refuge and fly fishers with sport throughout the season, both on top and sub-surface. Two of the ponds, Birch and Pine, may be fished from rowboats provided by the club. Cedar pond, the most challenging, has a number of ideal casting sites that add an exciting dimension to the Limestone experience.
The ponds are regularly stocked with rainbow, brown, and brook trout. An occasional stocking of tiger trout may surprise the angler with an unexpected fierce strike. Golden trout also may contribute to an environment unique to Limestone.
Guest anglers (and other visitors) can arrive at the club from 8 a.m. The gate will be unlocked so they should drive up to the Clubhouse. A club member will greet Nutmeg anglers.
• The insurance carrier requires all guests to sign a waiver which will be available at sign-in.
• There will be a still water orientation about 8:30 or 9:00.
• Fly Fishing only.
• Most of the fishing is from the shore. There are two lakes each with two row boats. No other watercraft are allowed. You cannot use your personal watercraft. You do not need waders but I suggest sturdy, preferably water proof shoes because of some marshy areas and the early morning dew.
• They have 3 deep (70+ feet) quarry ponds and 3 shallow ponds providing a variety of venues and conditions.
• While most members practice catch and release, catch and kill is allowed. We can cover the details at the briefing.
• They have a stove, refrigerator, and microwave in the Clubhouse. Also, grills with both propane and charcoal for your use (we have the fuel).
If others attend but do not fish, there are plenty of trails to walk, a comfortable club house to sit and read, and some antique stores within driving distance.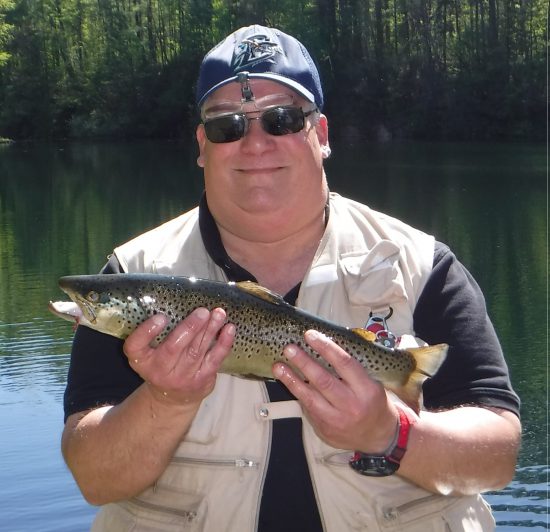 UPDATE: The Nutmeg TU trip to the Limestone Club is fully booked. Anyone interested may follow the steps outlined below to be put on a waiting list. The chapter will also look into the possibility of booking a second date.
ORIGINAL STORY: We are taking reservations for the 3rd annual Nutmeg Trout Unlimited trip to the Limestone Trout Club in Canaan on Thursday, May 11.
The private club is fly fishing only. This is primarily shore fishing, with a few boats available.
Please arrive by 9 a.m.  Fishing is permitted from 9 a.m. to 4 p.m.
There are three deep (70-plus feet) quarry ponds and three shallow ponds providing a variety of venues and conditions.
While most members practice catch and release, catch and kill is allowed for one fish 17 inches or smaller per person.
Information can be found at http://limestonetroutclub.com/Limestone%20Trout%20Club/Limestone%20Trout%20Club.html
Fees
The fee for TU members is $30 and includes lunch.
Non TU are welcome and the fee is $50, which includes a 1-year introductory membership to Trout Unlimited.
Payment is due by Monday May 8th.
Scott Simko will be available to guide, $50 for one hour for 2 people, $75 for two hours. Sign up for a time slot in advance by emailing Scott at sdshunter@hotmail.com. Please pay Scott directly for his guiding service when you arrive.
To reserve your spot, limited to 20 anglers:
Please RSVP to Rich Rosen rhrosen@aol.com. Include in your email the number of people and which TU chapter you belong to.
Checks should be made out to: Nutmeg Trout Unlimited, and mailed to:
Nutmeg Trout Unlimited
P.O. Box 1594
Fairfield, CT  06825
Lessons learned from last year
Bring some egg patterns, and bug spray for the ticks.
Directions to the Limestone Fishing Club:
Take Route 8 north to Winsted and turn left onto Route 44 west.
Drive through Norfolk and past the Blackberry River Inn and Freunds Farm Market in North Canaan.
After passing the marker for East Canaan turn right onto Casey Hill Road. (There is a sign on the right at the corner, set back from the road for O'Connor Sand & Gravel.)
Drive a short distance to a stop sign, where Casey Hill Rd. becomes Allyndale Rd.
Continue straight on Allyndale Road about 100 yards. The unmarked driveway is on the left, across from a driving range.
The clubhouse phone is 860-249-9996.