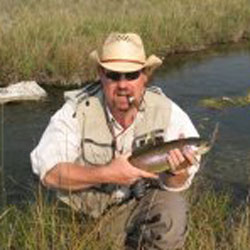 Harold MacMillan of Housatonic River Outfitters will discuss late spring and summer fishing on the river in northwestern Connecticut when he visits the Nutmeg Chapter of Trout Unlimited on Tuesday, May 16, at 7 p.m.
Teen Devin Brandes will also speak about his initiative, You Can Fly, which teaches youths from Bridgeport and other areas how to fly fish.
The meeting at Port 5 Naval Veterans, 69 Brewster St., Bridgeport, is open to the public free of charge; food and a cash bar are available. Tuesday night's meeting will also include the election of officers for Nutmeg TU.
MacMillan has more than 30 years of fly fishing experience and has traveled to Russia and Belize, but his talk will focus on spots closer to Fairfield County. Cool water refuges make for strong trout fishing in late spring and early summer, and smallmouth bass are ready to put a bend in a rod when air temperatures make it too hot to target trout.
Housatonic River Outfitters Inc. is a full-service fly shop, outfitter, and lodging and guide service at 24 Kent Road in Cornwall Bridge, at the junction of routes 44 and 7. The shop is located on the Housatonic River, famous for some of the most prolific mayfly and caddis hatches in the East. More information may be found at dryflies.com.
The Mianus Chapter of Trout Unlimited is sponsoring a fishing trip and barbecue at Housatonic Meadows State Park in Cornwall Bridge on Saturday, May 20, from 8 a.m. to 2 p.m. Lunch will be served at 1 p.m. To register visit mianustu.org.
The Nutmeg Chapter of Trout Unlimited 217 encompasses Fairfield, Westport, Weston, Easton,  Redding, Trumbull, Monroe, Bridgeport, Stratford, Milford, and Shelton. Its mission is to conserve, protect and restore coldwater fisheries and their watersheds, particularly in local rivers such as the Saugatuck, Mill, Aspetuck, Pequonnock, and Farmill. More information may be found at nutmegtrout.org.
On Tuesday, May 17, 2016, Nutmeg TU will hold its monthly meeting at 7 PM at Marissa's Ristorante, 6540 Main St, Trumbull, CT, just South of where I-25 crosses Route 111.
The Farmington River, located Northern Connecticut is largely regarded as one of the state's premier trout fisheries. This tail water holds an impressive number of fish. Recent estimates by the CTDEEP put the number of fish in the Trout Management Area at 1000 + per mile. This coupled with an annual stocking of up to 45,000 Brook, Brown, Rainbow, and Tiger trout results in an incredible fishery. The Farmington River is a tail water running from under the Colebrook River dam in Riverton and the Saville Dam in New Hartford, to the town of Windsor in upper Connecticut River, and is fed by the Barkhamstead Reservoir. This reservoir releases cold water year round and even in the summer months the water temperature rarely will rise above 70 degrees. This translates into an incredible survival rate of stocked fish and conditions that accommodate natural reproduction as well.
The ecosystem in and around the Farmington river is healthy. The aquatic insect biomass caters to very healthy population of fish and incredible hatches. The abundant food sources allow the fish to grow on average 6 ½ inches per year. Trout of 20 inches are common and fish up to 30 inches are caught every year. Size and number of big fish provides numerous angling opportunities not commonly available on other streams in the state such as "mousing." However, as in many trout streams around the world nymphing is often the most productive way to fish and the Farmington is no exception. Tail waters such as the Farmington offer phenomenal nymphing opportunities.
            Torrey Collins has been fly fishing for 37 years and has fished the Farmington River extensively. Former Great Lakes Steelhead and salmon guide, Torrey has also guided on the Housatonic as well as the Farmington. He has worked for the Orvis flagship store in Manchester, tied flies commercially, and been a casting instructor. Torrey is well known as an incredible fly angler, specializing in nymphing tactics. His presentation will cover seasonal nymphing tactics and strategies. The focus will be on seasonal approaches for the Farmington river and cover fly selection, rigging, presentation, and technique. Come in and learn how to improve your sub-surface fishing and apply that to the Farmington as well as other streams in the state.
On Tuesday, March 15, 2016, Nutmeg TU will hold its monthly meeting at 7PM.  We have a new location at Marissa's Ristorante, 6540 Main St, Trumbull, CT, just South of where I-25 crosses Route 111.  Tony Ritter is going to share some history on the Upper Delaware River that contributed to the creation of the great tailwater fishery.  And he will tell us some of his tips, and techniques to improve our success for fishing this water.  Along the way we will learn some of the best locations and suggested flies that work well.
Tony has operated a driftboat fishing guide service on the Upper Delaware River and West Branch Delaware for twenty-two years. He specializes in wild trout on one of the best tailwater rivers in the United States located in the Catskill / Pocono Regions of New York and Pennsylvania.  He is licensed by the National Park Service, the NYS DEC and the Pennsylvania FBC.  Between his days on the river teaching new clients casting, and making their day one to remember, Tony is also an elected town councilman for the Town of Tusten in Narrowsburg, NY and has chaired the Upper Delaware Council's Water Use Resource Management Committee since 2011.
The Upper Delaware River is one of the few rivers in the eastern United States that supports a wild trout fishery with both rainbows and browns. It also has an American Shad run in the spring since there are no dams on this river and is free flowing to the ocean for 270 miles. Besides wild trout and shad, Field and Stream magazine has stated that this river also has one of the five best smallmouth rivers in the United States as well as holding an ample supply of walleye.
The Delaware River is located in a beautiful valley located between the Catskills and Poconos and is two hours northwest of New York City.  Deer, turkey, bald eagles, bear, mink, red tail hawks, beavers, and osprey are not uncommon sights while fishing on a river charter throughout the season which runs from April through November.  There is no industry in the river valley thus the water is clean and well oxygenated, resulting in varied hatches of caddis, mayflies and stoneflies for trout to feed on, as well as many more insects and minnows.
His fly patterns, articles, blog and real time river data can be found at:
www.gonefishingguideservice.com
December 5, 2015
On December 15, 2015, Nutmeg TU will have a general meeting with speakers and the Annual Pot Luck dinner.  Please RSVP to Jerry Goldstein so that he can reduce the duplicates, know how many tables to set up, and answer any questions, contact jerryg@attygoldstein.com.  Your dish to share needs to feed 8 to 10 and last names beginning with A-J are asked to bring a side dish, K-Q are asked to bring a main dish, R-Z are asked to bring a dessert.
Spey casting has grown in popularity over the last 25 years to better target large fish over large rivers and salt water.  The available equipment and gear have grown expansively.  Our speakers, Lisa Weiner and Jerry Jahn of Spey Casting North East, www.speycastingnortheast.com, are going to share some of their knowledge on casting techniques and equipment.
Jerry Jahn and Fred Krowchenko are two of the old timers in the New England fly fishing community who began a joint venture about 6 years ago to teach Spey casting to others interested in the techniques.  Their classes are limited to 4 students maximum, with two or three instructors.  This gives time to work with each student and understand their needs as individuals.  Their main objective is to pass on the fishing knowledge to younger people in the sport they have enjoyed for so many years.
Lisa is fairly new to SCNE and joined with Jerry and Fred this past year as one of their teachers after many lessons.  She has been Spey casting for over 4 years and represents Mystic fly rods at Spey Nation and the Fly Fishing Show in NJ.
Jerry has been fishing for Atlantic Salmon for over 30 years and 25 of them have been with the two handed spey rod.  He has fished the Penobscot River in Maine and the Miramichi River in New Brunswick.  The rods were very long and slow in action in comparison to today's equipment.  Jerry is an excellent caster of single hand and two hand rods, his enthusiasm is infectious and very well received by all of their students.  He is focused on getting the student to understand and to be successful in Spey casting techniques.
Fred enjoys the details of rod design and line tapers and will explore any new equipment on the market.  He began experimenting with Spey rods over 20 years ago and really began to understand the casting in a 3-day class in 1998 with Jim Vincent and Simon Gawesworth of Rio Products.  Simon and Fred have remained friends and Rio Products is one of the supporters of SCNE.
There is lots more information on their website, so check it out.