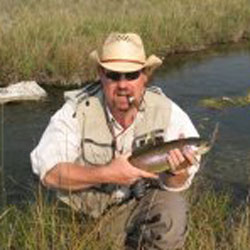 Harold MacMillan of Housatonic River Outfitters will discuss late spring and summer fishing on the river in northwestern Connecticut when he visits the Nutmeg Chapter of Trout Unlimited on Tuesday, May 16, at 7 p.m.
Teen Devin Brandes will also speak about his initiative, You Can Fly, which teaches youths from Bridgeport and other areas how to fly fish.
The meeting at Port 5 Naval Veterans, 69 Brewster St., Bridgeport, is open to the public free of charge; food and a cash bar are available. Tuesday night's meeting will also include the election of officers for Nutmeg TU.
MacMillan has more than 30 years of fly fishing experience and has traveled to Russia and Belize, but his talk will focus on spots closer to Fairfield County. Cool water refuges make for strong trout fishing in late spring and early summer, and smallmouth bass are ready to put a bend in a rod when air temperatures make it too hot to target trout.
Housatonic River Outfitters Inc. is a full-service fly shop, outfitter, and lodging and guide service at 24 Kent Road in Cornwall Bridge, at the junction of routes 44 and 7. The shop is located on the Housatonic River, famous for some of the most prolific mayfly and caddis hatches in the East. More information may be found at dryflies.com.
The Mianus Chapter of Trout Unlimited is sponsoring a fishing trip and barbecue at Housatonic Meadows State Park in Cornwall Bridge on Saturday, May 20, from 8 a.m. to 2 p.m. Lunch will be served at 1 p.m. To register visit mianustu.org.
The Nutmeg Chapter of Trout Unlimited 217 encompasses Fairfield, Westport, Weston, Easton,  Redding, Trumbull, Monroe, Bridgeport, Stratford, Milford, and Shelton. Its mission is to conserve, protect and restore coldwater fisheries and their watersheds, particularly in local rivers such as the Saugatuck, Mill, Aspetuck, Pequonnock, and Farmill. More information may be found at nutmegtrout.org.
The Nutmeg and Mianus chapters of Trout Unlimited will gather to celebrate Arbor Day by planting trees along the Mill River in Fairfield Saturday, April 29, from 9 a.m. to noon.
The project is the latest step in Trout Unlimited's ongoing rehabilitation of the Mill River, a stream that is home to native brook trout and wild brown trout. Invasive flora has been removed, and native species are being planted along the banks.
Donuts and coffee will be provided.  Please bring a shovel.

Friends, kids and anyone who wants to help may attend.
Register below in "Leave A Reply" by sending us your Name & Email Address and stating April 29 Planting Volunteer in the Comments Box.  You can also register at mianustu.org. 
All Volunteers are asked to register to help with food counts and planning.  After registering watch your emails for any additional information and where to meet.

Feel free to take a fly rod to fish the Mill with us after planting is done. 
We look forward to seeing you there and come back to this site often for more of our fun events.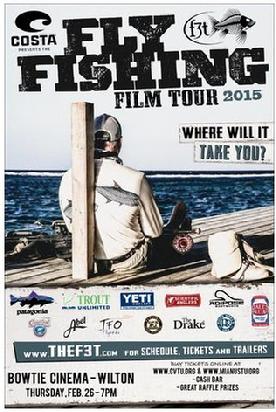 Mianus TU and Candlewood Valley TU have partnered to present the Fly Fishing Film Tour on Thursday, Feb. 26 at 7 p.m. in at Bow Tie Cinema, 21 River Road,Wilton.
Get out of the house, meet anglers, and have a beer. See some of the best fly fishing films available and have a chance to win fabulous prizes.
Click here to view trailers of the featured films.
The event runs from 7 p.m. to 10 p.m. and includes a raffle featuring a TFO fly rod, Patagonia gear, a guided fishing trip, fishing gear and more, as well as a cash bar. Everyone who attends the event will also receive a free ticket in the national drawing for a trip to Belize or Montana's Missouri River.
Tickets are $20 if purchased by clicking here before the event, $25 at the door.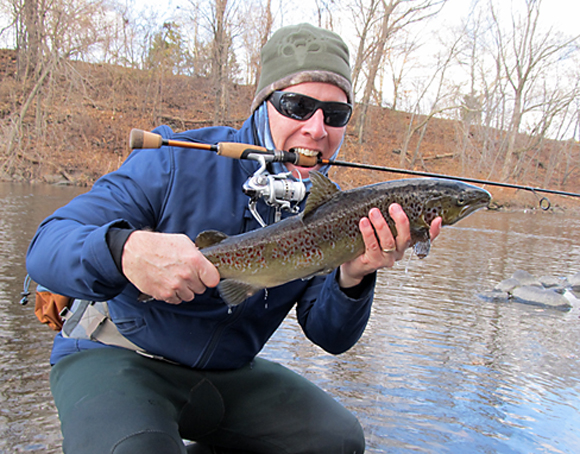 There are still a good amount of peanut bunker out in the harbors and anglers are catching the occasional striper and yet, the better action has been in the lower estuary of the Housatonic. Atlantic herring have arrived in good numbers and those can be caught using a sabiki rig on an ultra-light spin fishing set-up. Herring are an excellent food source as well as being great striper bait.
The upper Housatonic has been blown out due to all of the rain in recent weeks and is now coming back down to a fishable level. The Farmington continues to give up a steady number of larger rainbows and browns which have been bulking up for the winter months. The Atlantic salmon fishing in the Naugy continues to thrill anglers and I recently fished there with fellow Nutmeggers John Kovach and Jim Lynch, who caught his first Atlantic Salmon.
John Kovach and I also joined Mianus T.U. at their annual New Year's outing on the Norwalk River for some fly fishing. Despite the cold temps, more than 30 anglers showed up and many browns and bows were caught in a few different sections of the Norwalk. A few holdovers and some beautiful wild browns. I started the New Year off with a 6 inch wild Norwalk River brown and that was a great start to the year!!
Tight lines!
Ron Merly