An effort to restore one of the most valuable and storied wild trout streams in New England is under way, and volunteers are needed for the next step.
On Aug. 19, the Nutmeg Chapter of Trout Unlimited, working with the Town of Fairfield, will reshape the Mill River along Congress Street. Once a meandering stream, the waterway was straightened due to development. Using a technique known as conifer revetment, turns and pools will be restored to a river known as one of the best wild brook trout habitats in Connecticut.
Once a meandering stream, the waterway was straightened due to development, which reduces the health of the stream and the habitat for trout and other aquatic life. Using a technique known as a conifer revetment, turns and pools will be restored to a river known as one of the best wild brook trout streams in Connecticut.
Conifer revetments use discarded natural Christmas trees to shore up the banks, collect sediment and reroute the river. Volunteers anchor now-dead evergreens in the water along the banks. There they will trap sediment and build up the bank, extending land into the water and creating a curve in the river.
"This is a great opportunity for volunteers to get their hands dirty and see the direct impact of their efforts as we work to improve the quality of the Mill River as a wild trout stream," Nutmeg TU President Rich Rosen said. "Already we have mitigated the Knotweed problem and planted native trees and shrubs to help bring the river back to its natural state. We look forward to seeing more, larger fish making their home along Congress Street." 
In the fall of 2017, the Nutmeg Chapter received a $670 grant from the Embrace A Stream program to support removal of invasive species and shoring up of the banks of the Mill River near the Easton-Fairfield border, along Congress Street in Fairfield.
A short time later, donors contributed another $1,860.69 toward the Mill River restoration in TU's Embrace a Stream Challenge, which rewarded chapters with bonuses for reaching certain milestones and soliciting donations..
Money was also raised when Nutmeg TU collaborated with the Candlewood Valley and Mianus chapters on showings of the Fly Fishing Film Tour in 2017 and 2018.
Details on where to meet and how to volunteer will soon be posted, but save the date of Sunday, Aug. 19.
Anglers and conservationists will get an update on local conservation efforts and learn an early-season fly they can tie at the next regular meeting of the Nutmeg Chapter of Trout Unlimited, on Tuesday, Feb. 21, at 7 p.m. at Port 5, 69 Brewster Street, Bridgeport.
Immediate Nutmeg TU past President Charles Petruccelli will demonstrate how to tie hackle-less flies that have proven effective in the early spring on local streams, such as elk hair caddis, comparaduns and "The Usual." This will tie into another presentation that will soon be announced.
The chapter will also meet Brian Carey, conservation director for the town of Fairfield, and Lynn Shavinsky, president of the Mill River Wetland Committee.
Carey, appointed May 1, 2015, replaced retired Conservation Director Tom Steinke, who had served the town for about 43 years.
Carey had previously served as conservation superintendent for the town of Stratford for seven years. He was instrumental in the 35-acre Long Beach West Barrier Beach Restoration Project, which was awarded the Coastal America Partnership Award by President Obama in May 2012.
Carey is a lifelong resident of Fairfield, where he currently lives with his wife, Maura Brennan Carey, and their two children. Carey is a graduate of Fairfield College Preparatory School and Virginia Tech, where he earned a bachelor of science degree in natural resource management.
The Mill River Wetland Committee, which celebrated its 50th anniversary in 2016, has promoted protection of open space along the Mill River in Fairfield, mainly through use of the Perry's Mill Pond River Laboratory Area on Sturges Road for guided science education about watersheds.
Concern for the environmental future prompted the launching of River-Lab, a hands-on program of environmental science study that includes all students in grades three through six with the Fairfield public and parochial schools as an established part of their curriculum. More than 100,000 students have participated in this volunteer-led program through the years.
MRWC and River-Lab have utilized volunteers to educate and engage the community about environmental education for generations. The River-Lab program, just last year, trained 400 adults to lead study trips. Several those guides had gone through the program themselves as students.
Nutmeg TU meetings are open to the public free of charge; pizza and a cash bar are available.
The Nutmeg Chapter of Trout Unlimited 217 encompasses Fairfield, Westport, Weston, Easton, Redding, Trumbull, Monroe, Bridgeport, Stratford, Milford, and Shelton. Its mission is to conserve, protect and restore coldwater fisheries and their watersheds, particularly in local rivers such as the Saugatuck, Mill, Aspetuck, Pequonnock, and Farmill. More information may be found at nutmegtrout.org.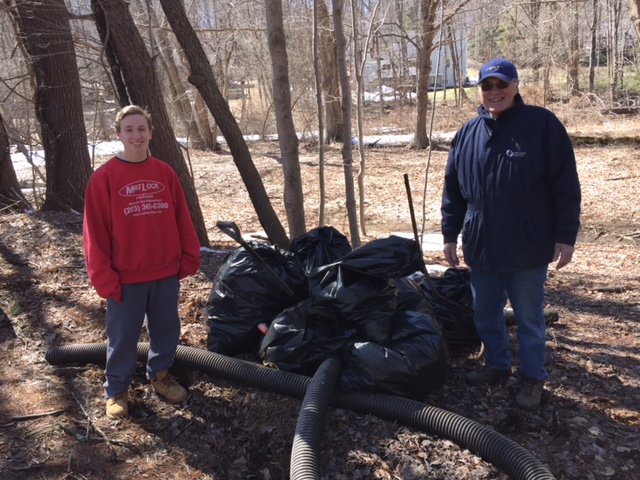 Mill River Habitat Improvement Project
As a reminder this Saturday, June 20th, from 9:00 am until noon we will be working on controlling the Japanese knotweed on the Congress Street section of the Mill River in Fairfield, CT. Saturday weather prediction is perfect for this activity, sunny high of 75 F.  All ages of volunteers are invited to come out and support your chapter in this effort. If you are not a chapter member, you too are invited also.  For your own comfort wear long pants, long sleeve shirt, and sturdy shoes/boots; bring your work gloves. There is a lot of poison ivy indigenous on the site.
We will meet at the footbridge on Congress Street, in Fairfield, CT.  This is the border between Fairfield and Easton. Congress runs parallel to the Merritt Parkway.
Our chapter is in the 3rd year of controlling the knotweed, 2nd worst invasive in the U.S., at this location. We have treated the invasive with chemical for two years. This has resulted in reducing the amount of knotweed to a point that can managed through cutting.  Cutting should occur twice a year. Once in June to stress the knotweed's rhizome and once in September before it flowers to stop seeding and to stress the rhizome.
This Saturday we will cut the knotweed with sickles for the June event.  This is actually quite a satisfying exercise.  This pernicious weed can sprout from the cuttings and there is no place that will take it. What we will do is wrap the cuttings in black plastic to contain the weed and  leave on site to die. Once dead it can be safely mulched.
Come out, volunteer, and enjoy the camaraderie of this volunteer effort. Bring a family member or friend. As I said above cutting down this stuff is fun.
See you on Saturday!
Charles Petruccelli | President | Nutmeg Chapter Trout Unlimited
Contact Chuck Petrucelli at chuckp@optonline.net for details and RSVP.
Fly Tying at Chuck's, Tues evening, June 9, 2015, 7 PM Trumbull.  Contact Chuck MacMath at cmacmath59@yahoo.com.  The fly tying group will meet on the second and fourth Tuesday of every month from 7-9 pm.  The cost is $2.00 per session to cover the cost of materials.  Email cmacmath59@yahoo.com with questions or additional information.  All are welcome, beginners are encouraged to attend.  Vises, tools and materials are available if needed.
Fishing Meetup Weekend, Fri-Sat-Sunday, for June12-14, 2015 is cancelled.  This event has been rescheduled to one day, June 13th.
Fishing Meetup Scheduled for Sat, June13, 2015 on the Pequonnock, 10AM to 3 PM.  Contact Chuck MacMath at cmacmath59@yahoo.com  or text to 203-260-1829 for details and to RSVP.  Bring your waders, gear, food and drinks; spin or fly fishing allowed. Meet near the river and Whitney Ave in Trumbull.
Chapter meeting, Tues, June 16, 2015, 6:00 – 9 PM, at Lake Mohegan Cascades for fishing and BBQ. The club will provide the hot dogs and you bring the chips, side dish, or dessert, and your beverages.  Contact Chuck MacMath at cmacmath59@yahoo.com  or text to 203-260-1829 for details or to RSVP.  Bring your fishing gear too! Reach the Cascades parking from Morehouse Hwy in Fairfield in the Lake Mohegan area.
Volunteers will be needed, all ages, on Sat, June 20th, to continue the knotweed eradication work near the Mill River.  Bring your work gloves and boots; the cutting tools and bottled water will be supplied for this work session. Meet at 9 AM at the footbridge on Congress St between Easton and Fairfield.  Contact Chuck Petrucelli at chuckp@optonline.net for details and RSVP.
Fly Tying at Chuck's, Tues evening, June 23, 2015, 7 PM Trumbull.  Contact Chuck MacMath at cmacmath59@yahoo.com.
Fishing Meetup, July 11, 2015, 10 AM to 3 PM, Dave and Tristan Wilgan to lead group in a search for Smallmouth Bass
Fishing Meetup, Aug TBD, 2015, a weekday evening, Dave Edgeworth to lead in Shelton.  Bring your canoe or kayak.