UPDATE: The Mill River, the Saugatuck River fly fishing area and the Mianus River TMA have all been stocked with trout, the Connecticut Department of Energy and Environmental Protection reported on Nov. 1.
ORIGINAL POST: The Mill River in Fairfield and Saugatuck River in Westport should soon be stocked, according to the Connecticut Department of Fish & Wildlife. Most of the trout stocked will be rainbows, not browns as pictured.
Cooler weather has allowed the fall stocking program to get into full swing, according to the latest weekly fishing report. Click here to read it.
Stay up to date with daily stocking posts on Facebook, the DEEP's interactive trout stocking map, and its stocking report.
Requiring the purchase of trout and salmon stamps and changing making a longer section of the Mill River in Easton and Fairfield catch and release are among the proposed regulation changes up for hearing Wednesday, Aug. 9.
The hearing will begin at 6:30 p.m. Aug. 9 at the Connecticut Department of Energy and Environmental Protection Headquarters. The deadline is Aug. 25 to submit comment to the DEEP. Click here to read more about the hearing. 
The purchase of a $5 trout stamp and $10 broodstock Atlantic salmon stamp ($12 for a combination stamp) to fish for trout and Atlantic Salmon would generate an estimated $300,000 that would go directly to fisheries and recreation programs, by law, according to the DEEP. Federal law requires that license revenue and money raised by fees and taxes on hunting and fishing equipment be dedicated to those purposes.
If passed, all anglers 16 and older fishing for any species in Trout Management Areas, Wild Trout Management Areas and Trout Parks, as well as any anglers 16 years of age and older wishing to keep trout they've caught in state waters, would be required to purchase a trout stamp. All anglers 16 years of age and older fishing for any species in the designated Broodstock Areas of the Shetucket and Naugatuck rivers from September 1 through March 31, and any anglers 16 years of age and older wishing to keep broodstock Atlantic Salmon they've caught anywhere (where fishing for Atlantic salmon is allowed) throughout the state would be required to purchase a salmon stamp. A combination stamp, less expensive than purchasing both separately, would cover both waters.
Mill River
Another proposal would extend the Mill River Wild Trout Management Area to stretch from the first bridge crossing below the Easton Reservoir to the Merritt Parkway. Currently the catch-and-release-only WTMA extends from South Park Avenue to [downstream of the third bridge crossing. Signs would indicate the WTMA.
DEEP officials said the changes would better protect the populations of naturally reproducing trout and stocked trout from undue depletion by eliminating harvest throughout this stretch of river. The "catch-and-release only" Class I Mill River Wild Trout Management Area would be expanded downstream to the Mill River Trout Management Area and fishing in the Mill River Trout Management Area would be limited to "catch-and-release only" year-round; currently some harvest is allowed from Opening Day through Aug. 30.
A short closed season would be placed on a small portion of the Farmington River TMA in the Riverton area, intended to restore a traditional Opening Day atmosphere to the upper West Branch Farmington River. As many anglers view the traditional Opening Day when the fishing season first opens for the spring as a longstanding rite of spring passage, DEEP officials expressed hope the change would increase the number of anglers fishing this section of river on Opening Day, and also enhance participation in a traditional Opening Day fishing derby held in Riverton since 1949. Participation has declined since this section of river became open to fishing year-round in 2012.
Language changes would define Tenkara, fishing with a fly on a fixed line, fly fishing. stablish definition for maximum length. Bubble floats are also addressed. Click here to read a PDF of all the proposed changes.
The proposed regulations, statement of purpose, a small business impact statement and a fiscal note indicating no additional expense to the state or municipal governments to implement these proposed regulations are posted and available for download (pdf) on the eRegulations system (https://eregulations.ct.gov).
Copies of the proposed regulations, statement of purpose, small business impact statement and fiscal note are also available for public inspection during normal business hours at the Department of Energy and Environmental Protection's Bureau of Natural Resources, Fisheries Division, 6th Floor, 79 Elm Street, Hartford, CT, 06106-5127. These documents can also be obtained by contacting Bill Foreman at the above address, by phone at (860) 424-3474, or by email (deep.inland.fisheries@ct.gov).
Interested persons may also choose to present their views regarding the proposed regulations in writing during the public comment period. Written comments should be submitted no later than 4:30 p.m. Aug. 25, 2017. Based on public comment, the proposed regulations may be adjusted to meet the objective of the proposal. Comments may be submitted using one of the following methods:
Online via the eRegulations system (

https://eregulations.ct.gov

) on the Secretary of State's website. Go to "Open for Public comment", select this regulation and follow instructions for submitting comments.

By mail or delivery service to Bill Foreman at the Department of Energy and Environmental Protection, Fisheries Division, 79 Elm Street, Hartford, CT, 06106-5127.

By email to william.foreman@ct.gov.

By fax to 860-424-4070 (attention: Bill Foreman).
The Nutmeg and Mianus chapters of Trout Unlimited will gather to celebrate Arbor Day by planting trees along the Mill River in Fairfield Saturday, April 29, from 9 a.m. to noon.
The project is the latest step in Trout Unlimited's ongoing rehabilitation of the Mill River, a stream that is home to native brook trout and wild brown trout. Invasive flora has been removed, and native species are being planted along the banks.
Donuts and coffee will be provided.  Please bring a shovel.

Friends, kids and anyone who wants to help may attend.
Register below in "Leave A Reply" by sending us your Name & Email Address and stating April 29 Planting Volunteer in the Comments Box.  You can also register at mianustu.org. 
All Volunteers are asked to register to help with food counts and planning.  After registering watch your emails for any additional information and where to meet.

Feel free to take a fly rod to fish the Mill with us after planting is done. 
We look forward to seeing you there and come back to this site often for more of our fun events.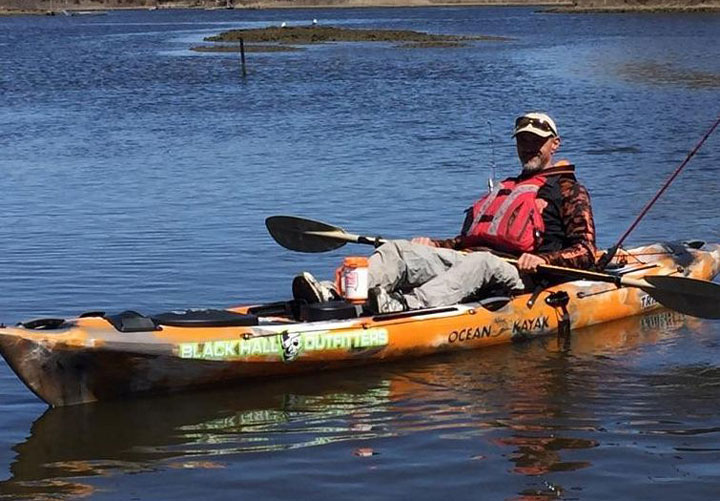 Every angler has seen that trout that's on the far side of water that's just too deep to wade, and just out of reach of the longest cast.
Kayaks have brought those trout, usually big ones, into reach for anglers who choose to use them, and members of the Nutmeg Chapter of Trout Unlimited will learn how at their next meeting Tuesday, April 18, at Port 5, 69 Brewster St., Bridgeport.
Guest speaker Jesse Roche will teach us how to get started in kayaking and how to use that to reach places we need to get to catch elusive trout.
Roche brings with him eight years of kayaking, as well as a lifetime on the water and outdoors. He comes from a nature -oriented family. From his grandfather, a forrester, and grandmother an Audubon Society member, to his parents, both always outdoors, and father, who worked for years in marine sciences. Instead of Disneyworld, Jesse's family spent summers in the wilderness of the Minnesota, on boundary waters in an Old Town canoe, and the White Mountains of New Hampshire. He wouldn't trade it for anything.
After 10 years as a radio personality on 97.7 WCTY FM, he now produces and hosts Fishing Today a weekly radio program on 1310 WICH AM in Norwich as well as a podcast on wich.com.
"It's basically NPR for fishing," Roche said. "I try to be information and news-oriented. It's a lot of fun because both myself and the listener can learn new things about fishing every week."
Jesse is also involved with the New England Fishery Management Council, serving his first term as a recreational fishing panelist. There he and other representatives from our New England states set up the framework for new fishery regulations.
"I am very conservation oriented. Preserving our fishery means a lot to me," Roche said. "I look forward to spreading that philosophy as a member of the Black Hall Outfitters Fishing team"
The meeting will also feature a look at opening day weekend and Nutmeg's Trumbull stream cleanup, and plans for an April 29 planting along the Mill River at the Fairfield-Easton border on Congress Street.