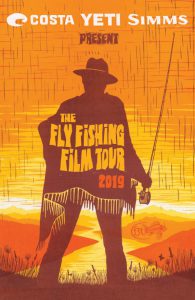 Don't miss out on our annual screening of the incredible Fly Fishing Film Tour — a perfect way to spend a cold winter night dreaming about the fishing season ahead!
Check out the trailers to this year's lineup of films that will get your heart pumping!
Each year we offer two showings so that there's a location or date that will work best for more people, and we're thrilled to be joined by over 400 avid anglers and conservationists who enjoy a fun night and help support our important work.
Join fellow anglers at the Stamford Majestic Theater on Friday, Feb. 8, or at Edmond Town Hall in Newtown on Friday, March 8 — or join us at both shows and bring friends, family and fishing buddies! Tickets are $25 in advance online or $30 the night of the shows.
Click here to buy tickets to the Stamford show on Feb. 8!
Click here to buy tickets to the Newtown show on March 8!
Doors open at 6:30 p.m., and the event features a cash bar serving cold beer, and wine donated by Brescome Barton Distributors. The raffle includes more than $2,000 worth of great prizes!
If you've never been to an "F3T" showing, you're in for a treat. You will watch dozens of incredibly shot, exciting fishing and conservation films while enjoying a few cold drinks and fun raffles and door prizes.
The best part is that this great night supports the conservation and education programs of the Mianus, Candlewood and Nutmeg Chapters of Trout Unlimited here in Fairfield County!
While tickets may be available at the door the night of the screening, we can't guarantee a space as we've sold out in past years!
UPDATE: Due to forecasts for heavy rains and cold, the trip to the Pootatuck River scheduled for Saturday, May 13, has been postponed.
Watch this site for a new date.
ORIGINAL STORY: Nutmeg TU will lead a fishing trip, open to the public, to the Pootatuck River Class 1 Wild Trout Management Area in Newtown on Saturday, May 13, at 9 a.m.
Saturday, May 13, is Free Fishing Day in Connecticut. No license is required, but all other regulations remain in effect.
The trip is open to all. The group will gather just past the Post Office at 23 Commerce Road, at the Trout Management Area sign. Click here for a map on which you can get directions. The sign is near a parking area.
Fly fishing on the Pootatuck River in Sandy Hook lets you enjoy a less used waterway set in a gorgeous natural setting. Veterans and youth welcome. Take fly rods, waders and other gear. Anglers will meet for lunch after fishing.
David Ader will lead the trip.
Click here to RSVP https://www.meetup.com/EASTERN-FAIRFIELD-COUNTY-FISHING-CONSERVATION-Meetup/events/238967315/.