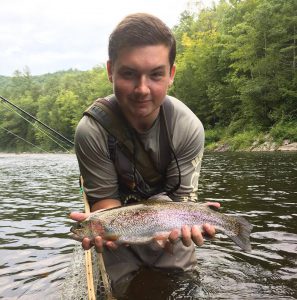 Tristan Wilgan of Tristan's Fishing Guide Service will share tips both spin and fly fishermen can use on local rivers at the next meeting of Nutmeg TU on Tuesday, Feb. 19, at Port 5, 69 Brewster St., Bridgeport.
The meeting will be preceded at 6 p.m. by a fly tying demonstration by Erick Peterson. (Click here for more.)
A sophomore at Western Connecticut State University, Tristan puts clients on trout on rivers around Fairfield County, as well as the Farmington and the Housatonic. He guides for Housatonic River Outfitters and also leads spin and fly fishing trips for smallmouth bass on the Housy.
Click here to watch an interview with Tristan on Yankee Fisherman on the HAN Network, which was hosted by Nutmeg TU members John Kovach. The video starts 1:22 in.
Nutmeg Chapter 217 of Trout Unlimited meets the third Tuesday of each month from September to May at Port 5, 69 Brewster St., Bridgeport, Conn. Meetings are open to all. Pizza is available and drinks may be purchased from Port 5. There is no charge for admission.
The Farmington fishing trip scheduled for Sunday, Dec. 9, has been CANCELED.
We apologize for any inconvenience.
Wanna go fishing? Nutmeg TU leads trips to spots near and far all year long, where you can learn spots and tactics from members and friends.
Oct. TBA – casting clinic

Oct. 21, 11 a.m. — Stripers, Compo beach
More details on additional trips will be posted soon.
Looking for a new (but old), simpler way to fly fish? Learn about Tenkara from Chuck MacMath when Nutmeg TU meets Tuesday, Oct. 16, at 7 p.m.
Tenkara is a method of fishing said to have originated in Japan about 400 years ago that only uses a rod, line and fly. The line is fixed and there is no reel. Rods are quite long to keep as much of the line off of the water as possible thus eliminating drag and creating a better presentation of the fly.
Chuck said he started about three years ago.
"It seemed intriguing, it was something different and no one I knew of was doing it," MacMath said. "That's the kind of stuff I like.
"I also like the simplicity of it," Chuck added. "There is more of an emphasis on technique than gear. There is s saying in tenkara that the more you know the less you need."
Chuck participates in every type of fishing available.
"I own a fleet of boats which includes a float tube, kayak and rowboat, all rigged for fishing, and a 17 1/2-foot Tracker bass boat," Chuck said.
"Let's not forget ice fishing also," he added. "I'm a member of many local rod and gun clubs. I'm a certified CARE instructor for the Connecticut DEEP, and I tie my own flies and build my own rods."
Nutmeg TU meets at Port 5, 69 Brewster St. in the Black Rock section of Bridgeport, Pizza and beverage are available for purchase.
Future meetings feature John Jinishian of Alaska's Wild River Guides on Tuesday, Nov. 20, and the annual holiday potluck party on Tuesday, Dec. 18.