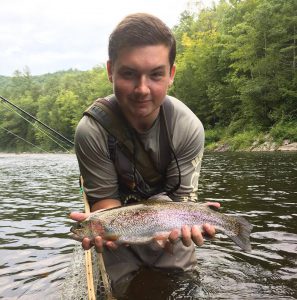 Tristan Wilgan of Tristan's Fishing Guide Service will share tips both spin and fly fishermen can use on local rivers at the next meeting of Nutmeg TU on Tuesday, Feb. 19, at Port 5, 69 Brewster St., Bridgeport.
The meeting will be preceded at 6 p.m. by a fly tying demonstration by Erick Peterson. (Click here for more.)
A sophomore at Western Connecticut State University, Tristan puts clients on trout on rivers around Fairfield County, as well as the Farmington and the Housatonic. He guides for Housatonic River Outfitters and also leads spin and fly fishing trips for smallmouth bass on the Housy.
Click here to watch an interview with Tristan on Yankee Fisherman on the HAN Network, which was hosted by Nutmeg TU members John Kovach. The video starts 1:22 in.
Nutmeg Chapter 217 of Trout Unlimited meets the third Tuesday of each month from September to May at Port 5, 69 Brewster St., Bridgeport, Conn. Meetings are open to all. Pizza is available and drinks may be purchased from Port 5. There is no charge for admission.
Rods, reels, trips and experiences can be yours at bargain prices during the Nutmeg TU Holiday Party  Tuesday, Dec. 18, from 7 to 9 p.m. at Port 5, 69 Brewster St., in the Black Rock section of Bridgeport.
A growing list of silent auction items include a fishing outing on the Long Island Sound, having the trip of your choice photographed or recorded on video, a 9 foot Winston 5 weight valued at $475, a fly vest and more. Watch for updates on this list
The party will again by a potluck dinner: Members with last names starting with A-K should prepare dinner, K-R dessert and S-Z an appetizer.
There will also be fly tying demos and discussions of favorite flies for use in local waters.
There is no charge for admission. But if you plan to attend, rsvp with what you will be taking to the dinner to admin@nutmegtrout.org.
The Farmington fishing trip scheduled for Sunday, Dec. 9, has been CANCELED.
We apologize for any inconvenience.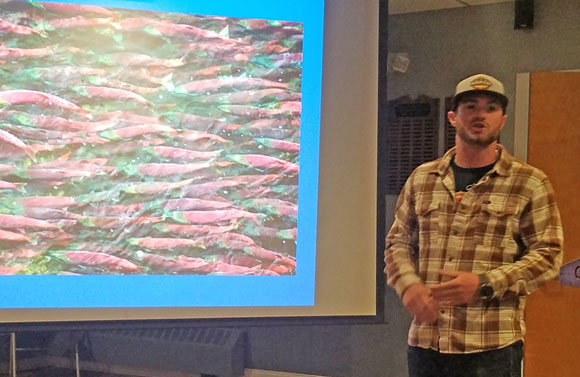 Alaska fishing guide and Nutmeg TU John Jinishian expressed concerns about the threats posed by Bristol Bay amid images of big fish and beautiful scenery when he visited the general meeting of Nutmeg TU Tuesday, Nov. 20.
Jinishian is general manager of Alaska's Wild River Guides, a small, float-based fly fishing company. He talked of the adventures on the Kanektok, or Togiak or Goodnews rivers. The company operates seasonally in the Bristol Bay region of Alaska, specifically on the Togiak National Wildlife Refuge. More information can be found at wildriverfish.com.
Information on efforts by TU to protect Bristol Bay can be found at savebristolbay.org.