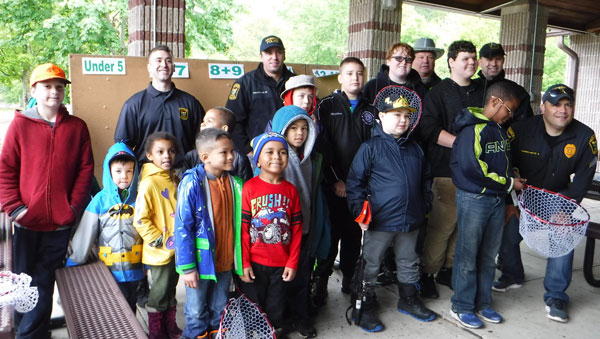 Nutmeg TU members attended the 15th annual Monroe Police Fishing Derby Saturday, May 16, at Great Hollow Lake in Wolfe Park.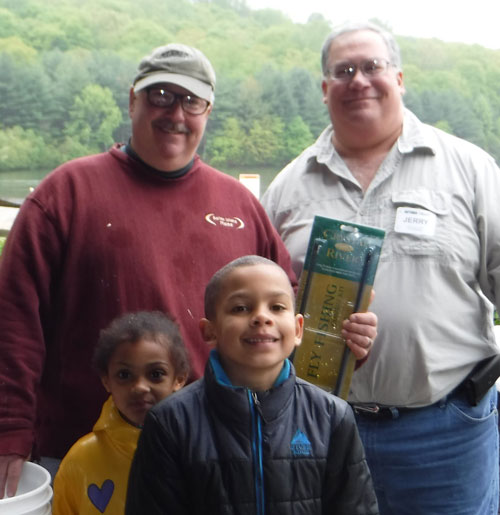 After Monroe Police awarded prizes to the kids who caught fish, the chapter held a drawing for a fly fishing combo. Jerry Goldstein presented the prize to the winners, the Gordon Family of Monroe.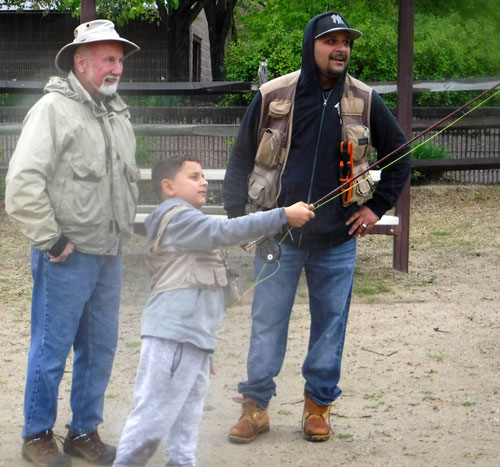 Fred Lord led a fly casting demonstration, giving some hands-on instruction toAngelo Palange and Angelo Palange, Jr.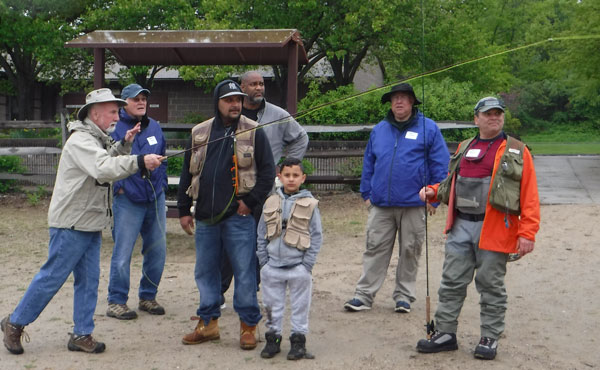 Nutmeg TU members and participants watch Fred Lord demonstrate fly casting at the 15th annual Monroe Police Children's Fishing Derby.
Sonny Yu will share his passion for Fly Fishing for American Shad at the next open meeting of the Nutmeg Chapter of Trout Unlimited, 7-9 p.m. Tuesday, May 15, at Port 5, 69 Brewster St., Bridgeport.
The talk is open to anglers of all styles, spin or fly, and one need not be a Trout Unlimited member to attend.
The annual American Shad run is historic in Connecticut and many anglers look forward to it each spring. The shad swim up the Connecticut River and its tributaries and anglers await opportunities to hook into these aggressive fish which would test their backing.
Sonny grew up fishing, and his love for the sport brought him to the Chicopee River in Western Massachusetts, where he encountered fly fishing and American shad. He purchased a fly rod combo, slowly learned the essentials of fly fishing, and never looked back.
Sonny has written an ebook to share his passion to chase American Shad with the fly rod. His ebook contains all the essential information which includes detailed instructions and maps to successfully catch shad with a single-handed or two-handed fly rod. In addition to his ebook, Sonny also offer shad flies and guide service during the shad run, and enjoys introducing others to the fishery.
At the end of the presentation, Sonny will hold a free drawing and one lucky angler will have a chance to win a copy of his ebook and a half dozen shad flies.
More information about Sonny Yu and his fishing adventures can be found through his website, http://www.flyfishingshad.blogspot.com./
Two teenagers from Easton, both fly anglers and members of the Nutmeg Chapter of Trout Unlimited, recently organized a cleanup of the Mill River.
Stephan Dow and Michael Waugh, with volunteers the recruited and led, removed some 360 pounds to trash from the river.
Click here to read a story from The Easton Courier.
Nutmeg TU thanks Stephan and Michael for their efforts.
Nutmeg TU recently hosted one of its fishing trips, held almost monthly, this time on the Saugatuck River in Westport.
David Ader and John Kovach of Nutmeg led the trip, and father and son due of Joe and Ryan Welsh of Shelton both had success in the fly-only area along Ford Road.