Hello TU Nutmegers:
Welcome to 2018.  Your Board of Directors is working to make programming and participation even better. Today we have over 350 dues paying members in the Nutmeg chapter and together we can take care of our rivers, learn and have fun.
Each of us belongs to TU for different reasons. As a chapter we try to offer diverse programs and activities to meet everyone's interests.  Like most, my active involvement in TU started slowly.  My only regret is that I did not get more active in TU sooner.
What does Trout Unlimited mean to you?
As a board we wonder what motivates members to join and stay connected: events, meetings, outings, conservation ….   So we ask:
What speakers do you want to see at our meetings?
Do you want to learn about fishing local waters or destination fishing?
What will make your Nutmeg TU Chapter better?

Opportunities to fish with friends
Meeting fishing buddies
Learning new skills and fishing spots
Improving stream quality, or
Just being part of a national organization that advocates clean fresh water fisheries
More opportunities to volunteer in 2018.
I would like to see our conservation efforts expand to include micro invertebrate monitoring
We should do more with youth and engage our veterans
We will continue to improve the Mill River habitat – watch for updates as we will soon use the Embrace a Stream funds to deepen the Mill River's Congress Street section by channeling the river with recycled Christmas trees
Join the board, lead a fishing outing, participate in a river cleanup, do water sampling, work with TIC …
If you are a Nutmeg TU member and simply want to support a national advocacy group for clean water, we thank you for your participation, numbers are important. However, on the local level, none of the annual membership fees go to the local chapter.  It all stays with TU national. Our funding comes from grants, donations and the raffles we run at the meetings. It costs money and takes volunteers to run our meetings, support the 15 Trout in The Classroom (TIC) local schools and do our conservation work. Your financial support is appreciated, and every dollar goes a long way because the Nutmeg chapter of TU is a 100% volunteer organization.
As we begin the new year I want to take this time to thank my fellow Board Members John Kovach, Dave Edgeworth, Jerry Goldstein, David Ader, Ed Grzeda, Cheryl Groesbeck, Phil Jacques, Chuck Petruccelli and Gian Morresi, for their wisdom at our monthly board meetings; volunteering to lead fishing trips, river cleanups/conservation work, sharing the load; and for the pleasure of fishing together in and around our lovely part of Connecticut.
On behalf of the Board of Directors I want to thank you for your continued support.  Our goal is to have fun while doing good in our community.  We hope you find the chapter welcoming and choose to participate in this valuable organization.
Happy New Year to all and I look forward to seeing you in 2018.
President TU Nutmeg Chapter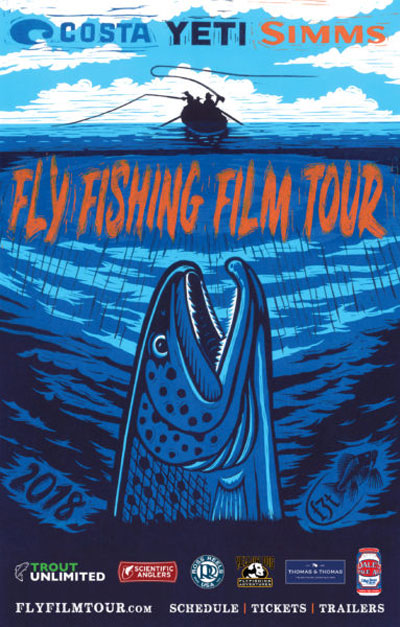 UPDATE: Some tickets are still available for tonight's showing of the Fly Fishing Film Tour at the Trumbull Marquis & BTX Theater.
Tickets can be purchased online for $25 (a $5 discount) until 2 p.m. by clicking here.
Tickets MAY also be available at the door, if any remain, at a cost of $30.
Doors will open at 6:15 p.m.
ORIGINAL POST: The Candlewood, Mianus and Nutmeg chapters of Trout Unlimited wii host two showings of the Fly Fishing Film Tour in the coming week, with proceeds supporting conservation projects and environmental education in Fairfield County.
The first showing will be held Friday, Feb. 2, at the Trumbull Marquis & BTX Theater. The the second will be Friday, Feb. 23, at the Stamford Majestic Theater. Doors open at 7 p.m. for each show. Tickets are $25 each online or $30 at the door.
Click here to buy tickets to the Feb. 2 showing in Trumbull.
Click here to buy tickets to the Feb. 23 showing in Stamford.
Last year's F3T in Trumbull sold out faster than organizers expected. In addition to fly angling movies on the big screen, the events include drinks, raffles and door prizes.
While tickets may be available at the door the night of the screening, we can't guarantee anything. Last year organizers had to turn away dozens of people.
Some films include graphic language and situations which may be inappropriate for younger viewers.
Trailers can be viewed at flyflimtour.com.
UPDATE: Tonight's meeting will be held as scheduled at 7 p.m. at Port 5, 69 Brewster St. Bridgeport.
Ever wonder about how to get started fishing? Or if fly fishing is as complicated as it might seem? Or where to fish in Eastern Fairfield County?
Get the answers to these and other fishing questions when Nutmeg TU holds a fishing roundtable Tuesday, Jan. 16, at 7 p.m. at Port 5, 69 Brewster St., in the Black Rock section of Bridgeport.
The meeting will be informal, with members sharing thoughts, advice and insights. Pizza and beverages can be purchased.
This is a great chance to make angling friends, learn about the many fishing trips Nutmeg TU holds throughout the year, and discover ways to help on conservation projects.
Nutmeg Chapter of Trout Unlimited (# 217) is based in Fairfield and comprised of the towns of Fairfield, Westport, Weston, Easton,  Redding, Trumbull, Monroe, Bridgeport, Stratford, Milford and Shelton.
Its mission is to conserve, protect and restore coldwater fisheries and their watersheds, particularly in local rivers such as the Saugatuck, Mill, Aspetuck, Pequonnock and Farmill.
TU members and volunteers abide by the motto: "If you take care of the fish, the fishing will take care of itself."
The second annual Chopped-style fly tying contest will be held during Nutmeg TU's holiday party on Tuesday, Dec. 19, at 7 p.m. at Port 5, 69 Brewster St., in the Black Rock section of Bridgeport.
Contestants use their own tools and thread.
Each of the materials provided for each must be used in that fly.
Contestants will have 10 minutes to complete each fly
There will be three rounds: Nymph, Streamer and Dry.
The winners of each round proceed to the next round.
Award criteria are totally subjective, based on:
• Fishiness
• Creativity
• Cleanliness of Construction
Click here to read more about the holiday pot-luck, and RSVP by leaving a comment on that story.