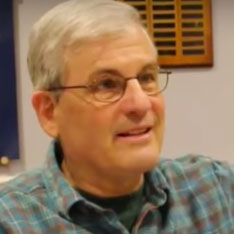 UPDATE: THIS EVENT HAS BEEN POSTPONED TO MARCH 18
Learn how to fish small streams around Fairfield County on Saturday, March 11, when Charles Petruccelli, past president of Nutmeg Trout Unlimited Chapter 217 and a certified casting instructor, leads a small stream fishing clinic at Lake Mohegan in Fairfield.
Participants should gather in the main parking lot at Lake Mohegan, located at the intersection of Morehouse Highway and Tahmore Drive in Fairfield.
Petruccelli demonstrated how to tie small, hackle-less flies that can attract the trout early in the spring at the most recent Nutmeg TU meeting. Click here to watch that demonstration as it appeared on Yankee Fisherman on the HAN Network. A second fly tying demo is set for the March 9 Yankee Fisherman.
Nutmeg TU President and certified casting instructor Chuck Petruccelli will hold a casting clinic for interested anglers on Saturday, Nov. 1.
For information on the date, time and location, click here to email Chuck.
This being a clinic, what will be covered will depend on the attendees' abilities. The clinic will include analysis and video of the attendees' casting.
Work may cover:
The basic cast (pick up and put down);
casting accuracy;
shooting line;
roll cast (most useful cast in the East a must for the Mill, Saugutuck, Far Mill, and Pequonock rivers);
presentation casts;
slack line;
reach mend and
casting in the wind.
Petruccelli has 35 plus years experience fly fishing. He has extensive experience fishing the Housatonic and the Farmington rivers, and in shore from Milford to Westport. Petruccelli has also fished Maine, Montana, Wyoming, New Brunswick Canada, Belize, and Puerto Rico.
"I'm looking forward to helping people improve their casting and catching," Chuck said.
Nutmeg TU President Charles Petruccelli is scheduled to appear on Yankee Fisherman Friday, April 4, to discuss the Mill River Improvement Project and the chapter's efforts to remove invasive knotweed from the banks along Congress Street.
The show, hosted by Nutmeg TU member John Kovach, airs live from 2 to 3 p.m. on hanradio.com, and is replayed throughout the weekend.
The second year of cutting is scheduled to be performed April 5 and 12. Click here for details, including how to volunteer.