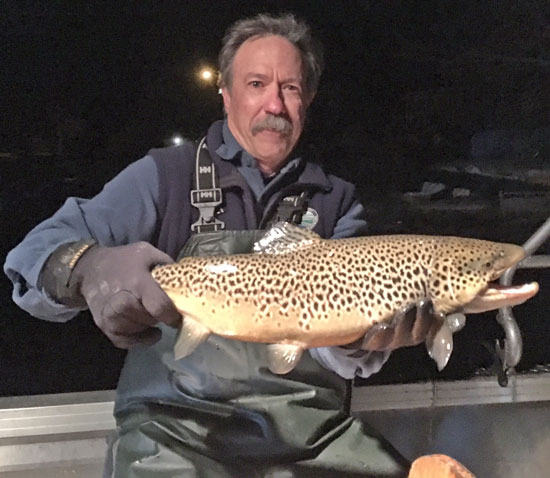 Learn about trout in Connecticut and how they are kept healthy and available for anglers on Tuesday, March 20, at 7 p.m. at Port 5, 69 Brewster St., Bridgeport.
With new regulations including a salmon and trout stamp, plus changes to designations on the Mill River just approved, Nutmeg TU will welcome Tim Barry of the DEEP.
The meeting is open to the public free of charge.
Barry will deliver an update on the pending rewrite of the 20-year-old Statewide Trout Management Plan and how TU figures into the Department of Energy and Environmental Protection's R3 (Recruitment, Retention, and Re-activation) licensing efforts.
Barry earned a bachelor's degree in natural resource conservation from the University of Connecticut in 1978 and a master's degree in fisheries science from the University of Massachusetts in 1983.
From 1978-80 he was a volunteer fish technician for the Peace Corps in Honduras.
After working as an aquatic scientist for Ecosystem Consulting Service in Coventry from 1982 to 1984, Barry joined the DEEP (then the Department of Environmental Protection). He was a fisheries biologist I from 1984-87, a fisheries biologist II from 1987-2012, and in 2012 became a supervising fisheries biologist for the DEEP Fisheries Division.
Barry has worked extensively with species such as trout, northern pike, walleye and largemouth and smallmouth bass on projects throughout the state.
Pizza and beverages are available for purchase.
The second annual Chopped-style fly tying contest will be held during Nutmeg TU's holiday party on Tuesday, Dec. 19, at 7 p.m. at Port 5, 69 Brewster St., in the Black Rock section of Bridgeport.
Contestants use their own tools and thread.
Each of the materials provided for each must be used in that fly.
Contestants will have 10 minutes to complete each fly
There will be three rounds: Nymph, Streamer and Dry.
The winners of each round proceed to the next round.
Award criteria are totally subjective, based on:
• Fishiness
• Creativity
• Cleanliness of Construction
Click here to read more about the holiday pot-luck, and RSVP by leaving a comment on that story.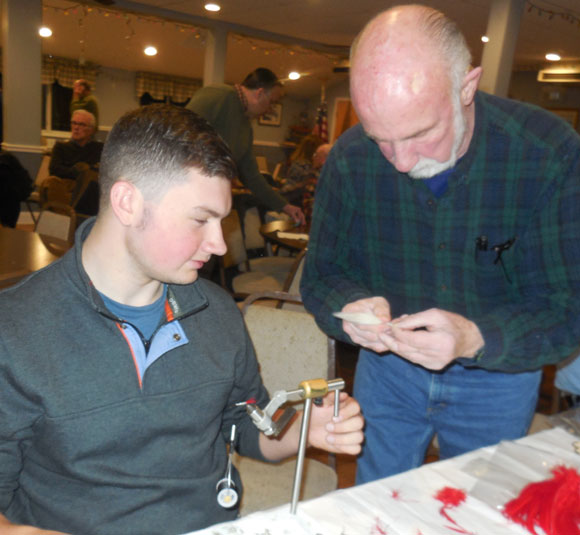 Celebrate the season, share food with us and if you want to answer the challenge compete in a fly tying contest when Nutmeg TU holds its annual holiday party Tuesday, Dec. 19, at 7 p.m. at Port 5, 69 Brewster St., in the Black Rock section of Bridgeport.
Dinner is pot luck. Your dish to share needs to feed 6 to 8 and last names beginning with A-H are asked to bring an Appetizer, I-P are asked to bring a main dish, Q-Z are asked to bring a dessert. Comment on this article to let us know how many people will attend and what you are bringing.
The Port 5 cash bar is available for beverages.
Jerry Goldstein will provide an update on Nutmeg TU activities and plans for 2018. The event will also raise funds for Nutmeg TU's operating expenses.
A fly tying contest based on the Food Network show Chopped is open to all. Contestants will be given identical materials and a fixed amount of time to tie a fly. There will be eliminations after each of three rounds, and a prize for the winner.
Flies to be tied are a nymph in the first round, a streamer in the second and a dry fly in the third and final round. Contestants will need to bring their tools and thread. All the materials for each fly will be provided. When you RSVP, let us know if you want to enter the fly tie contest.
A silent auction will be held to raise funds to support conservation and education initiatives by Nutmeg TU. Fishing adventures, led by a Nutmeg TU member, up for bid include boat fishing on the Long Island Sound; fly fishing the Mill, Saugatuck and Farmington rivers; a trip to Michigan that can include room and breakfast; a trip to southwest Maine; a kayak fishing outing; smallmouth fishing on the Housatonic River; and a having a fishing outing video recorded and photographed.
Other items in the silent auction include a print by artist James Prosek; a tenkara rod, and a 9-foot Winston 5 weight rod.
Scroll to the bottom of this page to where it says leave a comment, then post a comment to RSVP and let us know what dish you will be bringing. Comments will not immediately appear but will as soon as they are approved.
Anglers and conservationists will get an update on local conservation efforts and learn an early-season fly they can tie at the next regular meeting of the Nutmeg Chapter of Trout Unlimited, on Tuesday, Feb. 21, at 7 p.m. at Port 5, 69 Brewster Street, Bridgeport.
Immediate Nutmeg TU past President Charles Petruccelli will demonstrate how to tie hackle-less flies that have proven effective in the early spring on local streams, such as elk hair caddis, comparaduns and "The Usual." This will tie into another presentation that will soon be announced.
The chapter will also meet Brian Carey, conservation director for the town of Fairfield, and Lynn Shavinsky, president of the Mill River Wetland Committee.
Carey, appointed May 1, 2015, replaced retired Conservation Director Tom Steinke, who had served the town for about 43 years.
Carey had previously served as conservation superintendent for the town of Stratford for seven years. He was instrumental in the 35-acre Long Beach West Barrier Beach Restoration Project, which was awarded the Coastal America Partnership Award by President Obama in May 2012.
Carey is a lifelong resident of Fairfield, where he currently lives with his wife, Maura Brennan Carey, and their two children. Carey is a graduate of Fairfield College Preparatory School and Virginia Tech, where he earned a bachelor of science degree in natural resource management.
The Mill River Wetland Committee, which celebrated its 50th anniversary in 2016, has promoted protection of open space along the Mill River in Fairfield, mainly through use of the Perry's Mill Pond River Laboratory Area on Sturges Road for guided science education about watersheds.
Concern for the environmental future prompted the launching of River-Lab, a hands-on program of environmental science study that includes all students in grades three through six with the Fairfield public and parochial schools as an established part of their curriculum. More than 100,000 students have participated in this volunteer-led program through the years.
MRWC and River-Lab have utilized volunteers to educate and engage the community about environmental education for generations. The River-Lab program, just last year, trained 400 adults to lead study trips. Several those guides had gone through the program themselves as students.
Nutmeg TU meetings are open to the public free of charge; pizza and a cash bar are available.
The Nutmeg Chapter of Trout Unlimited 217 encompasses Fairfield, Westport, Weston, Easton, Redding, Trumbull, Monroe, Bridgeport, Stratford, Milford, and Shelton. Its mission is to conserve, protect and restore coldwater fisheries and their watersheds, particularly in local rivers such as the Saugatuck, Mill, Aspetuck, Pequonnock, and Farmill. More information may be found at nutmegtrout.org.