On December 20, 2016, Nutmeg TU will have the Annual Pot Luck dinner and a Fly Tying Contest!  The doors open at 6:45 PM at the Port 5 Naval Veterans, 69 Brewster St, Bridgeport, CT.  Your dish to share needs to feed 6 to 8 and last names beginning with A-F are asked to bring an Appetizer, G-L are asked to bring a Salad, M-R are asked to bring a main dish, S-Z are asked to bring a dessert.  Please RSVP to http://www.nutmegtrout.org/event/december-potluck-dinner-raffles-contests/ so we know how many tables to set up, and how much fly tie materials to provide.  If you have any questions, contact jerryg@attygoldstein.com.  Yes, the cash bar is available for beverages.
Contest Contestants will need to bring their tools and thread.  All the materials for each fly will be provided.  There will be a specific fly for each round of the contest. And there will be prizes for each round of tying.  When you RSVP, let us know if you want to enter the fly tie contest.
There will be silent auctions for various prizes from Orvis, Patagonia, and Complete Angler that include gift cards, Tenkara fishing rod, Winston rod, a local fishing trip with Rich and more. And there will be bucket raffles for gift cards, a fishing vest, Orvis rods, DVDs on fly tying, nymphing techniques, books, flies, and more.  So, bring your cash or check book to take advantage of these great prizes. Or, mail in your check to our treasurer at Nutmeg Chapter Trout Unlimited, P.O. Box 1594, Fairfield, CT 06825
February 13, 2016
Kris Mancini, our new Vice President for our chapter, brings decades of trout fishing experience in the Mill River and more.  Kris considers the Mill river as his home water, and over many years, he has managed to fish the Mill over a hundred days a year and rarely gets skunked.  He has quite an impressive photo collection of trout caught in the Mill, including a 22″ Brown caught this fall. Kris fly fishes, and yet, much of the catching success has to do with tactics that will benefit spin fishers, as well as fly fishers.  Kris will discuss tackle, flies, and tactics for successfully fishing the Mill.  Come join us and up your game on the Mill.  The meeting will be at 7 PM, in Port 5, 69 Brewster Ave, Bridgeport, CT.
Jimmy O of Jimmy O's Bait & Tackle talk about fishing the Fall Striper run at the general meeting for the Nutmeg Chapter of Trout Unlimited Tuesday, September 15, from 7 to 9 p.m. at Port 5, 69 Brewster St., Bridgeport. The meeting will include hands-on demonstrations.
Pizza and raffle tickets will be sold at the meeting.
James Orifice, sole proprietor of Jimmy O's Bait and Tackle in the Black Rock section of Bridgeport has been serving the marine industry for over 20 years. Since its inception in 2001, Jimmy O's Bait and Tackle has grown to become a resource for year round fishing needs by offering an assortment of competitively priced fresh and saltwater bait and tackle. The inventory includes a variety of fresh, frozen, and offshore bait, saltwater and freshwater rods from different manufacturers, reels, rod and reel combos, line and leader products, a large selection of lures and jigs, terminal tackle, lure bags/tackle boxes, accessories such as cutters, pliers and knives, nets, and traps. Jimmy O's Bait and Tackle also operates as an official weigh station along with fishing license registration services.
As a longtime Fairfield native, Mr. Orifice possesses an in-depth knowledge of the area and is often referred to for his expert advice. Over the years, Jimmy O's Bait and Tackle has fostered strong ties to the community and has been involved in numerous youth fishing derbies in the town of Fairfield. Additionally, Mr. Orifice has held many position titles such as past President of the Westport Striped Bass Club, past Commander of the Bridgeport Boat Owners Association, affiliation with the Fairfield Boat Owners Association as well as a Bachelor of Science degree in Parks and Recreation from Southern Connecticut State University.
The success of Jimmy O's Bait and Tackle is attributed to a fundamental business philosophy that is customer oriented. Jimmy O's Bait and Tackle continuously expands its inventory to appeal to a broad base of customers and strives to provide the latest fishing equipment and accessories.
Jimmy O's Bait & Tackle shop may be found at 3295 Fairfield Ave. in Bridgeport.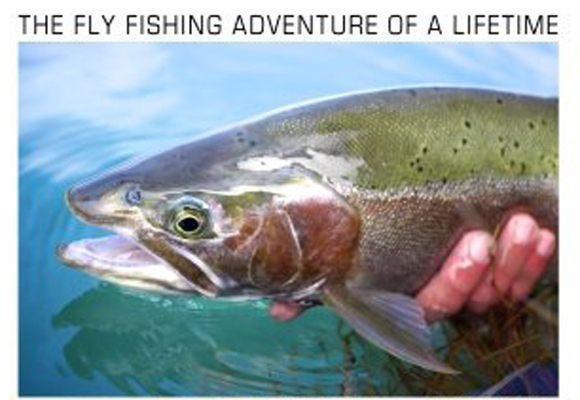 Nutmeg TU will hold pizza and movie night Tuesday, April 21, at 7 p.m. at Port 5, 69 Brewster St., Bridgeport.
The movie will be Once in a Blue Moon.
Once in a Blue Moon unravels the mystery of an event that occurs briefly once a decade. This strange and unreal journey takes us into some of the most remote and beautiful parts of New Zealand as we follow one angler on the fly fishing adventure of a lifetime and a quest to document and unravel a childhood mystery. As part of an unpredictable chain of events, a mass flowering of the ancient New Zealand Beech forest leads to an excess of seed production. Mice and rodents fuel on this abundance and reproduce in numbers reaching plague proportions. Incredible footage follows these rodents as they then embark on a strange migration, attempting to swim across the expanse of New Zealand's rivers and lakes. There they fall prey to the largest predators in the lake – monster Brown trout. Gorging themselves on swimming mice, these fish become extremely aggressive and grow to epic proportions. For a fly fishing angler, this is the stuff dreams are made of. This bizarre phenomenon has remained a mystery…until now. Stunning cinematography, never before seen underwater footage, fantastic fly-fishing and amazing trout behavior will take you deep into the tale of the fabulous and mysterious "Mouse Year."