The second annual Chopped-style fly tying contest will be held during Nutmeg TU's holiday party on Tuesday, Dec. 19, at 7 p.m. at Port 5, 69 Brewster St., in the Black Rock section of Bridgeport.
Contestants use their own tools and thread.
Each of the materials provided for each must be used in that fly.
Contestants will have 10 minutes to complete each fly
There will be three rounds: Nymph, Streamer and Dry.
The winners of each round proceed to the next round.
Award criteria are totally subjective, based on:
• Fishiness
• Creativity
• Cleanliness of Construction
Click here to read more about the holiday pot-luck, and RSVP by leaving a comment on that story.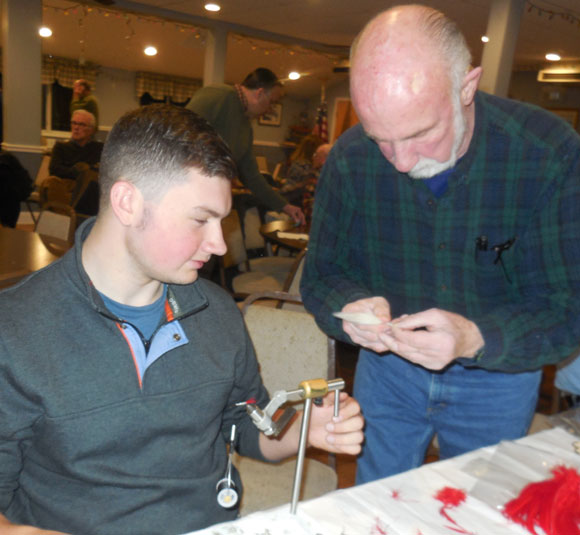 Celebrate the season, share food with us and if you want to answer the challenge compete in a fly tying contest when Nutmeg TU holds its annual holiday party Tuesday, Dec. 19, at 7 p.m. at Port 5, 69 Brewster St., in the Black Rock section of Bridgeport.
Dinner is pot luck. Your dish to share needs to feed 6 to 8 and last names beginning with A-H are asked to bring an Appetizer, I-P are asked to bring a main dish, Q-Z are asked to bring a dessert. Comment on this article to let us know how many people will attend and what you are bringing.
The Port 5 cash bar is available for beverages.
Jerry Goldstein will provide an update on Nutmeg TU activities and plans for 2018. The event will also raise funds for Nutmeg TU's operating expenses.
A fly tying contest based on the Food Network show Chopped is open to all. Contestants will be given identical materials and a fixed amount of time to tie a fly. There will be eliminations after each of three rounds, and a prize for the winner.
Flies to be tied are a nymph in the first round, a streamer in the second and a dry fly in the third and final round. Contestants will need to bring their tools and thread. All the materials for each fly will be provided. When you RSVP, let us know if you want to enter the fly tie contest.
A silent auction will be held to raise funds to support conservation and education initiatives by Nutmeg TU. Fishing adventures, led by a Nutmeg TU member, up for bid include boat fishing on the Long Island Sound; fly fishing the Mill, Saugatuck and Farmington rivers; a trip to Michigan that can include room and breakfast; a trip to southwest Maine; a kayak fishing outing; smallmouth fishing on the Housatonic River; and a having a fishing outing video recorded and photographed.
Other items in the silent auction include a print by artist James Prosek; a tenkara rod, and a 9-foot Winston 5 weight rod.
Scroll to the bottom of this page to where it says leave a comment, then post a comment to RSVP and let us know what dish you will be bringing. Comments will not immediately appear but will as soon as they are approved.