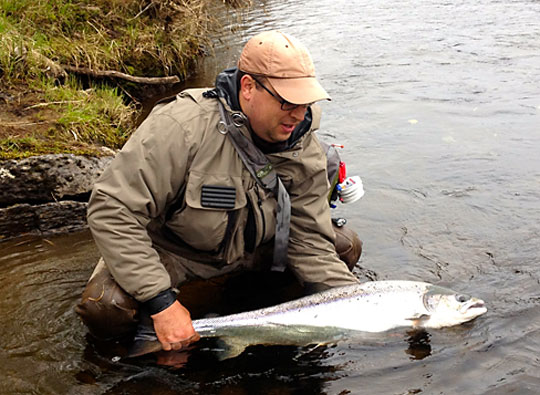 The Nutmeg Chapter of Trout Unlimited is organizing a fall fishing outing for salmon on the Naugatuck River with Ben Bilello, a local fishing guide.
The trip is limited to four people. The cost is $100 per person, including tip. This is a fun, convenient trip located just 40 minutes from our territory.
Click here to RSVP. Once we have four reservations we'll ask you to mail in your fee. All proceeds will be going to the guide.
The fall broodstock Atlantic salmon fishing season is a freshwater fly angler's chance at catching his or her largest freshwater fish of the season. While most salmon caught are in the 3- to 6-pound range, fish exceeding 20 pounds are always a possibility.
On the surface, salmon and trout fishing have a lot in common. Knowing the subtle differences between the two will help an angler achieve consistent results while salmon fishing. This group trip will focus on identifying likely holding lies at various water levels, salmon behavior, fly selection, various methods of presentation, and effective fish fighting techniques.  
What to bring: Rods and reel (6-8 wt), floating line, waders, boots, warm clothes, rain gear, wading staff, streamer and/or Atlantic salmon flies (sizes 2-12), drinks, and lunch. Please make sure you have a valid Connecticut fishing license.
For any questions, contact Ben at ben@benbilello.com. You can also purchase salmon flies from Ben, just email him what you are looking for. You can also visit his website, http://www.benbilello.com/salmonflies/Home.html.
The trout season has officially ended except for the designated TMAs. Opening day has been switched to the 2nd Saturday in April this year so mark your calendars. A few of the open areas on the Farmington have been producing some beautiful browns for those fishing nymphs in these very cold temperatures however most of the state's streams remain icy or slushy.
The Kensington Hatchery is up on the block for the third time so write letters immediately. The comment period is nearly over. The Kensington Hatchery produces all of the eggs used in SIC and TIC and is the only hatchery in the state capable of raising Seeforellen brown trout and Atlantic salmon. The loss would be a travesty for Connecticut's fisheries and would also set precedent for more cuts to the state fisheries rather than increasing monies allocated to DEEP.
While you are writing, you might consider writing the Connecticut Siting Council in opposition of an enormous power plant that is proposed very close to the Oxford Airport. This plant will save the average Connecticut customer within a 10 mile radius of the plant approximately $35 annually as most of the power will be sold to residents in R.I. and Mass. The cost of this plant will be six trout streams, the lower estuary of the Housatonic and Long Island Sound.
The proposed Towantic Power Plant will draw more than a million gallons of water annually from the Pomperaug River which is formed by the Nonewaug and Weekeepeemee Rivers as well as Sprain Brook. Currently, these streams run very low during summer months. The plant will be built right near the headwaters of the Little River which is right on the fringes of over development as it sits. All four of those streams contain wild and holdover trout. The grey water or outflow from the plant is proposed to release all of this very warm and not very clean water into the Naugatuck River upstream of where a 6.5 million dollar fish bypass was recently completed. The Naugatuck flows into the lower estuary of the Housatonic a relatively short distance downstream. The estuary contains the largest wintering over populations of striped bass in the northeast. This would be a huge step backward for Connecticut as the Naugatuck and Housatonic have come such a long way ecologically.
Remember, there has been nothing invented by humans since the dawn of time that does not break or fail. what will happen when this plant breaks or fails. Would the damage take decades to repair itself or will the damage be permanent?? Either way, this is not good for Connecticut.
– Ron Merly
The Connecticut Council of Trout Unlimited is fighting to stop cuts in the budget proposed by Gov. Dannel P. Malloy that would eliminate Kensington Hatchery.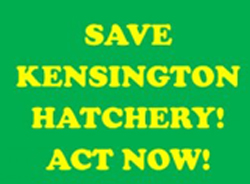 The following action alert was sent by the council:
This year's proposed budget calls for the removal of $195,000 specified as the amount necessary to operate the Kensington Hatchery
The following are impacts of the loss of this hatchery:
Valuable genetic traits defining Connecticut River salmon will be lost forever.
Obtaining eggs for the Trout in the Classroom may be more difficult
The Salmon-in-Schools program, sponsored by the Connecticut River Salmon Association, would be terminated after this school year which would effect 60-70 schools.
Up to 7000 Atlantic Salmon fishing trips in Connecticut will be lost with the end of the brood stocking program.
The unique Seeforellen Brown trout will be lost to Connecticut anglers.
Click here for instructions on what you can tell your membership to do to help. You can copy and paste the information to your own website or in the body of an email (don't forget the links!) or simply share the link on your Facebook Page, On Twitter, or in an email.
Also, Jim Glowienka will be at the Legislative Office Building in Hartford to testify at the public hearing on Monday, March 2nd at 6:30. We encourage anyone who can to come and stand with TU on this issue.
OTHER IMPORTANT INFORMATION: OPENING DAY OF TROUT SEASON WILL BE APRIL 11TH!
Alicea Charamut
Secretary, CT Council Trout Unlimited
President, Farmington Valley Trout Unlimited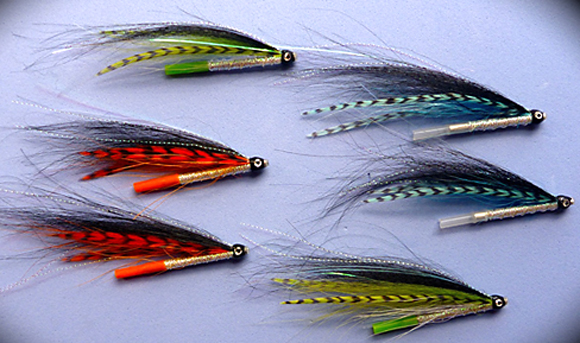 Salmon fishing expert Ben Bilello will open our eyes to tube flies at the next Nutmeg TU meeting Tuesday, Feb. 17, from 7 to 9 p.m. at Port 5, 69 Brewster St, Bridgeport.
European anglers have used tube flies for decades. Despite their advantages, tubes are much less frequently used in North America. As time goes on, tube flies are becoming more popular in our fresh and saltwater fisheries. This presentation will outline when, where and how to use tube flies.
Topics include:
Tube fly advantages
Comparisons of tube/hook sizes and weights
Tube fly styles
Fishing surface and subsurface tubes
Hook selection
Rigging
Tube fly and hook storage
Tube fly tying tools and materials
Tying tips and techniques
When he's not behind a set of drums in a concert hall, jazz club, or recording studio, Ben Bilello can be found either on the water or behind the vise. While he's an avid trout fisherman and fly tyer, Ben's true fly fishing and tying passion is the Atlantic salmon. Ben has pursued wild Atlantic salmon in New Brunswick, Quebec, Nova Scotia, and Russia; landlocked salmon in New York and Vermont, and broodstock Atlantic salmon in Connecticut.
A collection of Ben's classic and artistic salmon flies are featured in Michael Radencich's book "Classic Salmon Fly Patterns: Over 1700 Patterns From the Golden Age of Tying," the largest illustrated compendium of Atlantic salmon flies published to date.
Ben's work can be seen at his website www.benbilello.com/salmonflies and on his salmon fly blog www.theleaper.blogspot.com.