Meeting at Port 5, 69 Brewster St, Bridgeport CT, 7 PM, and the pizza will be hot.
At the general meeting on Tuesday, October 20th, Captain Roger Gendron will be talking about his experiences and sharing knowledge on fishing  the western Long Island Sound.  Capt. Roger  has been actively "guiding" the waters of Western Long Island Sound since 1989.  As a local who has spent his entire life in this area, he started fly fishing the coast of Fairfield County Connecticut over 30 years ago, and was one of the first guides in the area to specialize in fly fishing and light tackle fishing in shallow salt water.  He will spend some time with us on Tuesday targeting the coastline of Fairfield County.
As well as teaching his clients fishing and fly casting technique over the last twenty five seasons, he has also been an instructor of advanced navigation and seamanship at the American Marine Training school formerly based in Stratford, CT.
He continues to offer piloting and navigation instruction to boat owners and mariners new to the area.  He speaks to various clubs and organizations on the topic of fly fishing and light tackle techniques during the off season.
Capt. Roger's focus is on his clients' enjoyment and safety, offering a fun day on the water whether fly fishing, light tackle fishing, or a little of each!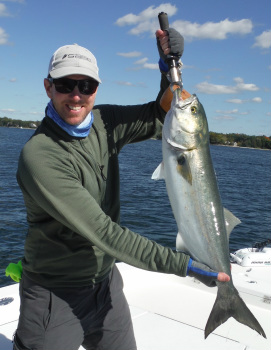 One of Capt. Roger's happy client!
Jimmy O of Jimmy O's Bait & Tackle talk about fishing the Fall Striper run at the general meeting for the Nutmeg Chapter of Trout Unlimited Tuesday, September 15, from 7 to 9 p.m. at Port 5, 69 Brewster St., Bridgeport. The meeting will include hands-on demonstrations.
Pizza and raffle tickets will be sold at the meeting.
James Orifice, sole proprietor of Jimmy O's Bait and Tackle in the Black Rock section of Bridgeport has been serving the marine industry for over 20 years. Since its inception in 2001, Jimmy O's Bait and Tackle has grown to become a resource for year round fishing needs by offering an assortment of competitively priced fresh and saltwater bait and tackle. The inventory includes a variety of fresh, frozen, and offshore bait, saltwater and freshwater rods from different manufacturers, reels, rod and reel combos, line and leader products, a large selection of lures and jigs, terminal tackle, lure bags/tackle boxes, accessories such as cutters, pliers and knives, nets, and traps. Jimmy O's Bait and Tackle also operates as an official weigh station along with fishing license registration services.
As a longtime Fairfield native, Mr. Orifice possesses an in-depth knowledge of the area and is often referred to for his expert advice. Over the years, Jimmy O's Bait and Tackle has fostered strong ties to the community and has been involved in numerous youth fishing derbies in the town of Fairfield. Additionally, Mr. Orifice has held many position titles such as past President of the Westport Striped Bass Club, past Commander of the Bridgeport Boat Owners Association, affiliation with the Fairfield Boat Owners Association as well as a Bachelor of Science degree in Parks and Recreation from Southern Connecticut State University.
The success of Jimmy O's Bait and Tackle is attributed to a fundamental business philosophy that is customer oriented. Jimmy O's Bait and Tackle continuously expands its inventory to appeal to a broad base of customers and strives to provide the latest fishing equipment and accessories.
Jimmy O's Bait & Tackle shop may be found at 3295 Fairfield Ave. in Bridgeport.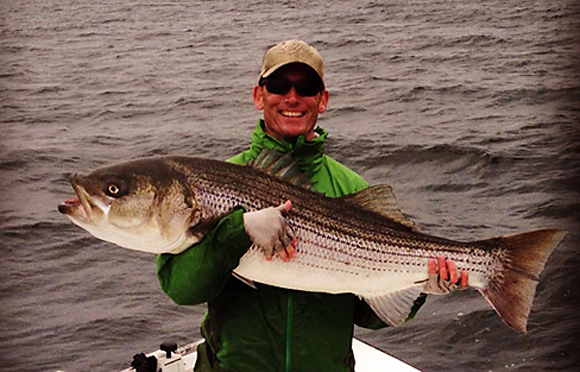 Ian Devlin will share his knowledge of striper fishing in the Housatonic and salt water fishing in the Sound at the Nutmeg Trout Unlimited meeting Tuesday, Dec. 16, from 7 to 9 p.m. at Port 5, 69 Brewster St, Bridgeport.
If there is time after the presentation, Ian also would like to give an in-depth overview of fly lines (tapers, stiffness/limpness for different temperatures), and when to use a line that floats or sinks or something in between. Proper leader tapers and construction/knots for saltwater angling may also be covered.
Ian has been a guide for more than 20 years in both Florida and Connecticut, specializing in fly casting and plug. He holds a current fly rod world record for bluefish caught in 1999 on 20 pound weight tippet.
He has worked in fly fishing retail for more than 25 years including four different shops in both Connecticut and Florida.
Lou Tabory certified Ian as a FFF fly casting instructor in 1996. He learned to routinely cast 100 foot or more at the early age of 15 years old.
His Devil N' Blends synthetic blend fibers that he makes since 2000 have been purchased by people from all over the planet (literally South America, Australia, Europe, Japan, and all over the USA). He has been tying flies for warm freshwater, and mostly saltwater since for many years.
He is a keen observer of the various skiff types and is designing his skiff from scratch; likely his biggest project to date.
He has also developed fly rods for G. Loomis.
Photography is becoming more than a pastime, and he plans to integrate it into more trips.
Ian is an avid birder and nature enthusiast, and recognizes the value of coastal cleanups.
Lastly, Ian tends to think outside the box and often tries new ideas keep him on a progressive path to innovation.
Members of Nutmeg TU will meet to do some fall striper fishing at Short Beach in Stratford, 1 Dorne Drive, Saturday, Nov. 8 at 1 p.m.
There is plenty of room to fish and park.
Come meet fellow chapter members and share techniques, flies and lures. Bring a 8 or 9 weight fly rod, or a medium to heavy spinning or surf casting rod.
We will fish the outgoing tide. High tide Saturday is 12:06 p.m., low tide at 6:35 p.m. We will fish till dusk.
The rain date is Sunday, Nov. 9, with the meeting time at 1:30 p.m. Sunday's high tide is 12:52 p.m., while low tide on the rain date is 7:21 p.m