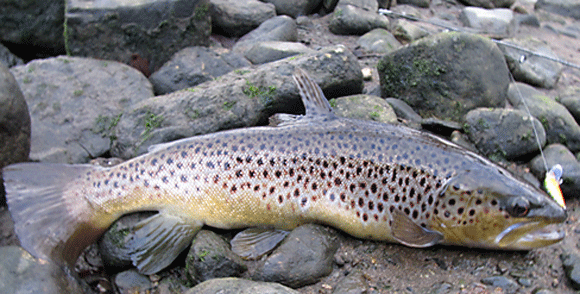 By Ron Merly
State fisheries biologist Tim Wildman has not been happy with the number of annual returns of sea-run brown trout that are currently released into Connecticut estuaries. Seeforellen browns from Germany, which are indigenous to their lakes, are raised at Connecticut's Kensington Hatchery and released into some lakes and reservoirs, but are also used for stocking sea-run brown trout as well. These fish do not have a dianadromous lineage: In other words, they do not run out to sea and return, they live in lakes.
Wildman resurrected the sea-run brown trout program in Connecticut in 2000 when he saw trout being destroyed as too many were being raised to release into the state's waters. He took the excess fish and began releasing them into several estuaries around the state. (See the Flyfisher's Guide to Connecticut for more info on where to find them).
After approximately 10 years of light returns, Wildman began to search European countries for natural strains of sea-run brown trout. There are many, however the standards for importing fish into this country are very strict so that diseases are not brought into our waters. After years of research and the convincing of his bosses, he has successfully imported a natural sea-run brown trout strain from a country that borders the Baltic Sea. Wildman asked that I not disclose the country so I will not.
This exciting change will begin to occur this year (2014), so returns should be seen in 2 to 3 years. These fish have a vast range that naturally covers an area about ths size of Long Island Sound. This strain of brown trout should return at an average of 6 to 8 pounds, but some grow as large as 15 pounds in the Baltic. Wildman hopes to establish significant returns of the browns and would like to see Connecticut become a sea-run trout fishing destination. Tim also said that not one fish was lost during the importation process so they appear to be a very hearty strain.
Lets keep our fingers crossed!! Thanks to Tim for all of his effort and we wish him well in this endeavor.