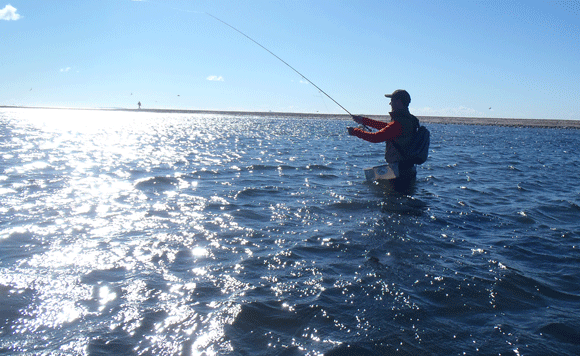 Whether you use a fly rod or spinning gear, join Nutmeg TU at Short Beach in Stratford Saturday, Oct. 21, when we fish the mouth of the Housatonic River.
High tide is 1 p.m., so we'll start fishing at 2 p.m. on the outgoing tide.
Park near the water, straight ahead from the entrance to the Short Beach restaurant.
The Mouth of the Housatonic, between Stratford and Milford, offers multiple species an excellent estuary. Access is easy from Short Beach.
We recommend Waders, Wading Stick, and Wading Boots as we plan to wade into the river for the best fishing spots.  The water will also be getting colder so you should plan to bring and wear layers.
Fly fishing should bring an 8- 9-weight rod. Intermediate sinking lines are ideal or floating lines for poppers.  Standard flies include Clousers, Deceivers and other Saltwater baitfish patterns.
RSVP by clicking here.
Members of Nutmeg TU will meet to do some fall striper fishing at Short Beach in Stratford, 1 Dorne Drive, Saturday, Nov. 8 at 1 p.m.
There is plenty of room to fish and park.
Come meet fellow chapter members and share techniques, flies and lures. Bring a 8 or 9 weight fly rod, or a medium to heavy spinning or surf casting rod.
We will fish the outgoing tide. High tide Saturday is 12:06 p.m., low tide at 6:35 p.m. We will fish till dusk.
The rain date is Sunday, Nov. 9, with the meeting time at 1:30 p.m. Sunday's high tide is 12:52 p.m., while low tide on the rain date is 7:21 p.m