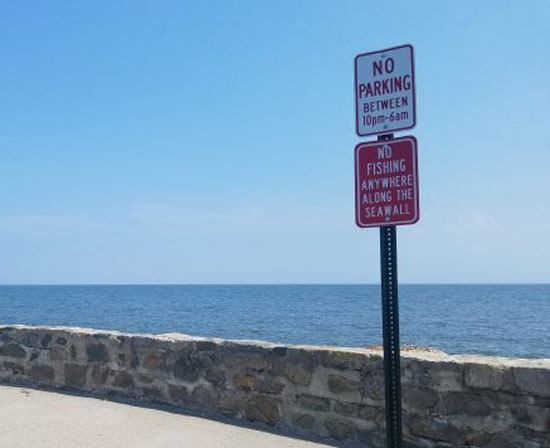 Saltwater anglers have lost access to a popular spot in Stratford, where the town has banned fishing at the Stratford Seawall in Lordship.
State officials have expressed concern about the move, which town leaders say is for safety reasons.
Click here to read more.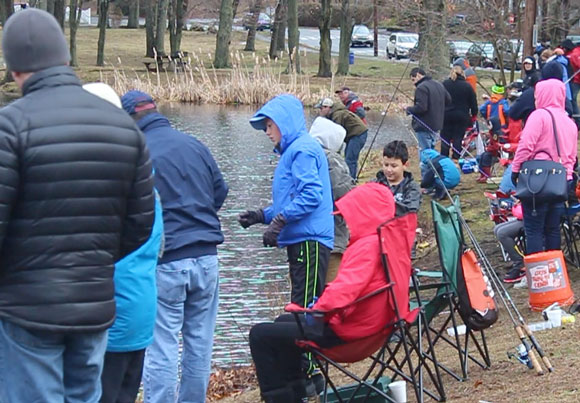 Spring fishing derbies are a great way to introduce kids to angling, and there are several in the Nutmeg TU area.
The Fairfield PAL will hold its annual derby Saturday, April 7, from 9 to 11 a.m. at Gould Manor Park, 749 Holland Hill Road, Fairfield. Registration starts at 7:30 a.m. The Fairfield PAL Trout Derby is open to ages 3 to 15; prizes are awarded for the largest and smallest fish.
The 50th Milford Children's Trout Derby, sponsored by the Milford Striped Bass Club, will be held Saturday, May 5. Trout Derby co-chairmen Shawn and Jenn Lalond have been organizing and running the event for more than 10 years. They can be reached at poolshark442@aol.com.
The Stratford Recreation Dept. is having its annual Catch-and-Release Fishing Derby for children of all ages on Saturday, May 5, from 6:30 to 8:30 a.m., at Brewster Pond in Stratford. The fee is $5; register April 2-May 4 online at www.townofstratford.com/recreation or in the Recreation Dept. office at 468 Birdseye Street, Stratford.
The 15th annual Monroe Police Fishing Derby will be held Saturday, May 19, from 6 to 9 a.m. at Wolf Park's Great Hollow Lake in Monroe. The event is open, free of charge, to children 3 to 15. Prizes are awarded for the heaviest fish in the age groups 5 and under, 6-7, 8-9, 10-11, 12-15.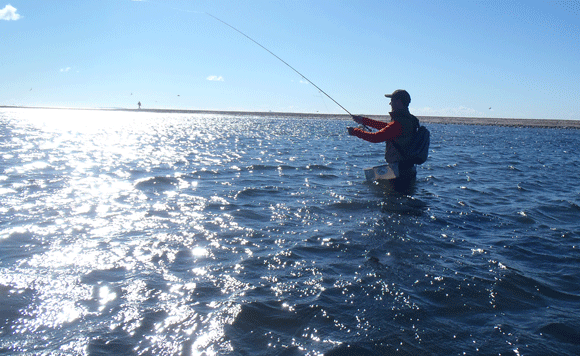 Whether you use a fly rod or spinning gear, join Nutmeg TU at Short Beach in Stratford Saturday, Oct. 21, when we fish the mouth of the Housatonic River.
High tide is 1 p.m., so we'll start fishing at 2 p.m. on the outgoing tide.
Park near the water, straight ahead from the entrance to the Short Beach restaurant.
The Mouth of the Housatonic, between Stratford and Milford, offers multiple species an excellent estuary. Access is easy from Short Beach.
We recommend Waders, Wading Stick, and Wading Boots as we plan to wade into the river for the best fishing spots.  The water will also be getting colder so you should plan to bring and wear layers.
Fly fishing should bring an 8- 9-weight rod. Intermediate sinking lines are ideal or floating lines for poppers.  Standard flies include Clousers, Deceivers and other Saltwater baitfish patterns.
RSVP by clicking here.
Members of Nutmeg TU will meet to do some fall striper fishing at Short Beach in Stratford, 1 Dorne Drive, Saturday, Nov. 8 at 1 p.m.
There is plenty of room to fish and park.
Come meet fellow chapter members and share techniques, flies and lures. Bring a 8 or 9 weight fly rod, or a medium to heavy spinning or surf casting rod.
We will fish the outgoing tide. High tide Saturday is 12:06 p.m., low tide at 6:35 p.m. We will fish till dusk.
The rain date is Sunday, Nov. 9, with the meeting time at 1:30 p.m. Sunday's high tide is 12:52 p.m., while low tide on the rain date is 7:21 p.m