Join Nutmeg TU for a morning of exciting fishing on one of the best rivers in Connecticut, the Farmington River, on Sunday, June 11, starting at 6 a.m.  You may come earlier if you wish, I will be there setting up and getting some quick fishing in.
We will be meeting up in the Church Pool parking lot – look for the Nutmeg TU banner and a silver Subaru Forester.  
Open to everyone, beginners and experienced anglers alike, this trip is a great way to learn the river. Spinning or fly fishing, all are welcome.   If you are new to the river or fishing, I will show you techniques and strategies that will have you catching trout in no time.  If you are more experienced, I will have maps of spots you can fish. 
Following fishing, everyone is welcome to join us for a Breakfast Buffet at the Log House Restaurant.   BYOB  (Buy Your Own Breakfast)
Please RSVP to Davide Edgeworth so we know who to expect.  Text or Email (203) 627-5817 or email – Eggsofan@hotmail.com. You can also RSVP by clicking here.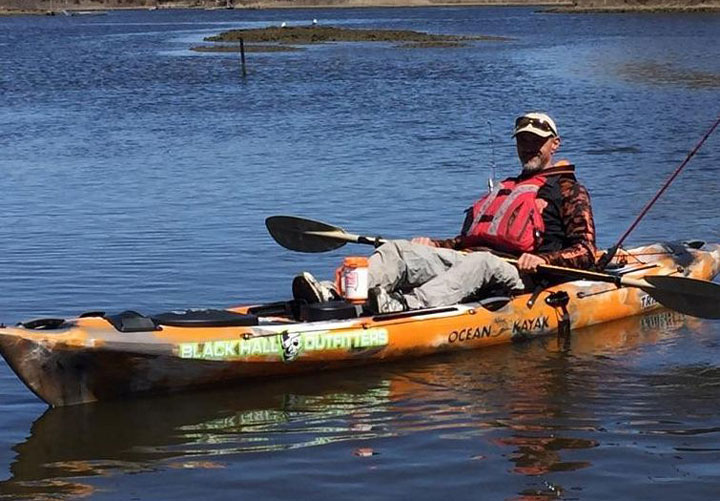 Every angler has seen that trout that's on the far side of water that's just too deep to wade, and just out of reach of the longest cast.
Kayaks have brought those trout, usually big ones, into reach for anglers who choose to use them, and members of the Nutmeg Chapter of Trout Unlimited will learn how at their next meeting Tuesday, April 18, at Port 5, 69 Brewster St., Bridgeport.
Guest speaker Jesse Roche will teach us how to get started in kayaking and how to use that to reach places we need to get to catch elusive trout.
Roche brings with him eight years of kayaking, as well as a lifetime on the water and outdoors. He comes from a nature -oriented family. From his grandfather, a forrester, and grandmother an Audubon Society member, to his parents, both always outdoors, and father, who worked for years in marine sciences. Instead of Disneyworld, Jesse's family spent summers in the wilderness of the Minnesota, on boundary waters in an Old Town canoe, and the White Mountains of New Hampshire. He wouldn't trade it for anything.
After 10 years as a radio personality on 97.7 WCTY FM, he now produces and hosts Fishing Today a weekly radio program on 1310 WICH AM in Norwich as well as a podcast on wich.com.
"It's basically NPR for fishing," Roche said. "I try to be information and news-oriented. It's a lot of fun because both myself and the listener can learn new things about fishing every week."
Jesse is also involved with the New England Fishery Management Council, serving his first term as a recreational fishing panelist. There he and other representatives from our New England states set up the framework for new fishery regulations.
"I am very conservation oriented. Preserving our fishery means a lot to me," Roche said. "I look forward to spreading that philosophy as a member of the Black Hall Outfitters Fishing team"
The meeting will also feature a look at opening day weekend and Nutmeg's Trumbull stream cleanup, and plans for an April 29 planting along the Mill River at the Fairfield-Easton border on Congress Street.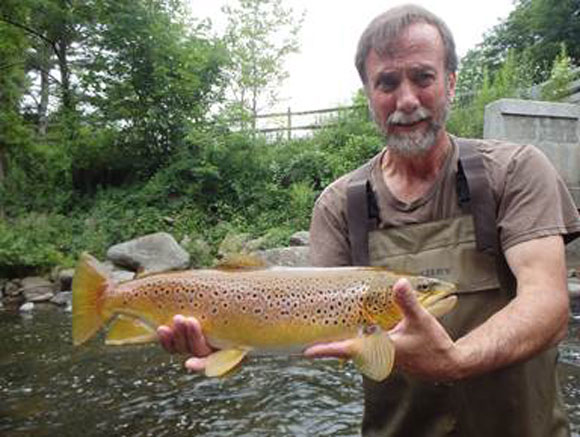 Mike Humphreys, the DEEP Inland Fisheries Biologist for the western district, will speak at the next meeting of Nutmeg TU, set for Tuesday, March 21, at 7 p.m. at Port 5, 69 Brewster St., Bridgeport.
Mike is a longtime fish biologist, holding a master's degree from the University of Tennessee with more than 30 years in his profession.
His topics will include updates on the Housatonic River, focusing on trout in the Cornwall TMA, and an assessment on wild trout in Connecticut streams, as well as the latest information about the effects of the recent drought on fish in the state.
In past 25 years with the Connecticut Department of Energy and Environmental Protection, his work has focused on Statewide Stream Electrofishing Surveys, a Statewide Wild Trout Research and Management Project, and Housatonic River Research and Management.
During previous, well attended visits, Humphreys spoke to Nutmeg TU about his findings on trout survival with run of river in the Housatonic TMAs, various fish stocking programs, and regulation changes for some sections of the Mill River.
The trout season has officially ended except for the designated TMAs. Opening day has been switched to the 2nd Saturday in April this year so mark your calendars. A few of the open areas on the Farmington have been producing some beautiful browns for those fishing nymphs in these very cold temperatures however most of the state's streams remain icy or slushy.
The Kensington Hatchery is up on the block for the third time so write letters immediately. The comment period is nearly over. The Kensington Hatchery produces all of the eggs used in SIC and TIC and is the only hatchery in the state capable of raising Seeforellen brown trout and Atlantic salmon. The loss would be a travesty for Connecticut's fisheries and would also set precedent for more cuts to the state fisheries rather than increasing monies allocated to DEEP.
While you are writing, you might consider writing the Connecticut Siting Council in opposition of an enormous power plant that is proposed very close to the Oxford Airport. This plant will save the average Connecticut customer within a 10 mile radius of the plant approximately $35 annually as most of the power will be sold to residents in R.I. and Mass. The cost of this plant will be six trout streams, the lower estuary of the Housatonic and Long Island Sound.
The proposed Towantic Power Plant will draw more than a million gallons of water annually from the Pomperaug River which is formed by the Nonewaug and Weekeepeemee Rivers as well as Sprain Brook. Currently, these streams run very low during summer months. The plant will be built right near the headwaters of the Little River which is right on the fringes of over development as it sits. All four of those streams contain wild and holdover trout. The grey water or outflow from the plant is proposed to release all of this very warm and not very clean water into the Naugatuck River upstream of where a 6.5 million dollar fish bypass was recently completed. The Naugatuck flows into the lower estuary of the Housatonic a relatively short distance downstream. The estuary contains the largest wintering over populations of striped bass in the northeast. This would be a huge step backward for Connecticut as the Naugatuck and Housatonic have come such a long way ecologically.
Remember, there has been nothing invented by humans since the dawn of time that does not break or fail. what will happen when this plant breaks or fails. Would the damage take decades to repair itself or will the damage be permanent?? Either way, this is not good for Connecticut.
– Ron Merly