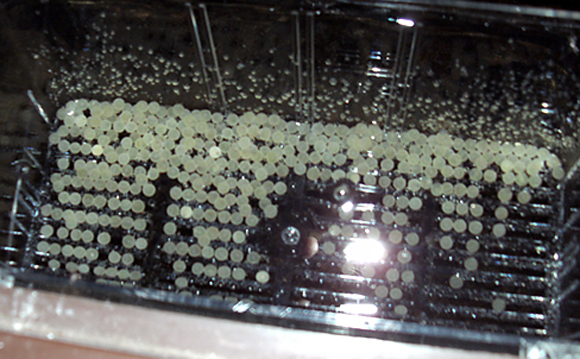 Nutmeg TU TIC coordinator Dave Edgeworth reports that Trout In the Classroom had a very successful trout egg delivery day on Nov 18. Teachers and students were very excited to receive their eggs.
Several volunteers were on hand to make the drop-off to 16 schools across the Nutmeg Chapter region. Many thanks to our President Chuck Petruccelli, Joseph Lanese, and Gian Morresi for the time and effort on a cold and windy morning.
Every school received 200 brown trout eggs which will hatch, grow, and be released into local rivers in May.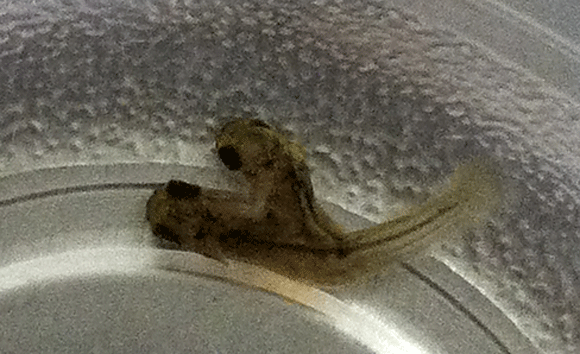 The Trout in the Classroom program at Meadowside School in Milford, sponsored by Nutmeg TU, got a surprise when their eggs recently hatched.
Fifth grade teacher Jason Cicero sent this photo of conjoined fry to Gian-Andrea Morresi, TIC coordinator for the Nutmeg Chapter of Trout Unlimited.
"The fish are doing great but when I checked them yesterday I noticed something amazing and wanted to share it with you. We have conjoined twins in our nursery," Cicero wrote. "I hope the picture comes across so you can see this, it's amazing! "
"That is different," DEEP biologist Neal Hagstrom wrote. "Usually you have them belly to belly and often one embryo will overgrow the second before they are this developed.  Sometimes all that is left is an extra fin. Looks like completely separate digestive, neural and circulatory system. Neat shot."
Trout in the Classroom is TU's cornerstone environmental education program. Students learn about the importance of clean, cold water as they raise trout from eggs, ultimately releasing them into the wild.
Fishing columnist Martin Armstrong recently shared an account of a Trout in the Classroom event at Connecticut's Beardsley Zoo.
"This is fun! I caught six fish," boasted a very happy Danielle Nichols as she reeled in her last fish from Bunnells Pond in Bridgeport. 
Danielle, age 13, and 15 other students from Bridgeport's Park City Prep and Bridge Academy are participants in the Beardsley Zoo's Trout In The Classroom (TIC) program. Recently the students teamed up with the Connecticut Aquatic Resources Education (CARE) program for a day of hands on learning and some fishing.
Click here to read Armstrong's column.
Nutmeg members are invited to the Pequannock River in Beardsley Park Friday, May 31, from 9:30 to 11 a.m. for the second annual trout release by Trout in the Classroom students at Interdistrict Discovery Magnet School.
Interdistrict Discovery Magnet School sixth graders have hooked up with Trout in the Classroom, an environmental education program, to connect students with Connecticut's watersheds. The students raised trout from eggs to fingerlings, monitored and controlled tank water quality, engaged in stream habitat study and ecosystem understanding, learned to appreciate water resources, and have begun to foster a conservation ethic.
The program includes the trout release; macroinvertebrate collection and identification (if weather permits); and a celebration at Beardsley Zoo.