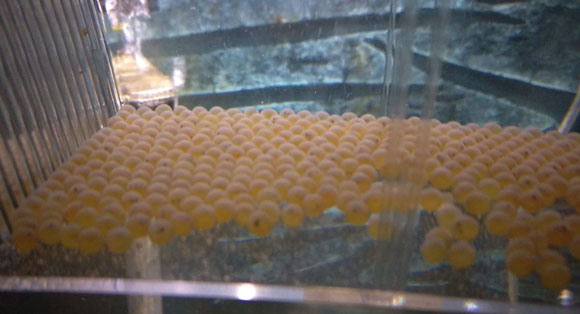 On Friday, Nov 17, the Trout in the Classroom programs statewide received their eggs from the DEEP.
TIC coordinators gather at a commuter parking lot, where the DEEP distributes the eggs to each chapter.
The Nutmeg Chapter has 15 schools participating in this valuable educational tool. Hundreds of students throughout Nutmeg's district are involved in raising Trout Eggs. Nutmeg TU covers the towns of Fairfield, Westport, Weston, Easton,  Redding, Trumbull, Monroe, Bridgeport, Stratford, Milford and Shelton.
Through hands-on activities, TIC uses an inter-disciplinary approach that adds to the the scientific concepts taught that directly impact the student's lives and environment. This is an important program that is training the environmental stewards and leaders for the future
"The excitement in each classroom when the eggs arrive is unbelievable, like they were getting pizza delivered," Nutmeg TU TIC Chairman Dave Edgeworth said.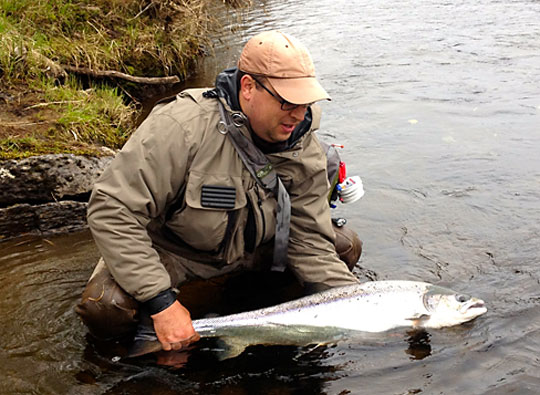 The Nutmeg Chapter of Trout Unlimited is organizing a fall fishing outing for salmon on the Naugatuck River with Ben Bilello, a local fishing guide.
The trip is limited to four people. The cost is $100 per person, including tip. This is a fun, convenient trip located just 40 minutes from our territory.
Click here to RSVP. Once we have four reservations we'll ask you to mail in your fee. All proceeds will be going to the guide.
The fall broodstock Atlantic salmon fishing season is a freshwater fly angler's chance at catching his or her largest freshwater fish of the season. While most salmon caught are in the 3- to 6-pound range, fish exceeding 20 pounds are always a possibility.
On the surface, salmon and trout fishing have a lot in common. Knowing the subtle differences between the two will help an angler achieve consistent results while salmon fishing. This group trip will focus on identifying likely holding lies at various water levels, salmon behavior, fly selection, various methods of presentation, and effective fish fighting techniques.  
What to bring: Rods and reel (6-8 wt), floating line, waders, boots, warm clothes, rain gear, wading staff, streamer and/or Atlantic salmon flies (sizes 2-12), drinks, and lunch. Please make sure you have a valid Connecticut fishing license.
For any questions, contact Ben at ben@benbilello.com. You can also purchase salmon flies from Ben, just email him what you are looking for. You can also visit his website, http://www.benbilello.com/salmonflies/Home.html.
Jack Williams, Ph.D., senior scientist for Trout Unlimited, talked about TU's national Climate Change Committee on the Oct. 30 episode of "Yankee Fisherman," hosted by Nutmeg TU member John Kovach, on hanradio.com.
Williams discussed TU's position on climate change and the work of its committee.
Williams also serves on the Board of Directors of the Western Rivers Conservancy. Prior to his current position with Trout Unlimited, he was a Professor at Southern Oregon University, Forest Supervisor of the Rogue River and Siskiyou National Forests in Oregon, and Deputy Forest Supervisor of the Boise National Forest in Idaho. He also taught at the University of California-Davis and has worked for the U.S. Fish and Wildlife Service, and Bureau of Land Management, including serving as the BLM's National Fisheries Program Manager, and the Science Advisor to the BLM Director in Washington, D.C.
His education includes a BS in Wildlife Biology from Arizona State University, a MS in Biology from the University of Nevada in Las Vegas, and a PhD in Fisheries Science from Oregon State University. If not fishing with family and friends, he is with his springer spaniels.
Also on the show is David Deen, river steward for the Connecticut River Watershed Councill.
Deen spent 28 years as an Orvis-endorsed guide in Vermont and a licensed guide in New Hampshire. He operated his own business called Strictly Trout, but fished for anything he could catch with a fly rod, including shad, stripers and smallmouth and largemouth bass in the watershed. He has been river steward for the upper valley in Vermont and New Hampshire for 16 years working with the Connecticut River Watershed Council.
Kovach hosts Yankee Fisherman, a look at fishing and conservation related topics with a focus on the Northeast, Thursdays from 1 to 2 p.m. Archives of all prior shows can be heard on hanradio.com